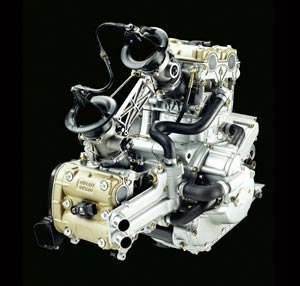 You are here: Index — New Models — 2005 Ducati 999R Exclusive
The New 2005 Ducati 999R
An evolution of power, aerodynamics and style

Engine casings and low sump

The engine casings are sand-cast, to highlight the exclusivity of the product. The dimensions of the units are no different from those used on the previous 999R Testastretta engine. The studbolts which mount the cylinder assemblies are located in such a way as to make it possible to mount such large bore cylinders (104 mm). The lubrication circuit retains the "low sump", a fundamental feature of race engines, as this allows the oil pump to always draw the lubricant in all vehicle positions (e.g. bike cranked over, under harsh acceleration or with the front wheel in the air).


Crankshaft

The components in the engine casing of the Testastretta mounted on the new model 999R have not undergone significant modification compared to those used in the previous version, with the exception of the crankshaft. This component now has a new configuration. It is almost completely machined, to optimise its form. It has thus been possible to obtain a weight reduction while maintaining a perfectly balanced crank layout. The lubrication ducts inside the crank pin are also completely new: they no longer run horizontally, but diagonally while directly communicating with the duct along the two main journals. In this way it has been possible to reduce (from three to one) the number of plugs required to close off the surface borings necessary for machining the ducts themselves. The conrod manufactured by Pankl is in titanium to reduce the weight of the crank linkages.





.