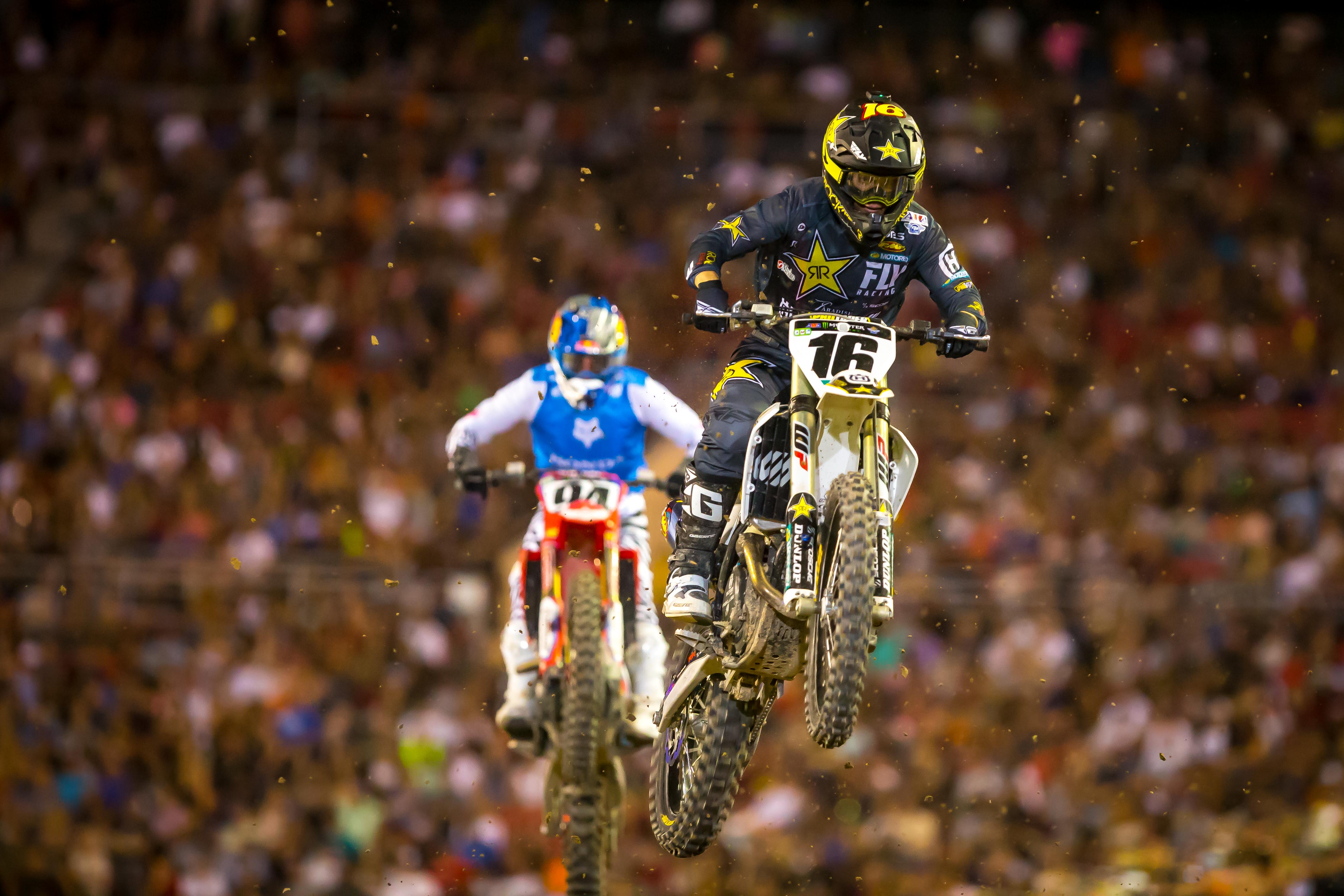 Rockstar Energy Husqvarna Factory Racing Team's Zach Osborne rode his way to a top-five finish on Saturday for the final round of the 2019 AMA Supercross World Championship in Las Vegas. His teammate, Michael Mosiman, secured a seventh-place finish in the 250SX East/West Showdown against a stacked field of riders from all across the country.
450SX
Coming off a career-best second-place at the previous round, Osborne came into the finale with great momentum. In his heat race, Osborne powered his FC 450 off the line to secure the holeshot and early lead. He fought off heavy pressure from Marvin Musquin in the final moments of the race to capture his fist-career heat race victory. In the Main Event, Osborne captured a fourth-place start where he battled inside the top-five for the duration of the race. With a fifth-place finish in the Main Event, Osborne completed his rookie 450SX season on a high note with a pair of top-five finishes and one podium.
"The track was really tough to make a move on tonight and I ended up getting passed myself in the Main Event to finish fifth place," Osborne said. "It was a solid night. I'm making some headway and moving into the outdoors I'm pretty happy with my fitness and my riding, so we'll just keep plugging away."
250SX E/W Showdown
After qualifying fifth, Michael Mosiman powered his way to a second-place start in the 250SX West heat. He raced his way to a solid second-place transfer as he joined the fastest 250SX racers in the country in the E/W Showdown Main Event. As the gate dropped for the main, Mosiman grabbed a top-10 start, rounding the opening lap in the ninth position. He worked his way into seventh by lap seven and he continued to charge his way up to the top-five battle. After dicing-back-and-forth, Mosiman finished strong with seventh-place in the combined East/West Main Event.
"To end the season healthy is awesome," Mosiman said. "It was a battle out there and it was a little bit sketchy all day with the track conditions. In the Main Event, I got passed on the last lap but to get seventh with all those guys and to get out of here healthy is really nice."
His 250SX East teammate, Jordan Bailey, qualified 13th earlier in the day. He lined up in the 250SX East heat race, where he rounded the opening lap in 15th. He worked his way into the top-10 halfway through the race and he secured an eighth-place transfer position. In the Main Event, Bailey began just inside the top-15 where he battled his way toward the top-10. After 16 laps, Bailey secured 13th place overall in a stacked field of 250SX riders.
"It was a great Supercross season," Bailey said. "We made it through with no injuries and we got better every round so I'm thankful for that. The track was gnarly tonight and it was really intense with so much on the line for so many people, so I'm happy to be done with it and looking forward to outdoors and re-starting the season."
Next Event: May 18 – Hangtown Motocross Classic– Prairie City OHV Park – Sacramento, California
Las Vegas SX Results
450SX Results
1. Eli Tomac
2. Marvin Musquin
3. Cooper Webb
4. Ken Roczen
5. Zach Osborne – Rockstar Energy Husqvarna Factory Racing
250SX E/W Showdown Results
1. Dylan Ferrandis
2. RJ Hampshire
3. Cameron Mcadoo
…
7. Michael Mosiman – Rockstar Energy Husqvarna Factory Racing
13. Jordan Bailey – Rockstar Energy Husqvarna Factory Racing
450SX Rider Point Standings
1. Cooper Webb –379 points
2. Eli Tomac – 361 points
3. Marvin Musquin – 350 points
…
6. Dean Wilson – Rockstar Energy Husqvarna Factory Racing – 223 points
14. Zach Osborne – Rockstar Energy Husqvarna Factory Racing – 154 points
250SX East Rider Point Standings
1. Chase Sexton – 193 points
2. Justin Cooper – 180 points
3. Austin Forkner – 152 points
…
10. Jordan Bailey – Rockstar Energy Husqvarna Factory Racing – 101 points
250SX West Rider Point Standings
1. Dylan Ferrandis – 226 points
2. Adam Cianciarulo – 211 points
3. Colt Nichols – 180 points
…
6. Michael Mosiman – Rockstar Energy Husqvarna Factory Racing – 144 points