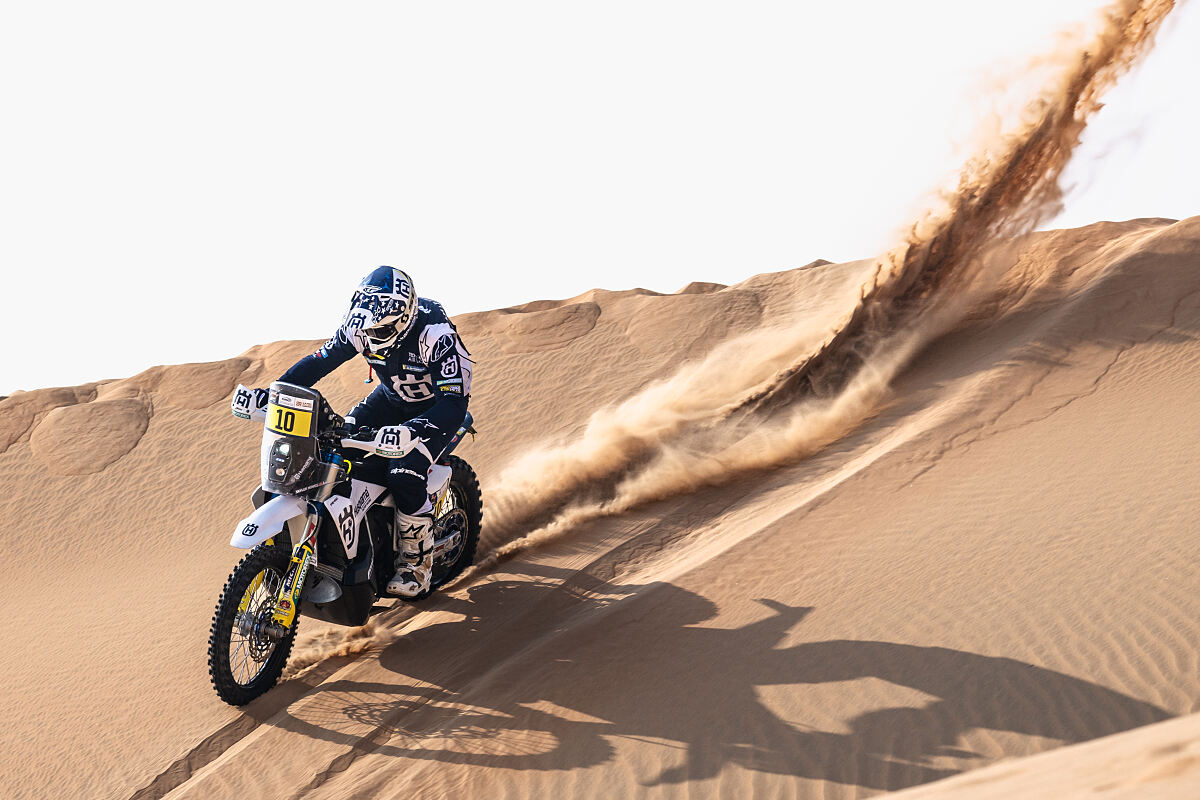 Husqvarna Factory Racing's Luciano Benavides has claimed second place at the 2023 Abu Dhabi Desert Challenge. Opening the fifth and final stage, Benavides was able to lose the minimum of time to the chasing riders, earning himself just under five minutes in bonuses to secure his podium result. Skyler Howes, who placed an excellent third on today's stage, completed the event in sixth overall.
After putting in day after day of impressive rides at this year's ADDC, including two stage wins, Luciano Benavides has arguably delivered his best performance of the event by leading out the 206-kilometre final timed special from start to finish to secure his podium result. With the top five separated by just seven minutes going into the final day, and Benavides trailing the leader by just under three minutes, the Argentinian knew he would have to pull out all the stops.
Following a delayed start due to fog, Luciano set off into the stage, leaving behind tracks in the sand that his rivals could follow. Such was the 27-year-old's progress over the open desert, although he was eventually caught, he maintained an super-strong pace from the front to ultimately complete the special in seventh place, under five minutes behind the eventual stage winner after well over two hours of racing. Overjoyed with his result, Benavides now looks ahead to round three of the championship where he hopes to carry his momentum into Mexico.
Continuing his consistent run of stage results, Skyler Howes finished day five as third fastest, bringing his FR 450 Rally home two and a half minutes behind the eventual stage winner. Fighting back from a difficult opening prologue qualifier, which resulted in Howes leading out the first full stage, the American has delivered five days of solid rides in the Liwa desert at this year's ADDC to ultimately claim sixth place overall – just over six minutes down after over 17 hours of racing.
Although the Dakar podium finisher would have liked to continue his run of top three results in Abu Dhabi, Skyler is pleased with his performance and the experience gained at the 100 percent sand event, and now looks ahead to round three of the FIM World Rally-Raid Championship – the Sonora Rally in Mexico – where he topped the results with a dominant win last year.
Luciano Benavides: "I'm so happy to take second place here in Abu Dhabi. I pushed so hard today and opened all the way – it was a tough and exhausting day. There was quite a lot of pressure this morning to do the stage at full gas, it was the only choice I had. But I think I did a good job and I'm happy with the result. To come away from the race with a podium and two stage wins is amazing. Of course, I want to win, but I think this is the best way to keep building race by race and the win will definitely come. I think I'm fourth in the championship now, so I'll keep on giving my all and see what happens in Mexico."
Skyler Howes:
"It's been a good day for me today, I did my best and made it safely to the finish line of the Abu Dhabi Desert Challenge. Obviously, it would have been nice to finish a little higher up the order. There have been a couple of places where I could have done things better, but I'm happy with my riding here in the desert and I've gained a lot of experience for the future. We head to Mexico and the Sonora Rally next, which is a really special event for me, and I won it last year, so hopefully and can do the same again this season."
Norbert Stadlbauer – Rally Team Manager: "Both of our riders did an incredible job here at the Abu Dhabi Desert Challenge. Luciano came away with two stage wins and second overall, while Skyler showed impressive consistency over the whole event to claim sixth, despite a difficult start to the event. The whole team have worked really hard and play a huge part in these results. We now hope to carry this pace into Mexico for round three of the world championship."
2023 Abu Dhabi Desert Challenge – Stage 5 Provisional Classification
1. Toby Price (KTM) 2:24:45
2. Jose Ignacio Cornejo (Honda) 2:27:08
3. Skyler Howes (Husqvarna) 2:27:14
4. Ross Branch (Hero) 2:27:46
5. Adrien Van Beveren (Honda) 2:28:07
6. Ricky Brabec (Honda) 2:29:20
7. Luciano Benavides (Husqvarna) 2:29:27
2023 Abu Dhabi Desert Challenge – Provisional Overall Classification [After Stage 5]
1. Adrien Van Beveren (Honda) 17:13:39
2. Luciano Benavides (Husqvarna) 17:17:57
3. Toby Price (KTM) 17:18:52
4. Jose Ignacio Cornejo (Honda) 17:18:54
5. Ross Branch (Hero) 17:19:56
6. Skyler Howes (Husqvarna) 17:20:02
2023 FIM World Rally-Raid Championship – Provisional Standings [After Round 2]
1. Toby Price (KTM) 46 points
2. Adrien Van Beveren (Honda) 42 pts
3. Kevin Benavides (KTM) 38 pts
4. Luciano Benavides (Husqvarna) 35 pts
5. Skyler Howes (Husqvarna) 34 pts
6. Jose Ignacio Cornejo (Honda) 25 pts