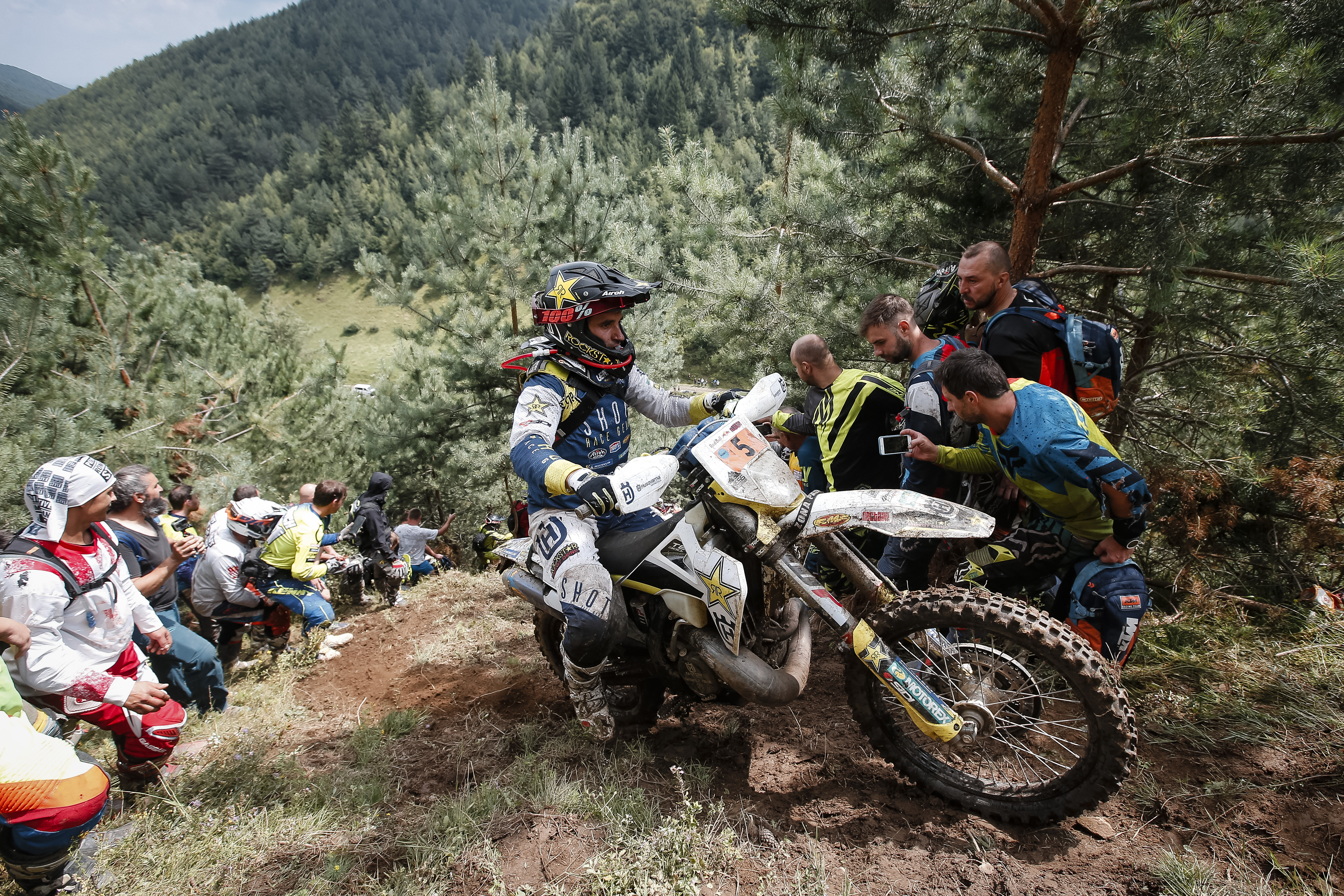 Rockstar Energy Husqvarna Factory Racing rider Alfredo Gomez has completed the five-day Romaniacs Hard Enduro Rallye as runner-up. In an event where the overall winner wasn't decided until the very last kilometre, Graham Jarvis brought his Husqvarna TE 300i home in an excellent third place. Celebrating its 16th edition and marking round five of the World Enduro Super Series, this year's Romaniacs tested all riders to both their mental and physical limits.
Completing the opening day's Prologue in fourth place, Alfredo Gomez immediately demonstrated he was on form and prepared to fight for the win. Fifth on Off Road Day One, the Spaniard then went on to post the fastest time on day two to take control of the race. Following a strong day three, Gomez knew he would have to push hard on the last day of racing to be in contention for the win. With rain making the final day's route even more extreme, all riders struggled on the slippery climbs and tricky descents. After close to 21 hours of racing the top riders were separated by just minutes with Alfredo clinching second, a mere two minutes 24 seconds from the win.
Graham Jarvis, often dubbed the 'Silent Assassin', rode Romaniacs in his own unique style. Fastest on the first full offroad day, the 44-year-old remained near the top of the overall standings as the event progressed. Lying third going into the final day, four minutes down on the leader, it was always going to be tough for the six-time Romaniacs winner to claw back enough time for the win. However, with heavy rain affecting the track it looked like the challenging conditions may fall into Jarvis' favour. Unfortunately, a crash mid-way through Off Road Day Four caused the Brit to lose his navigation equipment and subsequently several minutes of time while trying to remain on-route. Crossing the line to claim third overall, Graham was nevertheless happy with his final result.
Following a strong Prologue performance, Billy Bolt stayed consistent throughout the event with the goal of making it safely to the finish. With a best result of fifth fastest on Off Road Day Three, the young Brit successfully completed the demanding 523 kilometres of Romaniacs in a creditable sixth place overall. An excellent result considering he was still suffering from bronchitis coming into the race. With three rounds left of the series, Billy retains his fifth place in the provisional WESS rankings.
Rockstar Energy Husqvarna Factory Racing riders Graham Jarvis, Alfredo Gomez and Billy Bolt will all be back in action at round six of the World Enduro Super Series on September 20/21, at the Hawkstone Park Cross-Country in England.
Alfredo Gomez: "It's been an amazing race, I'm so happy to get on the podium. The first day didn't go so well for me but then on the second day I had a better feeling on the bike and was able to take the win. The last two days also went well and it was great to have such a close fight with Mani and Graham. Obviously I'm disappointed not to have taken the win but it still feels great to come second after such a long and demanding race. Thank you to everyone who helped me over the event – my team and all the fans – I'll come back even stronger next year."
Graham Jarvis: "It was definitely the hardest day today – it was so slippery on the hills after the rain and there was a lot of pushing. I'm happy just to get to the finish today – I was going well up to the service point then I had a crash and lost my GPS. After that I just tried to tag onto the other riders so I knew where to go. I did get lost a couple of times, so I'm really happy to get third. Overall the event has gone well, it's been one of the closest and I'm happy that I was still in contention right up to the end."
Billy Bolt: "I'm happy to reach the finish, to be honest, going into today I had nothing left in the tank fitness-wise. The hills were so much more slippery today and I struggled right from the morning. I'm still not 100 per cent fit following my crash earlier in the year and then caught a chest infection a few weeks before Romaniacs. I thought it had gone but this event is so intense, it tests you when you are fully fit, so when you are ill it's really, really tough. I'm still learning as it's tricky to judge your pace here and how hard you can push each day. I had a couple of good days and was able to hang on to the finish so overall I have to be happy with that."
Results – Romaniacs Hard Enduro Rallye 2019
1. Manuel Lettenbichler (KTM) 20:39:51
2. Alfredo Gomez (Husqvarna) 20:42:15
3. Graham Jarvis (Husqvarna) 20:52:12
4. Taddy Blazusiak (KTM) 21:25:36
5. Jonny Walker (KTM) 21:30:40
6. Billy Bolt (Husqvarna) 23:16:34
Championship Standings – World Enduro Super Series 2019 (after round 5 of 8)
1. Manuel Lettenbichler (KTM) 3570 points
2. Graham Jarvis (Husqvarna) 3460 pts
3. Alfredo Gomez (Husqvarna) 3164 pts
4. Mario Roman (Sherco) 2940 pts
5. Billy Bolt (Husqvarna) 2725 pts
6. Jonny Walker (KTM) 2700 pts