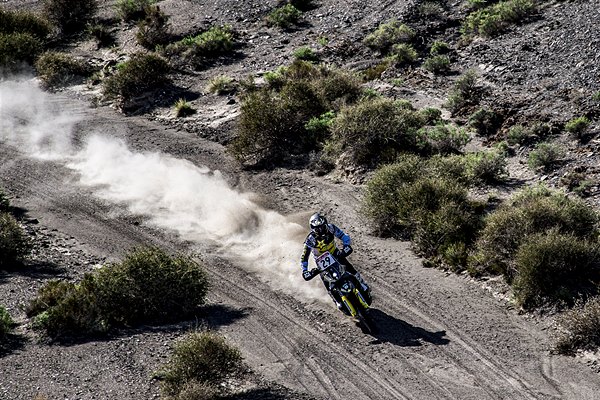 ROCKSTAR ENERGY HUSQVARNA FACTORY RACING RIDER THIRD ON FINAL STAGE TO SECURE RUNNER-UP OVERALL RESULT
Andrew Short has claimed his best ever result in an FIM Cross-Country Rallies World Championship event by placing second overall in the 2019 Silk Way Rally. Short, the first rider to enter the event's final stage, ultimately posted the third-fastest time to secure his impressive result in the overall motorcycle class standings.
Earning his first ever win in an FIM Cross-Country Rallies event, Short's victory on stage nine meant he was given the unenviable task of opening the timed special on the final day of competition. With a narrow advantage of just 51 seconds over his nearest rival going into the closing stage, the American had to push for the entire 255 kilometres to defend his runner-up position, which he did successfully.
Although Short didn't top the final day's times, he did however lead the special from start-to-finish and set a time that was just enough to retain his second overall position in the provisional standings, by a slender 39 seconds. Gaining experience and confidence throughout the rally, Andrew was able to put his high-speed skills to good use on the final Chinese stages, going on to claim not only his best ever world championship result but also moving up to second overall in the provisional FIM Cross-Country Rallies championship standings.
Incorporating a motorcycle class for the first time in its history, the Silk Way Rally challenged riders with 10 stages of racing through three countries with the total distance topping 5,000 kilometres. Starting in Russia before travelling through Mongolia and then into China, the event has proved to be a hugely demanding, yet enjoyable, event for all.
Rockstar Energy Husqvarna Factory Racing and Andrew Short will return to action at round three of the FIM Cross-Country Rallies World Championship, the Atacama Rally in Chile, on September 1-7.
Andrew Short: "I'm really exciting to finish the race how I did. For me, the rally didn't start so well, it took me a little time to get comfortable with the speed among the trees, rocks and water in Russia. Overall, I kept improving as the rally went on and for me to finish where I did is better than expected. A lot of cool things happened for me in this rally – I got my first ever stage win and then today I was given the opportunity to open a stage for the first time. My navigation has been good for the whole rally, and I definitely think that has enabled my rhythm to improve. I feel more comfortable on the bike and the team have been perfect. From here I hope I can continue to gain confidence and momentum and be even stronger at the next race."
2019 Silk Way Rally – Stage Ten Provisional Classification
1. Kevin Benavides (Honda) 2:40:49
2. Adrien Van Beveren (Yamaha) 2:42:39
3. Andrew Short (Husqvarna) 2:42:51
4. Joan Barreda (Honda) 2:43:03
5. Jose Cornejo (Honda) 2:43:11
2019 Silk Way Rally – Provisional Standings After Stage Ten
1. Sam Sunderland (KTM) 26:12:47
2. Andrew Short (Husqvarna) 26:33:09
3. Adrien Van Beveren (Yamaha) 26:33:48
4. Kevin Benavides (Honda) 26:34:24
5. Luciano Benavides (KTM) 26:49:37
2019 FIM Cross-Country Rallies World Championship – Provisional Standings
1. Sam Sunderland (KTM) 83 points
2. Andrew Short (Husqvarna) 56 pts
3. Luciano Benavides (KTM) 51 pts