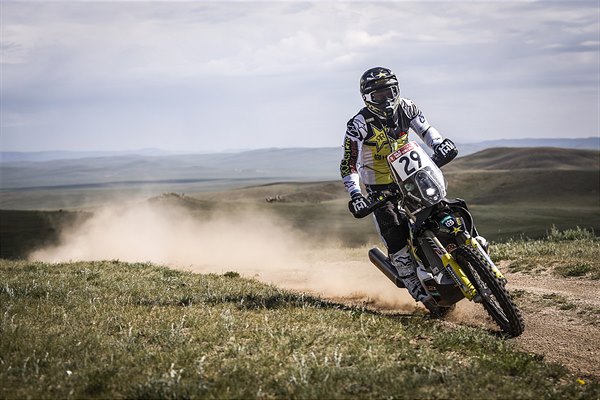 ROCKSTAR ENERGY HUSQVARNA FACTORY RACING RIDER POSTS SIXTH-FASTEST TIME ON FINAL DAY OF RACING IN MONGOLIA
Andrew Short has once again put in a strong, consistent performance on the plains of Mongolia to finish day six in sixth place and move himself up to fourth overall in the provisional overall standings.
Due to damage to a section of the day's route through the fast, stony tracks of the Mongolian plains, the timed special was split into two. The riders still faced over 278 kilometres against the clock, with the total distance covered measuring 411.75 kilometres.
Setting off as the seventh rider into the stage, Short immediately settled into a fast pace on the wide gravel tracks and began chasing down the riders ahead. Third fastest to waypoint two, things were looking good as the competitors reached the refuelling point around halfway through the stage.
A small error in navigation in the latter half of the timed special ended up costing Andrew several valuable minutes, however the American rider soon corrected his mistake to re-join the correct route, pushing hard towards the finish. Ultimately posting the sixth-fastest time, and with many other leading contenders also succumbing to navigation errors, Short's position in the provisional standings has improved to fourth overall.
Stage seven of the event – Dalanzadgad to Bayinbaolige – covers a total of 550.66 kilometres. With the rally crossing into China, there will be no timed special on Saturday and racing proper will resume on Sunday with stage eight in the dunes of the Chinese Gobi Desert.
Andrew Short: "Today was really fast again but in the second half of the special, after the refuelling, there was a really tough section that wasn't easy to navigate. I got lost a little bit and had to use my brain, but the best part was when I figured it all out – everything sped up in my head and from then on, I was completely on the gas. It was a cool feeling because everything was coming at you really fast and we were in and out of rain. As a racer, it's not so good when your mind is in a bit of a hurry, but you enjoy the moment when you're going fast and everything is ok. I was happy to make it to the finish, but it was definitely a challenging day."
2019 Silk Way Rally – Stage Six Provisional Classification
1. Oriol Mena (Hero) 2:13:32
2. Adam Tomiczek (Husqvarna) 2:13:48
3. Joan Barreda (Honda) 2:16:35
4. Sam Sunderland (KTM) 2:18:41
5. Laia Sanz (KTM) 2:18:41
6. Andrew Short (Husqvarna) 2:19:03
2019 Silk Way Rally – Provisional Standings After Stage Six
1. Sam Sunderland (KTM) 15:02:50
2. Oriol Mena (Hero) 15:24:00
3. Luciano Benavides (KTM) 15:26:07
4. Andrew Short (Husqvarna) 15:29:49
5. Franco Caimi (Yamaha) 15:33:09