You are here: Index — Complete Motorcycle Compendium
The Complete Motorcycle Compendium
– I –

Manufacturers Name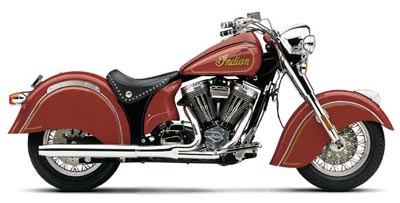 2003 Indian Chief Springfield
Ideal Jawa India, Started in 1961 in collaboration with Czechoslovakian Jawa Limited until 1968. Badges their motorcycles as Yezdi
IKH Russian
ILO Germany, Engine builder with plants in Hamburg and Pinneberg, the Hamburg plant was destroyed by allied bombing 
Imperia Germany, 1920's – 1930's
Imperial USA, 1902, Some had a 90 degree v-twin. They were made by American Cycle Manufacturing Co.
Indian USA, Started in 1901 by George Hendee and Oscar Hedstrom in Massachusetts. They battled with HD on the race track and in the marketplace. The company was taken over by a British company called Brockhouse in 1950 and then combined into the English AMC group who stopped its production in 1953. Trademark name Indian was purchased in 1998 and again new Indian models were produced and Indian became a well known name. Unfortunately in 2003 due to unstable financial backing Indian again went bankrupt. This was unfortunate because the new Indian Motorcycles were outstanding. Again the Indian trademark name was purchased by a UK investment firm Stellican. Apparently they specialize in the revival of 'heritage' brands and plan to rebuild the firm from the ground up
Indian Enfield England, With the end of production of the "real" Indians in 1953, Brockhouse/AMC started selling Enfields as Indians until 1959 or 1960
Industrial USA, 1903, Syracuse, NY
Invincible Australian, 1920's, JAP engines
Irbit Russian built, also sold as Ural
Island Hopper USA, Manufacture fold up bicycles with electric or Tecumseh Viper 2 hp gas engines
Italemmezeta Italy
ItalJet Italy, Mini bikes, scooters, motorcycles
Italvel Italy, Electric scooters
Iver-Johnson 1907-1915, Fitzburg, MA., up to 1090cc V-Twin
IWL Germany, 1955- Industrie Werk Ludwigsfelde built scooters
Ixion
Izh/Planata Russian, Started in the 1930's
Izh Iran, The Izhroosta Co.
---