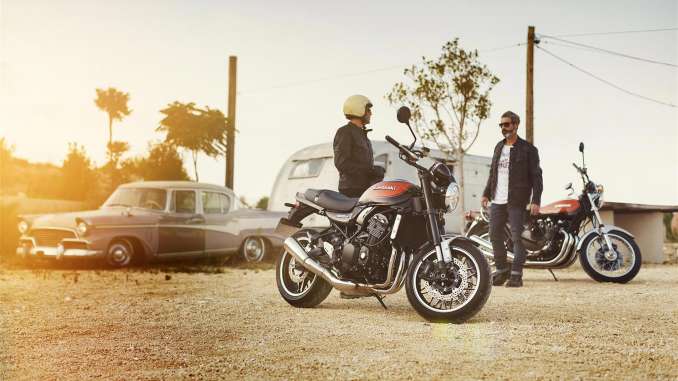 New Cool Wall Bike Every Friday. Have You Voted Yet? No? Then Get to it… Voting Open!
TRUE SPIRIT.
2018 Kawasaki Z900RS SE Review on Total Motorcycle:
Introducing Kawasaki's long-awaited retro sport model. Conceived in homage to the legendary Z1, the newest Z is a synthesis of the traditional and the modern. An engine with a traditional In-Line Four configuration is backed by Kawasaki's latest rider support technology. For riders searching for a bike with character and a rich history, the Z900RS offers both in abundance, while providing an opportunity to slow down, look around and enjoy the simple things that life can bring.
There's no place for fake in the lifestyle you choose. Kawasaki alone has the heritage to deliver yesterday's values to today's riders in a truly authentic Modern Classic bike. The visceral spirit of a 1970s legend – Kawasaki's original king of cool Z1 – finds expression in the Z900RS, to satisfy the very essence of the rider you are now.
EXCLUSIVE ON THIS VERSION
KTRC (Kawasaki TRaction Control)
Contributing to rider reassurance, the Z900RS is equipped with advanced Kawasaki rider support technology. KTRC features two modes that cover a wide range of riding conditions, offering either enhanced sport riding performance or the peace of mind to negotiate slippery surfaces with confidence.
Dual-Dial Instrumentation with Multi-Function LCD
Analogue-style speedometer and tachometer dials are complemented by a multifunctional LCD screen, balancing retro-style looks with modern functionality.
Radial-Mount Front Brakes
ø300 mm front discs gripped by radial-mount calipers provide sure, strong stopping power. Radial-pump front brake master cylinder contributes to brake touch and control.
ERGO-FIT
ERGO-FIT is an interface system that allows a wide range of riders to feel at one with their machine.
ABS
ABS (Anti-lock Brake System) ensures stable braking performance by preventing wheel lock during braking.
Horizontal Back-link Rear Suspension
Horizontal Back-link Rear Suspension arranges its shock unit horizontally, greatly contributing to efficient use of space and mass centralisation.
Assist & Slipper Clutch
Based on racing technology, the Assist & Slipper Clutch acts as both a back-torque limiter and a self-servo mechanism that enables a lighter clutch lever pull.
Dual Throttle Valves
Dual Throttle Valves offer increased power and greater ease of use care of a second set of ECU-controlled throttle valves.
Economical Riding Indicator
The Economical Riding Indicator is a mark appearing on the instrument panel to indicate favourable fuel consumption, encouraging fuel efficient riding.
KTRC (2-mode)
Two modes KTRC cover a wide range of riding conditions, offering either enhanced sport riding performance or the peace of mind to negotiate slippery surfaces with confidence.
Cool Wall Week #350 RESULTS:
2018 Kawasaki Z900RS SE – Coolness Factor = 90.9%
Featured: November 10th, 2017 – November 17th, 2017
Most popular vote category: Awesome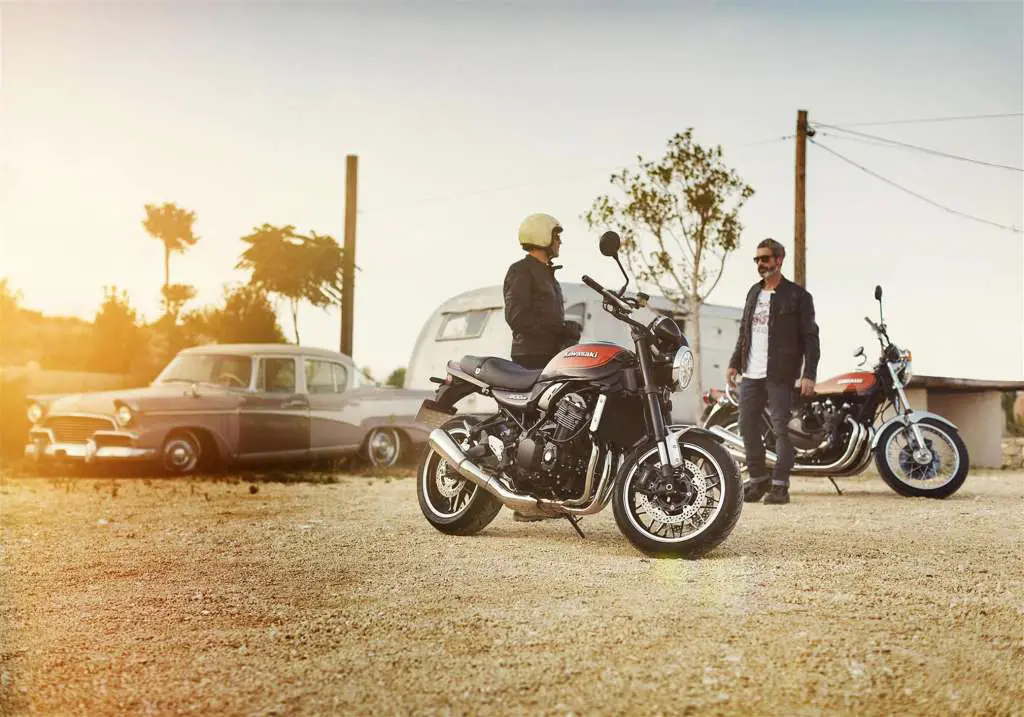 Motorcycle Cool Wall discussion: viewtopic.php?f=61&t=54541
Total Motorcycle model page: https://www.totalmotorcycle.com/motorcy … -se-review
Your Coolness Factor of the 2018 Kawasaki Z900RS SE
Awesome 16
Cool 6
Uncool 0
Fail 0
Total votes: 22
= a Coolwall Factor of 90.9%
Total Motorcycle's Take-a-Way: Amazing retro. It is not just that it looks retro, it is the skillful implementation of the design and technology to not spoil the heritage appearance. If you had ANY positive connection to 70s/80s UJMs and you love the looks of the new Z900RS, then you deserve to own this bike. There are some cons (small tank, could be a little better priced), maybe you are not a fan of the color scheme, but again, if you have a connection, these cons will disappear as the miles roll by. I was a little worried Kawasaki was not going to bring any of the new retro Z900s to North America as the ZRX1100R/1200R sales were slow, I hope the Z900RS sells like hot cakes.
For those interested, the new Z900RS finished #2 as our Cool Wall bike so far, missing the #1 bike, the new Honda Gold Wing, by 1 awesome vote.
Cool Wall Comment of the Week: This week's comment is actually a video:

– Markdecoco