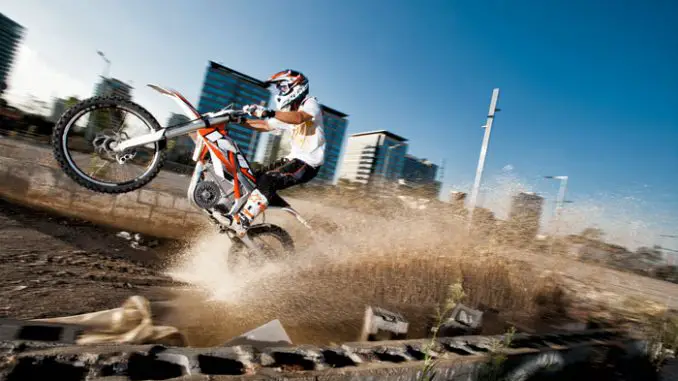 Click photos to enlarge.
They make great desktop images.
– 2012 KTM Freeride E Review

2012 KTM Freeride E
A true revolution
That is the one and only fitting description of the Freeride E. As the first of the major motorcycle companies, KTM has taken on the challenge of developing a purely electrically driven off-road sport motorcycle for mass production. After more than three years of the most intense development, during which we sometimes broke completely new ground, the project "Freeride E" has finally materialised.

Based on the immense experience from the development of dozens of conventionally combustion-driven models, and driven by its hallmark ambition, KTM has come up with a product that is globally unique and truly one of a kind. Developed in-house, the electric motor drives the Freeride not just with a great dynamism, but also without emissions and almost silently. And that in turn opens up a significant expansion of its range of applications. Like any KTM, the Freeride E is about pure riding enjoyment.
But beyond that, the extremely complex project proves that with enough determination and innovation, it is possible to develop solutions for off-road motorcycling that are at the same time sporting and environmentally friendly. 2012 is only the beginning. KTM is already electrified and welcomes future challenges.

In 2012, the time has come – as the world's first motorcycle manufacturer , KTM offers a racing off-road bike with electric drive. With its first Zero Emission motorbike, the global leader in off-road motorcycles launches an electrically-driven off-road sport bike to prove that riding fun and environmental sustainability are perfectly compatible.

This development is firmly rooted in KTM's clear lead in off-road motorcycle racing and the company's intention to aggressively
expand this main strategic pillar – by launching a unique product which is the first of its kind. The revolutionary development embodies completely new perspectives, not only for KTM: In the long term, the Freeride E will also mean the end of exclusion zones, and will bring a new acceptance of motorcycle sports even inside urban areas. "Sporty Mobility" – is not just the buzzword of the future in Mattighofen.
KTM Freeride delivers the sporting spirit of the brand strictly according to KTM's "Ready to Race" principle and it vaults it straight into the 21st century with an all new philosophy and technology.

KTM's courageous and logical approach is called Freeride E. A revolutionary bike, a 100% genuine KTM regarding technology,
quality and sporting performance, which at the same time uses a powertrain technology thought to be nearly impossible to realize
in a sport motorcycle until today. Globally unique in its radicalness, the vehicle is extremely light, highly dynamic and powerful while delivering emission free and nearly silent propulsion with its electric powertrain.

The revolutionary concept is one possible step in bringing off-roading closer to the metropolitan areas, as well as establishing riding areas in places where that used to be unthinkable. Ideally, this could draw the use of the sporting equipment closer to home. In addition it opens up opportunities to inspire new target groups with the fascinating world of off-road motorcycling.
New Challenge – New Technology – Proven Chassis

A 300V battery, power electronics developed by KTM and a brushless, synchronous motor made in Mattighofen which delivers
a peak power of up to 22kW make for a high-performance powertrain and extreme riding fun that is not limited to tight and twisty tracks. With its 42Nm of torque, which – typical of electric motors – are available right off the start, it never needs to fear combustion-driven competitors.
Making for up to an hour of maximum electric power, 2.1kWh of energy storage mean unstoppable riding enjoyment. After that,
riders who still have not enough can simply swap the battery thanks to a special quick change system, and are ready to go again in
no time – and fully recharge the empty battery within 90 minutes. Considering the typical use of their off-road vehicles, KTM also went to a lot of effort to fully seal the complete drive and energy unit. Motor, power electronics, battery – any and all driveline components have been 100 per cent dust and water proofed. This means that neither tough terrain nor fording pose limits to the technology. It also means that the bike can be cleaned with a regular pressure washer in typical off-road fashion.

The completely new powertrain technology does require a different operation and some unique motion sequences. Thanks to its high-torque electric motor, the Freeride E is very easy to ride as it has neither a gearbox nor a clutch. Especially beginners benefit from this simplification – just hop on, open up and have fun! As no clutch lever is needed, both front and rear brakes can be operated from the handlebar like on a bicycle, although the right lever still operates the front brake like on any true motorbike.
Even experienced off-road riders will quickly discover just how much you can improve your riding style just by being able to fully
concentrate on the ideal line and the possible variations that open up.

Just as the other KTM models, the Freeride E benefits from the company's focus on uncompromising lightweight design across all
components. The innovative, composite steel/aluminium chassis design, along with the use of top quality equipment and chassis parts throughout, drops the total weight to only 95kg. This is complemented by a suspension in the best "Ready to Race" tradition. Ultra-light 21-inch front and 18- inch rear wheels, compression and rebound adjustable suspension and an outstanding braking system with a four-pot calliper up front and a two-pot counterpart on the rear make the Freeride E a genuine KTM.

Safety

The Freeride E is the first production bike to use a high voltage design with 300 Volts, similar to electric cars. There is a good reason – the higher the voltage, the lower the electric current, which in turn means you can use smaller and lighter live electrical
components. Any worries about the high voltage are unfounded, because right from the start, the KTM developers have made no
compromise wherever safety is concerned.
For example, the complete vehicle safety concept complies with the ISO26262 standard and has also been elaborately tested
and certified by the German GTÜ (Gesellschaft für technische Überwachung).

2012 KTM Freeride E Features and Benefits
See Above
---
2012 KTM Freeride E – International Specifications/Technical Details
MSRP Price: See KTM dealer for pricing.

Drive Unit

Electric motor
Rated output
Max. power
Torque
Max. motor speed
Traction battery
Rated voltage
Energy
Recharge time


CHASSIS


Frame
Subframe
Handlebars
Front suspension
Rear suspension
Suspension travel front/rear
Brake front/rear
Wheels front/rear
Tires front/rear
Chain
Steering head angle
Wheelbase
Ground clearance
Seat height
Range
Weight, approx.

 

Permanent magnet synchronous motor in a disc armature design
7.5 kW (10 hp) @ 6000 rpm
22 kW (30 hp) @ 6000 rpm
42 Nm @ 500 rpm
6600 rpm
Lithium-ion (easily removed)
300 V
2.1 kWh
1.5 h


 

Perimeter steel-aluminium composite frame
Plastic
Aluminium Ø 28/22 mm
WP USD Ø 43 mm
WP PDS shock absorber
250/260 mm
Formula disc brakes Ø 240/210 mm
1,60 x 21"; 1,85 x 18" GIANT RIMS
80/100-21″; 110/90-18″
5/8 x 1/4″
67°
1418 ±10 mm
340
910 mm
20 min professional, 45 min amateur
95 kg
---
2012 KTM Freeride E – American Specifications/Technical Details
US MSRP Price: See KTM dealer for pricing and availability

To be annouced. See International Specifications.

---
2012 KTM Freeride E – Canada Specifications/Technical Details
Canadian MSRP Price: See KTM dealer for pricing and availability

To be annouced. See International Specifications.