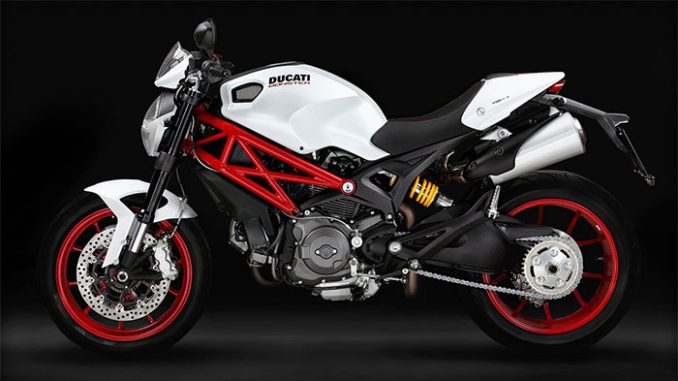 Click photos to enlarge. Our big, clean bike pics make great desktop wallpaper.
2015 Ducati Monster S2R Review

2015 Ducati Monster S2R on Totalmotorcycle.com
Air Cooled Monster
The new Monster S2R comes with the distinctive white color with a longitudinal red racing stripe and sporty red wheels, making it the ultimate naked bike that represents not only a product of great ingenuity but also of pure emotion. For whichever road you choose, the Monster S2R will surely stand out from the rest of the crowd.
2015 Ducati Monster S2R Totalmotorcycle.com Key Features

Monster Story
In 1992 Ducati unveiled a new prototype that was to become an icon. Ducati's creation awed the crowds and the world's media of that year's Cologne International Motorcycle show. The 900 Monster was a motorcycle that created a truly new niche – dramatically styled, minimalist in stature yet bristling with innovative engineering solutions. The Monster's radical styling has also provided the inspiration for an entire after-market sector specialising in hot-rod parts for this legendary machine. For this reason, rarely do you see two Monsters the same. This radical and refreshing design departure also influenced other manufacturers but, as the old adage states: imitation is the highest form of flattery… The Monster is characterised by a long and successful history, by its introduction during the years of numerous cylinders and uncountable colour options, but above all by a constant technological evolution that this year brings us to the birth of the last version: the Monster 1200, "The Ultimate Monster".

Monster Tales

A memory, an emotion, an image, a sound. One common element: Ducati Monster.
Whether you're a motorcyclist, a would-be motorcyclist or a passenger, whether Monster has been your travelling companion on a thousand adventures or whether it's a dream that's still to come true, whether it's parked in your garage or is just an image firmly stamped in your mind….whatever your story, tell us the tale and celebrate the 20th anniversary of Monster together with us!
Register online and share your tales about the world's best naked bike! You can upload a photo, a video, a written text or even just a sound to be a part of the Monster hall of fame!
2015 Ducati Monster S2R Totalmotorcycle.com Features and Benefits
96 Desmodue

The 796 engine is a completely brand new, lightweight Desmodue power unit designed to provide the torquey, smooth and enjoyable character famous of all Desmodromic L-Twins.

APTC clutch

The APTC 'wet' clutch gives a 'slipper' type action that prevents destabilizing of the rear-end under aggressive down-shifting and also gives the extra benefit of a super-light feel at the lever, a great benefit in stop-start city traffic or during longer journeys. The 21-plate oil-bath clutch (11 friction and 10 steel) represents a power-enhancing weight reduction over the 'dry' system as well as having a quieter operation and requiring less maintenance.

Lightweight crankcases

The new crankcases hug the gearbox internals much closer to create a smaller and more compact outer profile and achieve considerable weight savings over previous cases.

Power & torque curves

The Monster 796 produces 84hp (64kW)@ 8250rpm of power and a torque to 58lb-ft (78Nm) @ 6250rpm.

Crankshaft

The crankshaft assembly uses a lightweight 848-type flywheel and has a 66mm stroke instead of the 696's 57.2mm.

Exhaust system

Providing a deep and rich exhaust tone within current noise and emissions regulations is no mean feat, but the Monster definitely provides the L-Twin sound famous of Ducati. Its bold, high-level twin mufflers also make a striking style statement.
The exhaust system on Monster 796 has one Lambda probe dedicated to each cylinder, enabling precise fuelling for a smoother power delivery as well as complying with current emission regulations.

Monster Trellis

An immensely strong but light tubular steel Trellis frame with aluminium rear sub-frame is the visual and structural backbone of the Monster. Delivering unparalleled rigidity with minimal mass, the chassis design is pure Ducati in its ingenuity and simplicity. A separate, all aluminium sub-frame saves weight and adds a pleasing continuity with the aluminium footrest hangers and matte finished swingarm.

Lightweight construction

Every carefully selected component of the Monster 696 has a net benefit to the overall light weight of the machine. The dry weight of 161kgs (355lb) has dramatic effects on not just manoeuvrability and ease of use, but also by contributing directly to increased performance, braking and acceleration.

Lightweight 5-spoke wheels

The extremely lightweight aluminium alloy Y-shaped, 5-spoke wheels reduce unsprung weight and improve agility. The 3.50×17 front wheel is fitted with a 120/70ZR tyre while the rear 5.50×17 wheel has a 180/55ZR. The result is lightweight, precise steering that is extremely responsive at all speeds while giving the vehicle exceptional stability.

Single-sided swingarm

The beautifully shaped single-sided swingarm gives the Monster a 'tough' look while ensuring higher rigidity, reduced weight and enhanced road holding.
The swingarm is chill-cast using aluminium in its most noble form. Gravity cast and heat treated, the component achieves the best mechanical characteristics as well as reduced final weight for improved handling.

Headlight

The triple-parabola headlight on the Monster utilises the latest optical technology and advanced construction techniques to provide an incredibly compact lighting package. In spite of its compact size, the headlight throws a broad and deep beam to provide excellent visibility and make night riding safer. Viewed from the side, its discrete silhouette mimics the radical shape of the fuel tank.

LED taillight

A LED rear light unit satisfies the minimalist, weight-saving design ethos found throughout the Monster 796. The specially designed strip of LEDs are enhanced by a special diffuser lens to deliver outstanding light clarity and incredible longevity.

Monster Style

Refined and sophisticated, the Monster 796 is proud to show its unmistakable style as the 'Italian ambassador' in the world of motorcycling.
The large diameter tube construction flows into the cast aluminium rear sub-frame which matches the matte black rear swingarm and footrest hangers.
The 17″ wheels in the five 'Y-shape' mount a stylish pin-stripe for 60° of the circumference of the rim which creates a full circle of red when in motion.
The bright white illuminated display, the stylish red stitching of the new seat, the italian flag and the new Ducati logo on the front mudguard complete the clean and minimalist style of this new urban icon.

Empowering Controls

The Monster 796 has enhanced comfort and control with 20mm higher bar-risers gripping sturdy tapered section aluminium handlebars.
Integral type Brembo master cylinders are used for both the clutch and brake systems and maintain a clean handlebar arrangement for the rider. They are fitted with user-friendly 4-point adjustable levers that provide easy-to-reach control for all hand sizes and the APTC clutch offers a super-light lever action ideal for use in the city.

Stopwatch

The digital display is programmed with a stopwatch function that, when enabled, can be triggered by using the high-beam flash button and each recorded time stored in a memory. After your journey or track session, the times or lap times can be recalled from the memory and scrolled through by using the instrumentation buttons on the left-hand switchgear.

M796 ABS

The Ducati Monster 796 is available with ABS (anti-lock braking system).
Unlike the majority of motorcycle ABS set-ups, this system has the advantage of ensuring a more natural braking 'feel' for the rider.
The Monster 796 ABS is equipped with ABS, the single seat cover and the neat micro-bikini fairing.

---
2015 Ducati Monster S2R – Totalmotorcycle.com USA Specifications/Technical Details
US MSRP Price: $ USD

Engine
Type
L-Twin, 2 Desmodromically actuated valves per cylinder, air cooled
Displacement
803cc
Bore x Stroke
88 x 66 mm
Compression ratio
11:1
Power
64 kW (87 hp) @ 8,250 rpm
Torque
78 Nm (58 lb-ft) @ 6,250 rpm

Technical data referring to power and torque was measured on an engine test stand at Ducati.
Fuel injection
Electronic fuel injection, 45mm throttle body 45 mm with stepper motor
Exhaust
Lightweight 2-1-2 system with catalytic converter with twin lambda probes

Transmission

Gearbox
6 speed
Primary drive
Straight cut gears; Ratio 1.85:1
Ratio
1st 32/13, 2nd 30/18, 3rd 28/21, 4th 26/23, 5th 22/22, 6th 24/26
Final drive
Chain; Front sprocket 15; Rear sprocket 39
Clutch
APTC wet multiplate with hydraulic control, Self-servo action on drive, slipper action on over-run

Chassis

Frame
Tubular chrome moly steel trellis, casted aluminium subframe
Front suspension
43mm upside-down forks
Front wheel
5-spoke in light alloy 3.50 x17
Front Tyre
120/70 ZR17 Pirelli Diablo Rosso
Rear suspension
Progressive linkage with preload and rebound adjustable monoshock. Single sided swingarm
Rear wheel
5-spoke in light alloy 5.50 x 17
Rear tyre
180/55 ZR17 Pirelli Diablo Rosso
Front wheel travel
120mm (4.7in)
Rear wheel travel
148mm (5.8in)
Front brake
2 x 320mm discs, 4-piston radial caliper, ABS as standard equipment
Rear brake
245mm disc, 2-piston caliper, ABS as standard equipment
Instrumentation
Digital unit displaying: Speedometer, rev counter, clock, scheduled maintenance warning, oil temperature, trip fuel, lap time, warning light for low oil pressure, fuel level, fuel reserve, neutral, turn signals, overrev, immobilizer. Ready for DDA system.

Dimensions and weight

Dry weight
169kg (373lb)

Weight data refers to the dry weight of the motorcycle without battery, lubricants and coolants for liquid-cooled models.
Wet weight (KERB)
188kg (414.5 lb)

Kerb weights indicate total bike weight with all operating consumable liquids and a fuel tank filled to 90% of capacity (as per EC standard 93/93).
Seat height
800mm (31.5in)
Wheelbase
1450mm (57.1in)
Rake
24°
Trail
87mm (3,42 in)
Fuel tank capacity
15l – 3.8gallon (US) / 13.5l – 3.6gallon (US) ABS version
Number of seats
Dual seat


Warranty
2 years unlimited mileage
Maintenance service intervals
12.000 km (7,500m) / 12 months
Valve clearance check
12.000 km (7.500m)

Emissions and Consumption

Standard
Euro 3 (Europe version) – USA: follows the US Federal Regulation
---
2015 Ducati Monster S2R – Totalmotorcycle.com Canadian Specifications/Technical Details
Canada MSRP Price: $ CDN
---
2015 Ducati Monster S2R – Totalmotorcycle.com European/UK Specifications/Technical Details
UK/European MSRP Price: £ GBP (On The Road) (including 20% VAT + Pre-delivery Inspection)
Specifications and appearance are subject to change without prior notice.