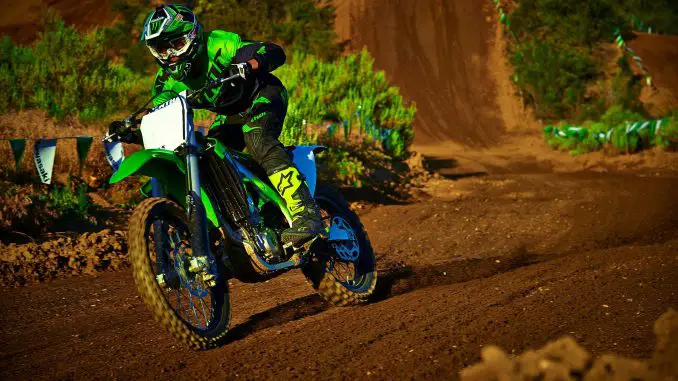 Click photos to enlarge. Our big, clean bike pics make great desktop wallpaper.
2015 Kawasaki KX450F Review

2015 Kawasaki KX450F on www.Totalmotorcycle.com
Following another highly successful year in competition, improvements to the four-time AMA Supercross Championship-winning KX™450F will keep it on top in 2015!
KX design philosophy is simple: put mid-level to expert riders on the top step of the podium – and that is what the KX450F does best. Engine and chassis performance delivers what riders need to win. And complimenting this dominant performance, the KX450F is loaded with advanced technology with industry firsts that give riders an even greater edge.
It's no secret that Monster Energy Kawasaki has been dominating the AMA Supercross and AMA Motocross series, with Ryan Villopoto piloting his Monster Energy® Kawasaki KX450F-based race bike to four consecutive AMA Supercross Championships in 2011 through 2014. Villopoto's skills are undeniable, but the race-ready Kawasaki KX450F allows the legendary racer to brake later, carve deeper and accelerate harder thanks to a technology package and powerful yet tractable motor unrivaled by any production motocross bike.
2015 sees the KX450F rise to another level with greater rider adjustability along with chassis, suspension and brake upgrades aimed at maximizing performance for a variety of riders in most every condition. This ensures it is now easier than ever to access the performance of the KX450F and tailor it to fit the rider's needs.
NEW KX450F FEATURES FOR 2015

•Showa SFF-Air TAC Fork with Triple Air Chamber
•High-pressure 300psi digital air pump provided with every purchase
•Uni-Trak® rear suspension with SHOWA shock
•Larger 270mm "oversized" Braking-brand front disc
•Revised Bridged-Box-Bottom piston and ECU programming
ENGINE & LAUNCH CONTROL
What hasn't been said about the legendary 449cc engine in the KX450F? It's powerful, tractable and reliable, yet Kawasaki took it upon itself to also improve its design with a revised Bridged-Box-Bottom piston that raises the compression ratio (12.8:1 from 12.5:1 in 2014) and improves combustion efficiency for increased performance. The cutting edge piston design was developed on Villopoto's factory racer and provides a stronger mid-range hit as well as a stronger feeling at high RPM.
From the saddle, the rider will experience the proven top-end and over-rev performance that the KX450F is known for, while maintaining its impressive torque. This championship-winning powerplant develops massive torque from the low revs and continues to pull all the way through the mid- and upper-range of the power curve like no other engine in history.
Of course, the revolutionary DFI® Couplers (Standard, Hard, Soft terrain settings) are still utilized on the DFI system, allowing riders to change the fuel injection mapping in a matter of seconds to suit a variety of riding conditions. Easy access to the DFI coupler cap means no additional accessories are needed to alternate between pre-preprogrammed maps. The rider simply connects the appropriate coupler cap to immediately activate an ignition mode that matches local track conditions.
The ECU system was revised for 2015 with new programming to enhance traction by retarding the ignition when excess wheelspin is detected by a sudden surge in RPM.
The ECU is also fully re-programmable. Custom maps can be created using the optional accessory Kawasaki Racing Software Kit giving riders total power adjustability. This is the same tool used by Kawasaki factory and privateer teams in AMA and FIM racing.
The industry-first factory Launch Control System also remains for 2015, helping to ensure holeshot supremacy. The push-button activation retards ignition timing in first and second gears, which, in turn, helps maximize traction. Once the rider shifts into third, normal ignition mapping is resumed and full power returns.

SUSPENSION
An engine like this requires the grip and ride quality to match, and this is delivered by the upgraded suspension components for 2015. A high-tech Showa SFF-Air TAC (Separate Function front Fork, Triple Air Chamber) fork separates the damping and shock absorption duties into the individual fork legs. The left fork tube contains the damping assembly and the right fork tube contains the air spring. Instead of the steel coil springs found in conventional forks, the SFF-Air TAC's right fork tube has three chambers filled with pressurized air that act as a spring. Eliminating the springs reduces friction by approximately 20-percent for extremely smooth action throughout the fork's stroke. This has the added benefit of greatly reducing weight and allowing a larger damper piston to be used, provides smoother action and firmer damping performance.
The inner air chamber acts as the main air spring and is completely enclosed within the inner and outer fork tubes, protecting it from roost or crash damage. The outer air chamber supports the inner chamber and performs the same duty of the outer cylinder air chamber in a conventional fork. Finally, a balance chamber provides a counter-force to the inner chamber, ensuring ride comfort. When the fork is fully extended, the inner chamber pressure is at its minimum and the balance chamber pressure is at its maximum. Conversely, when the fork is fully compressed, the inner chamber is at its maximum and the balance chamber pressure is at its minimum. Adjusting the pressure in the balance chamber also acts as a preload adjustment, so the front-end can be raised or lowered to suit rider preference.
During the compression stroke, the pressurized air exerts a strong counterforce to contribute to bottoming resistance. However, during rebound the pressurized air offers little resistance, allowing the front wheel to follow the terrain better and to make the front-end give feel more planted.
Air pressure can be changed with the Kawasaki Genuine Accessories 0-300psi Digital Air Pump that is included with every KX450F. The digital display offers increased precision when setting air pressures, and the casing stores DFI Couplers for the fuel injection system for better organization on race day. Simply changing the air pressure covers the range of settings offered by optional springs in a standard fork, and more.
The works-replica fork, which is derived directly from Villopoto's race bike, is lightweight and rigid, contributing to superior riding stability and front-end feel. The low friction contributes to extremely smooth fork action, while precise settings are possible merely by changing air pressure instead of disassembling the fork tubes.
There is also less oil contamination from the metal-on-metal wear suffered by conventional internal fork springs. A titanium coating on the inner tubes improves fork action with diminished friction, and the silver external finish is factory fresh.
Out back, the Uni-Trak® linkage system works on a new Showa shock with firmer settings that helps to improve high-speed handling, provide greater stability and improve the performance when landing from jumps. The race-oriented rear suspension offers class-leading action and adjustability that is on par with the matching Showa SFF-Air TAC up front.
The fully adjustable unit allows for precise adjustments to help keep the rear wheel planted and the rider out front.
For ultra-competitive riders who are always looking for an extra edge over the competition, Kawasaki offers an optional rear suspension tie rod that is 1mm longer than stock. This simple yet effective modification can be used to reduce seat height by 4mm to give the rider greater control and adjustment.
BRAKING
A fast engine isn't the only key to winning races. Being able to effectively enter every corner from speed is also critical. And Kawasaki upped the ante for 2015 with a new, oversized, petal-shaped front brake rotor from the renowned Braking company that increases stopping effectiveness, lever feel and consistency in all conditions.
The "oversized" 270mm front rotor was increased from last year's 250mm part. It is paired with a petal-shaped 240mm Braking rear rotor to give riders the ultimate feedback.
The petal-shaped rotors help shed dirt, allowing riders to brake harder with more stopping power. As any racer knows, better braking translates into quicker lap times.
CHASSIS
World-class suspension components are not effective without proper support, so Kawasaki's engineers worked hard to improve handling and chassis feedback with tweaks to the auxiliary components supporting the slim aluminium perimeter frame.
A new lighter rear subframe is shared with the KX250F, reducing the weight and improving mass centralization for quicker handling and a more nimble feel in the saddle.
The alloy swingarm, with its cast front section, twin tapered hydro-formed spars in raw aluminum finish, and forged chain adjusters are fitted with a new self-locking rear axle nut. The design holds the 80 lb ft torque setting without the need of a cotter pin for ease of maintenance.
The axles are new for 2015, lightened by 31 grams front and 32 grams rear as a further weight saving measure to improve the overall feel.
Kawasaki's commitment to riders continues with adjustable footpegs and handlebars to fit various sizes and riding styles. The footpegs feature dual-position mounting points, while the multi-position handlebars feature two mounting holes for four individual settings, and 180-degree offset clamps to suit riders of many sizes.
Sparing no attention to detail, the seams between the radiator shrouds, seat and side covers are flush fitting. This helps avoid gear snags and allow the rider to change position and maneuver more freely on the bike. The compact fuel tank also forms a smooth straight line with the seat, allowing maximum rider movement.
ENHANCED STYLING
The 2015 KX450F looks the part thanks to its enhanced styling that features a Lime Green finish with factory-style graphics. The appearance is further highlighted with green engine plugs, oil cap and generator cover plugs, as well as green alumite suspension adjusters and black alumite wheels. The coated components not only look at home in the pits, but the durable finish is corrosion and scratch-resistant.
Thanks to further refinement to an already class-leading performer, it's easy to see why the 2015 KX450F will continue its success on podiums across the country, thanks to a proven pedigree and Kawasaki's steadfast commitment to excellence and improvement.

2015 Kawasaki KX450F www.Totalmotorcycle.com Key Features

At a glance…
Launch Control helps to reduce wheelspin on slippery starting gates
Showa SFF-Air TAC fork with triple air chamber uses air spring to reduce weight, compared to traditional metal-coil fork springs, providing effective tuning and bottoming resistance
Includes a free digital Kawasaki Genuine Air Fork Pump for quick and easy tuning of fork spring pressure
Engine is tuned for optimum power delivery all the way from basement revs through the upper RPM range, this results in impressive thrust that continues from corner-exit to the end of the straights
Revised Bridged-Box-Bottom piston crown increases compression and boosts performance
Intake cam shape promotes strong low-RPM throttle response
Larger 270mm "oversized" Braking-brand petal-shape front disc, 240mm petal-shape rear disc
Front master cylinder features a knocker-style lever-to-piston interface for excellent feel and superbly consistent performance
Pre-programmed ignition maps are interchangeable trackside, no PC required
Adjustable 4-position handlebar and 2-position footpegs allow riders to fit the KX to match their personal preference
Black anodized aluminum rims for a factory look
2015 Kawasaki KX450F www.Totalmotorcycle.com Features and Benefits
Engine Overview
449cc, liquid-cooled, DOHC, four-stroke single with legendary Kawasaki power!
Works-based Bridged-Box-Bottom piston has optimum rigidity for maximum high-rpm power and durability
A forward lean angle of 3° puts the engine in the ideal position for maximum traction
Highly balanced crankshaft, on par with Villopoto's factory racer, creates minimal vibration and has a high inertial mass to help maximize rear wheel traction
Compact cylinder head is only 100mm tall
Double valve springs help ensure stable valve operation and also allow for a short cylinder head height
Camshafts, lobes and tappet surfaces feature a soft-nitride treatment for long wear and high-rpm reliability
Automatic cam chain adjuster is maintenance-free
Crankshaft and connecting rod feature a special carburizing and quenching treatment to maximize rigidity, boosting long-term reliability without adding weight

Digital Fuel Injection
Digital Fuel Injection (DFI®) self-adjusts to atmospheric changes for easier starting, sharper throttle response and accessible power for jumping
It is not necessary to re-tune or change any jets to suit climatic conditions like carbureted models
Ultra-fine atomizing injector with 12 holes sprays particles with a droplet size of 60? for smooth power delivery and engine response throughout the throttle range
43mm throttle body uses a progressive throttle linkage to deliver airflow in much the same way as an FCR carburetor
Using two linked shafts, the throttle body opens more quickly after reaching the 3/8 open position
Fast-idle knob on the throttle body allows riders to increase engine speed when starting a cold engine
Fuel injector set at 45°, the optimum angle for mid-range power

High-performance Multi-map ECU
Revised ECU programming enhances traction by retarding ignition when excess wheelspin is detected by a sudden surge in RPM.
Ignition timing boosts response when re-opening the throttle after deceleration (when landing jumps, etc.)
ECU programming is easily selectable via interchangeable DFI coupler caps that provide three preprogrammed maps for standard, hard (terrain) and soft (terrain), without the need for a separate programmer or laptop
The engine can be started with only three rotations of the crankshaft using the electricity generated by a single kick of the starter, no battery needed
The system delivers electricity to the bike's electronics in sequence: first the ECU, then the fuel pump, and finally the injector for quick, easy starting
The compact, lightweight ECU, located on the front of the steering head behind the number plate, was designed specifically for motocross use. The fuel pump relay is integrated with the ECU to help cope with the shocks and vibrations of tough racing

Launch Control Mode
Factory-style launch control system is an industry first and increases the ability to get good starts by maximizing available traction
Push-button activation of the Launch Control Mode retards ignition timing in first and second gears, giving the greatest effect within the first few seconds of releasing the clutch
Launch Control can be activated in neutral, first or second gear
Shifting into third gear automatically deactivates Launch Control Mode and returns the ignition to normal mapping

Easy Starting
Strong output from the large ACG rotor provides enough electrical power for the battery-less FI system to enable true one-kick starting without using a battery
Equipped with an automatic compression release (ACR) system for quick and easy starting. The dual-weight centrifugal decompression system is fitted to the exhaust cam
Compression release features 1.0mm of valve lift, to minimize the required kicking power

Bridged-Box Bottom Piston
Piston crown shape tuned for excellent low to mid-range engine response
Same design as used on our factory racers; offers optimum performance at all rpm
Lighter and more durable than traditional piston designs
Short piston skirt features low-friction coating to minimize mechanical losses
Reinforced external ribs enhance strength and durability

Showa SFF-Air TAC Front Fork
Showa SFF-Air TAC fork with triple air chamber uses air as a spring. The reduced weight and inertia of the air spring improves smoothness and enhances the fork's ability to follow terrain contours
Air spring significantly reduces friction and cuts weight while also providing better bottoming resistance, less oil contamination, plus easier and more effective tuning compared to traditional springs
Large diameter internal damping cartridges help provide consistent performance and bottoming resistance
A removable spring pressure adjustment valve and free 0-300psi digital Kawasaki Genuine Air Fork Pump are included for quick and easy tuning of fork spring pressure
Hard titanium coating on the outer surface of the inner fork tubes offers minimum stiction when the fork is exposed to lateral forces that would usually hamper slide action. The result is improved fork response, especially during cornering
Friction-reducing Kashima Coat on the inside of the fork's outer tubes contributes to smooth suspension action (especially at the initial part of the stroke)
Wrap-around fork tube guards offer effective protection for the sliders
Lower triple clamp features integrated locating pins to help simplify installation and removal of the front number plate
One-piece front fender attachment screws feature integrated grommets to simplify installation and removal

Rear Shock
22-position rebound damping adjuster allows precise fine-tuning of the rebound circuit
Easy adjuster access allows track-side suspension tuning with a minimum of hassle or lost time
Rear shock features dual compression adjustability, allowing 19-position low-speed and 4 turns of high-speed damping adjustments to be made independently

Aluminum Swingarm
Tapered "D" shape swingarm is lighter than a comparable box-section unit and provides superior rigidity for its weight
Features tapered hydroformed spars and forged chain adjusters
Uni-Trak® rear suspension linkage is mounted below the swingarm to allow precise tuning and maximum rear suspension stroke

Fuel Tank and Lightweight Aluminum Fuel Pump
Compact 1.6-gallon fuel tank is formed using a blow molding process
Fuel pump features a one-piece filter cover and body, eliminating the need for fuel return tube from pressure regulator
Features a plastic fuel filter cover that wraps around the inlet port and acts as a fuel trap to help ensure a stable fuel supply during vigorous motocross riding

Efficient Cooling
High-capacity Denso radiators feature tightly packed cores and a fin design that deliver superior cooling efficiency
Shroud shape features a slim profile and large cooling outlet hole to help keep excess heat to a minimum
Radiator louvers feature four small blades set at a shallow angle for minimum overlap and maximum air flow

Strong and Durable Clutch
Clutch assembly provides a direct feel and superb control of engagement
Excellent oil drainage reduces power loss caused by excess oil around the clutch basket
Friction plates with substantial friction material contribute to fade resistance and long service life
Clutch case cover features embossed logo and is painted silver, making scuffs and normal wear less noticeable

?
Close-ratio 5-Speed Transmission
5-Speed transmission and the engine's broad torque curve gives riders more gear options for maximum drive on a wide range of tracks
Thick first gear offers excellent durability for launching off the line in high-traction situations

Powerful Disc Brakes
Front master cylinder features a knocker-style lever-to-piston interface for excellent feel and superbly consistent performance
Front brake pads offer a strong braking force and feel
Lightweight 270mm "oversized" Braking-brand front rotor is squeezed by a powerful twin-piston caliper and features an aggressive petal design to help clear mud and debris
Lightweight 240mm Braking-brand petal-type rear rotor features the same aggressive petal style as the front rotor and is gripped by a single piston hydraulic rear caliper

Rider Interface and Styling
Slender frame helps the bike feel compact and nimble, but tapers to become wider near the rider's ankles to offer optimum grip and control
Wide 50mm footpegs can be adjusted to alternate position, 5mm lower than stock
Dual injected 2-tone, one-piece plastic shrouds and side number plates are great looking, compact and lightweight
Black triple clamps and black anodized rims – just like Kawasaki's factory teams
Green finish on suspension adjusters and engine plugs look like the factory race parts
Slim seat design uses urethane foam designed to retain its original shape and provide optimum durability

Additional Features
Skid plate made of resin material offers great protection without excess weight
Clutch cable boot features a large quick adjuster, making it easy for riders to adjust clutch play on the fly
Rear caliper guard helps protect the caliper from damage
Ribless rear hub and butted spokes offer light weight and excellent durability
New lightweight axles are lighter by 31 grams front and 32 grams rear

Optional KX Accessories
Kawasaki Racing Software Kit allows racers to reprogram the ECU's data maps for volume of fuel injected and ignition timing to alter engine characteristics to suit rider preference. An ECU setting is available, which can also be used as a data logger, recording up to six hours of data, including engine rpm, degree of throttle opening, engine boost, coolant temp, air temp, ignition timing, fuel adjustments, gear position and system voltage
---
2015 Kawasaki KX450F – www.Totalmotorcycle.com USA Specifications/Technical Details
US MSRP Price: $8,699 USD

Engine: Liquid-cooled, four-stroke single with DOHC and four-valve cylinder head
Displacement: 449cc
Bore x stroke: 96.0 x 62.1mm
Fuel Injection: DFI® with 43mm Keihin throttle body
Compression ratio: 12.8:1
Ignition: Digital DC-CDI
Transmission: Five-speed
Rake / trail: 27.9 degrees / 4.7″
Front suspension / wheel travel: Inverted Showa SFF-Air TAC fork with Triple Air Chamber, hard titanium-coated sliders, 22-position compression and 20-position rebound damping adjustment / 12.4″
Rear suspension / wheel travel: UNI-TRAK® linkage system and Showa shock, 19-position
low-speed and 4 turns high-speed compression damping,
22-position rebound damping and fully adjustable spring
preload / 12.4″
Front tire: 80/100-21
Rear tire: 120/80-19
Front brake: Single semi-floating 270mm Braking petal disc with dual-piston caliper
Rear brake: Single 240mm Braking petal disc with single-piston caliper
Overall length: 86.4″
Overall width: 32.3″
Overall height: 50.2″
Wheelbase: 58.8″
Ground clearance: 13.4″
Seat height: 37.8″
Curb weight: 247.1 lb
Fuel capacity: 1.64 gallons
Color: Lime Green
MSRP: $8,699
---
2015 Kawasaki KX450F – www.Totalmotorcycle.com Canadian Specifications/Technical Details
Canada MSRP Price: $9,499 CDN
ENGINE
Type 4-stroke, Single
Displacement 449cc
Bore and stroke 96.0 x 62.1 mm
Compression ratio 12.5:1
Valve system DOHC, 4 valves
Fuel system Digital fuel injection with 43 mm Keihin throttle body
Ignition Digital DC-CDI
Starting Primary Kick
Lubrication Forced lubrication (semi-dry sump)
Cooling Liquid
BRAKES
Front: type Single rigid mount 270 mm petal disc
Front: calipers Dual-piston caliper
Rear: type Single 240 mm petal disc
Rear: calipers Single-piston caliper
DIMENSIONS
Overall length 2,195 mm
Overall width 820 mm (32.3 in.)
Overall height 1,275 mm (50.4 in.)
Wheelbase 1,480 mm (58.3 in.)
Ground clearance 330 mm (13.2 in.)
Seat height 955 mm (37.8 in.)
Curb mass** 112.5 kg (250 lbs.)
Fuel capacity 6.2 litres (1.59 gal.)
DRIVETRAIN
Transmission 5-speed, constant mesh, return shift
Final drive Chain
Primary reduction ratio 2.727 (60/22)
Gear ratio: 1st 1.750 (28/16)
Gear ratio: 2nd 1.412 (24/17)
Gear ratio: 3rd 1.188 (19/16)
Gear ratio: 4th 1.000 (19/19)
Gear ratio: 5th 0.875 (21/24)
Final reduction ratio 3.846 (50/13)
Clutch Wet multi-disc, manual
FRAME
Type Perimeter, Aluminum
Wheel travel: front 314 mm (12.4 in.)
Tire: front 80/100-21
Wheel travel: rear 315 mm (12.4 in.)
Tire: rear 120/80-19
Caster (rake) 26.9°
Trail 113 mm (4.57 in.)
Steering angle (left/right) 42°/42°
SUSPENSION
Suspension, front ø49 mm inverted telescopic Separate Function front Fork Air – Triple Air Chamber (SFF-Air TAC)
Suspension, rear New Uni-Trak linkage system and Kayaba shock with 22-position low-speed and 2-turns or more high-speed compression damping, 22-position rebound damping and fully adjustable spring preload

* The Manufacturer's Suggested Retail Price does not include freight, pre-delivery inspection or applicable taxes. The final price is at the discretion of the dealer. Prices and Specifications are subject to change without prior notice. The amount indicated as "Your price" may include an optional instant Mega Cash credit that is deducted from the manufacturer's suggested retail price before taxes. This promotion is time limited and certain conditions will apply. See your dealer for complete details. Offer not available on financed purchases and cannot be combined with any other special offers. The final price is at the discretion of the dealer. Prices and Specifications are subject to change without prior notice.
** Includes all necessary materials and fluids to operate correctly, full tank of fuel (more than 90% of capacity) and tool kit (if supplied)
‡ Power / Torque figures measured at the crankshaft.
The specifications mentioned here apply to and have been achieved by production models under standard operating conditions. We intend only to give a fair description of the vehicle and its performance capabilities but these specifications may not apply to every machine supplied for sale. Kawasaki Heavy Industries, Ltd. reserves the right to alter specifications without prior notice. Equipment illustrated and specifications may vary to meet individual markets. Available colours may vary by market.