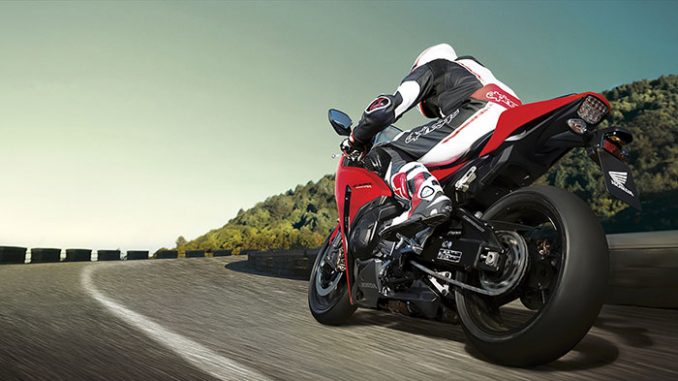 2016 Honda CBR1000RR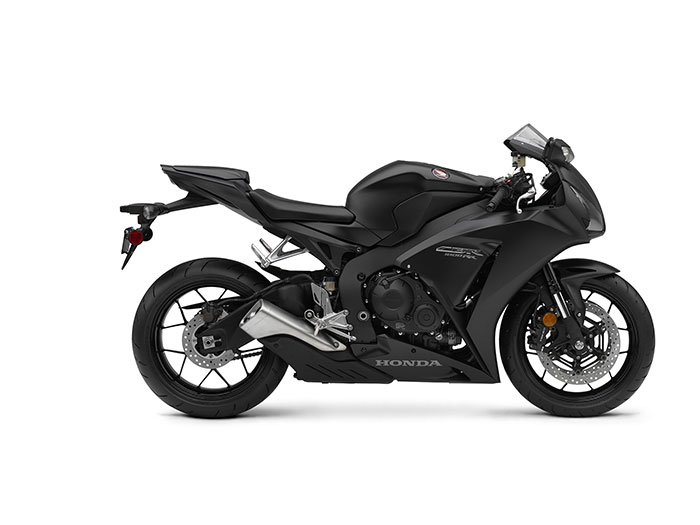 2016 Honda CBR1000RR – Option 1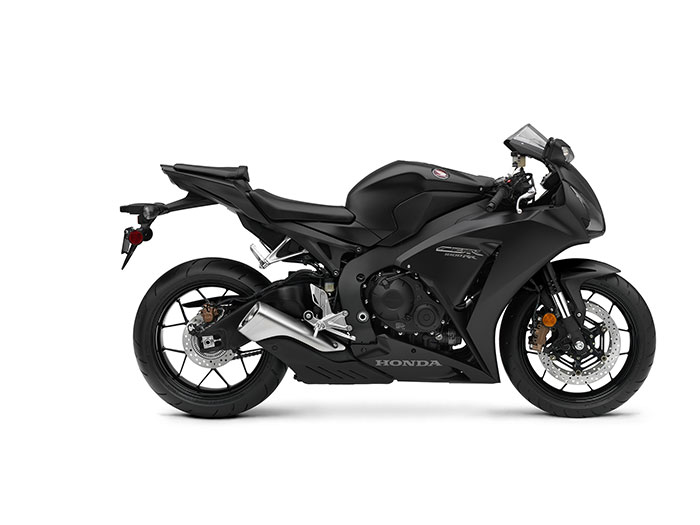 2016 Honda CBR1000RR – Option 2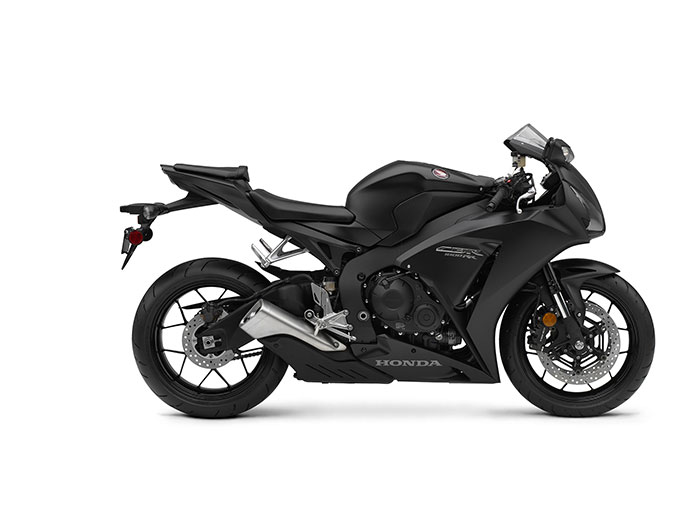 2016 Honda CBR1000RR – Option 3
2016 Honda CBR1000RR Review

2016 Honda CBR1000RR on www.Totalmotorcycle.com
The Connoisseur's Superbike…
All motorcycles are special. But there's something about a sportbike that distills the experience into something even more pure. So immediate. Such an intense connection between rider and bike. And the most intense of all is a Superbike, like the Honda CBR1000RR.
The CBR1000RR is the purest of the pure, a bike with nothing to dilute the experience of the rider and the bike. The power is unlike anything else in our lineup—the chassis and suspension are a tribute to Honda's decades of racing dominance. And there's plenty of technology, too, but it's the best kind: invisible, non-intrusive, there only when you need it.
For 2016 we have a couple of versions for you. There's our CBR1000RR, available in Matte Metallic Black this year, with all the features you can ever want. And then there's our limited-edition CBR1000RR SP, the primo choice for track-day enthusiasts: Fully adjustable Öhlins front and rear suspension, Brembo front brakes and Pirelli Diablo Supercorsa SC premium tires, lightweight subframe with solo seat cowl, along with hand-selected engine parts for weight and balance, including pistons and connecting rods.
For Superbike purists, the CBR1000RR is the best there's ever been, a bike like no other.

Race-Winning Heritage
With an unprecedented, unmatched 700 total MotoGP victories, Honda's winning heritage stands far above any other manufacturer. Our superior engineering and technology put our GP bikes in the winners' circle and give you the performance you need for the street.

2016 CBR1000RR Options
The 2016 CBR1000RR is available in two trim levels. The Standard model is available in Matte Black Metallic and the CBR1000RR SP comes wrapped in Repsol graphics inspired by the two-time MotoGP Champion Marc Marquez and track-ready race parts.

Front and Rear Suspension
The CBR1000RR standard features top-notch suspension components both front and rear. Up front, the 43mm Big Piston Showa fork is smooth and responsive; in the back, the Unit Pro-Link® design uses a balance-free rear shock with a double-tube design for a smoother response and better road-holding feel (traction performance).

LCD Instrumentation
The CBR1000RR's full-screen LCD instrumentation includes a lap timer, trip and fuel-consumption computer, five-level customizable shift indicator, gear-position indicator, and peak-rpm memory function.
Race technology and total control.
Total Control is at the heart of every CBR1000RR Fireblade; the fine balance between incredible engine performance and lightweight, pinpoint chassis that's exhilarating on the road and impressively fast on the track.
2016 Honda CBR1000RR www.Totalmotorcycle.com Key Features
Excellent efficiency
The cylinder head on the CBR1000RR's 999.8 cc 16-valve engine features polished inlet and exhaust ports and "gas-flowed" combustion chambers to improve efficiency. Gas-flowing (flow-testing on an air-flow bench) improves both the quality and quantity of airflow at high rpm when air resistance becomes much greater, thereby increasing combustion efficiency and outright power. The valve seats have been matched to the cylinder head and the intake funnels are "slash cut", a design used in World Superbike.
Reduced friction
A nickel-silicon carbide (Ni-SiC) surface treatment on the cylinder walls reduces friction and improves reliability.
Superior throttle response
PGM-DSFI electronic fuel injection ensures precise air/fuel delivery and crisp and predictable throttle response, especially at low speeds and low rpm. At throttle openings of up to 25%, PGM-DSFI is programmed to produce relatively fine and consistent changes in power and torque output – perfect for extracting maximum drive at extreme lean angles. As throttle openings become larger, the changes in output become progressively greater. The overall result is an engine that responds with superior accuracy to throttle input and produces highly usable, linear acceleration.
Increased stability
The MotoGP-derived Assist Slipper Clutch helps to ensure confident downshifting and deceleration as well as quick clutch re-engagement and light lever action. This clutch design not only provides slip in off-throttle conditions, but also positive lock under power.
Balancing strength, rigidity & lightness
The CBR1000RR's die-cast aluminum twin-spar frame provides the strength and rigidity required for Superbike-spec handling, while its light weight contributes to the bike's impressive power-to-weight ratio. Tightly wrapped around the engine, it's also configured for optimum mass centralization – a guiding principle of Honda's design philosophy for both racing and on-road motorcycles.
Improved handling
The 43 mm fork incorporates Showa's latest Big Piston technology with a larger damping-oil volume to effectively reduce the hydraulic pressure generated as the fork legs compress and extend. The result is more precise action during the initial stroke and smoother overall damping action for improved handling, enhanced front-end feedback, and a more solid feel during hard braking.
Outstanding rider feedback
The aluminum gull-wing swingarm is deliberately long and combines with the MotoGP-derived Unit Pro-Link rear suspension to deliver outstanding traction and rider feedback.
Improved traction & road holding
Unit Pro-Link® rear suspension features a patented Balance Free Rear Shock from Showa that incorporates a unique double-tube design featuring a damper case plus an internal cylinder for more-responsive, smoother damping action and a smoother transition between compression and rebound, resulting in improved traction and road holding.
Enhanced stability
The second-generation Honda Electronic Steering Damper (HESD) monitors speed and tailors damping force accordingly. It enhances stability at high speed by minimizing the effect of sudden steering-input changes, while also leaving the steering unrestricted – and light – at low speed.
Lightweight advantage
Super-light aluminum-alloy hollow-spoke wheels feature race-spec 3.5 x 17-inch front and 6.0 x 17-inch rear dimensions.
Full braking performance
The CBR1000RR is equipped with the world's first Electronically Controlled Combined ABS for sportbikes. This innovative system combines the benefits of anti-lock brakes and linked front and rear brakes to improve both braking control and safety — all without interfering with cornering ability or other aspects of sport performance. The system measures rider input on both the front brake lever and rear brake pedal (plus data from other sensors), then using sophisticated electronics and two separate power units, generates up to the maximum braking force on both wheels while also preventing wheel lockup. An innovative stroke simulator helps to maintain the same sort of feel at the brake lever and pedal as you're used to. Combine this with the small size and weight of the components, and you have one amazing system. Full braking performance immediately available, giving you that extra peace of mind.
Exceptional stopping power
Front brake system features radial-mounted four-piston calipers and 320 mm floating discs, and the rear brake system uses a 220 mm disc with a single-piston caliper for exceptional stopping power.
More compact design
Centrally mounted 17.7-litre fuel tank is positioned low in the frame, improving mass centralization and allowing for a more compact design.
Improved handling & better comfort
Layered fairing design improves the flow of air through the cooling system and also creates a large pocket of calm air around the rider for better comfort. An integrated chin spoiler in the nose reduces aerodynamic lift to improve handling.
Information right in front of you
Multi-function LCD instrument panel communicates important information, plus includes a lap timer with memory function, five-level shift indicator, user-selectable modes for tachometer display, gear position indicator and more.
Optimum light distribution
Line-beam headlight features a two-piece reflector design utilizing two H7 bulbs for optimum light distribution and a unique compact design.
Stylish rear lighting
LED taillights are both stylish and highly visible.
Maintenance-free battery
Lightweight maintenance-free battery.
Improved security
A compact car-style wave-design ignition key offers improved security and greatly reduces the chance of breakage.
2016 Honda CBR1000RR www.Totalmotorcycle.com Features and Benefits
Pirelli Diablo Supercorsa SP V2 Tires
The street-legal Pirelli Diablo Supercorsa SP tires offer grip and handling in one high-performance tire. The 12-spoke wheels also feature a unique pinstripe design.
Gull-Wing Swingarm
The CBR1000RR's braced aluminum "gull-wing" swingarm is deliberately long. That helps deliver improved traction and gives the rider excellent chassis feedback.
Unit Pro-Link® Rear Suspension
The CBR1000RR features front and rear suspension. In the back, the Unit Pro-Link® design uses a balance-free rear shock with a double-tube design for a smoother and more accurate response.
Cylinder Head and Exhaust
The 2015 CBR1000RR features changes to the cylinder head, including revised valve seats, machining and intake exhaust port shape. Along with modifications to the intake and exhaust systems, this creates more horsepower and torque.
Lightweight Cast-Aluminum Seat Rail
On the CBR1000RR SP a firmer, single-seat design with a special pillion cover and a cast and machined aluminum subframe reduces weight and helps speed track day prep.
Twin-Spar Aluminum Chassis
A four-piece aluminum frame design balances strength, rigidity and lightness. Wrapped tightly around the engine, the structure helps centralize the CBR1000RR's mass for more responsive handling—some of the best anywhere on two wheels.
Hand-Selected Piston and Con-Rod
The CBR1000RR SP pistons and con rods are hand-selected and weight-matched to improve engine performance.
Layered Fairing
There's no mistaking the 2016 CBR1000RR, thanks to its layered fairing bodywork. Lean, mean, and more aggressive from front to back, it's a real attention getter, even when it's standing still.
Dual-Stage Fuel Injection
The CBR1000RR features two sets of injectors per cylinder for both low- and high-rpm performance, instantaneous high-rpm response and great low-rpm metering and clean running. Refined EFI settings make the engine even more manageable, with smoother throttle response specifically at smaller throttle openings.
Special CBR1000RR SP Repsol Edition
The CBR1000RR SP features a slew of race-ready parts all wrapped in Repsol graphics inspired by the two-time MotoGP Champion Marc Marquez.
Honda Electronic Steering Damper (HESD)
Most steering dampers only sense handlebar-deflection speed. The Honda Electronic Steering Damper (HESD) is way more sophisticated. It also detects vehicle speed, and adjusts damping proportionally. That helps maintain low-speed maneuverability while providing excellent, predictable high-speed handling.
LCD Instruments
The CBR1000RR's full-screen LCD instrumentation includes a lap timer, trip and fuel-consumption computer, five-level customizable shift indicator, gear-position indicator, and peak-rpm memory function.
Öhlins Front and Rear Suspension Components
The CBR1000RR SP features a forged and machined top bridge, fully adjustable NIX30 front suspension, and TTX36 rear shock for superior suspension performance and adjustability on the track or the street.
Brembo Monobloc Front Calipers
The race-proven Brembo monobloc calipers are light, but they provide exceptional stiffness and excellent braking performance.
Available Combined Anti-Lock Braking System (Electronic C-ABS)
Electronically controlled C-ABS distributes brake force over both wheels, helping to maintain braking confidence in less-than-ideal conditions. The system electronically measures rider input on the brake lever and pedal, and applies only the front or rear brake in some cases or combines both brakes in other situations. (Not available on CBR1000RR SP model.)
Big Piston Fork (BPF) Front Suspension
The CBR1000RR's front suspension uses a Big Piston Fork (BPF). The 43mm Showa fork is smoother, more responsive and gives you excellent front-end feedback.
12-Spoke Wheels
With their consistent rigidity and balance, these sharp-looking 12-spoke cast-aluminum wheels work with the fork and enhance suspension feedback to deliver real handling improvements.
Evolution of a legend
21 years of the CBR1000RR Fireblade has seen many changes in the Super Sport arena, many that it set in motion. But the constant of Total Control has ensured a focus purely on what the rider needs to get the ultimate enjoyment and excitement from every second spent riding a CBR1000RR Fireblade.
The CBR1000RR Fireblade represents the distillation of raw power into its most usable form. It is the most complete open-class Super Sport machine money can buy – and equally happy on road or racetrack.
The power of balance
The CBR1000RR Fireblade's 999.8cc inline four-cylinder engine has exactly the same upgrades to its cylinder head as the CBR1000RR Fireblade SP, increasing peak power by 2kW to 133kW for extremely responsive acceleration. Mid-range torque is lifted with new 35mm exhaust downpipes, and a link pipe between 2 and 3 cylinders balances pressure. Remapped PGM-DSFI results in crisp throttle feel and precise power delivery; the assisted slipper-clutch aids stability by reducing back-torque to the rear wheel under hard downshifting.
Super Sport, CBR1000RR Fireblade, Location, Dynamic
Keep performing at the highest level, keep it 100% Honda
Discover accessories
Every part of your Honda has been designed, built and tested to our most exacting standards. Just like every single genuine Honda accessory, which has been designed and tested in precisely the same way, meaning you are guaranteed a perfect fit and a perfectly integrated design. You also have a comprehensive range to choose from, so not only can you make the most of your Honda, you can do it without compromise.

The Full Sports Pack
The Full Sport Pack* has been tailored to offer an all-round package that balances on-track performance and on-road comfort. At a glance, the rear sports hugger and rear seat cowl deliver further visual refinement to celebrate the increase in power of the 2014 CBR1000RR Fireblade. Audible enhancement through the Akrapovic exhaust** and wind protection from the high windscreen complete the refinements developed with Total Control in mind.
*The Full Sport Pack is optional.
**The Akrapovic Exhaust is an optional feature of the Full Sport Pack and must be purchased separately.
---
2016 Honda CBR1000RR – www.Totalmotorcycle.com USA Specifications/Technical Details
US MSRP Price: $13,999 USD

ENGINE

Engine Type 999cc liquid-cooled inline four-cylinder Perfected from decades of racing success and boasting factory Superbike-spec
Bore And Stroke 76mm x 55.1mm
Induction Programmed Dual Stage Fuel Injection (PGM-DSFI) with 46mm throttle bodies, Denso 12-hole injectors Dual-stage fuel injection ensures spot-on throttle response at all revs with superb low- and high-rpm metering and cleaner burning.
Ignition Computer-controlled digital transistorized with 3-D mapping Two 3-D fuel-injection maps per cylinder and dual 3-D ignition maps per cylinder pair create the ideal fuel mixture and spark-advance settings for unparalleled rideability.
Compression Ratio 12.3:1
Valve Train DOHC; four valves per cylinder

DRIVE TRAIN
Transmission Close-ratio six-speed The CBR's patented slipper clutch is the perfect feature for track days, helping to minimize rear-wheel hop under aggressive downshifting.
Final Drive #530 O-ring-sealed chain

CHASSIS / SUSPENSION / BRAKES
Front Suspension 43mm inverted Big Piston fork with spring preload, rebound and compression damping adjustability; 4.3 inches travel
Rear Suspension Unit Pro-Link® Balance Free Rear Shock with spring preload, rebound and compression-damping adjustability; 5.4 inches travel The CBR's exclusive MotoGP-developed Unit Pro-Link rear suspension and featherweight aluminum frame combine to deliver ultra-responsive, scalpel-sharp cornering.
Front Brake Dual radial-mounted four-piston calipers with full floating 320mm discs With its all-new, super-trick electronic Combined ABS, the CBR boasts the most advanced braking system on a production supersport machine.
Rear Brake Single-caliper 220mm disc With its all-new, super-trick electronic Combined ABS, the CBR boasts the most advanced braking system on a production supersport machine.
Front Tires 120/70ZR-17 radial
Rear Tires 190/50ZR-17 radial

DIMENSION
Rake 23.0° 3′ (Caster Angle)
Trail 96.0mm (3.7 inches)
Wheelbase 55.5 inches
Seat Height 32.2 inches
Curb Weight 440.9 pounds (Includes all standard equipment, required fluids and full tank of fuel- ready to ride.) At 441 pounds wet (i.e., full tank of fuel, engine oil, etc.), the CBR weighs in as one of the lightest open-classers out there.
Fuel Capacity 4.6 gallons
Miles Per Gallon 41 MPG – Honda's fuel economy estimates are based on EPA exhaust emission measurement test procedures and are intended for comparison purposes only. Your actual mileage will vary depending on how you ride, how you maintain your vehicle, weather, road conditions, tire pressure, installation of accessories, cargo, rider and passenger weight, and other factors.

OTHER
Available Colors Matte Black Metallic
Model Id CBR1000RR
Emissions Meets current EPA standards. California version meets current CARB standards and may differ slightly due to emissions equipment.
Note Standard against which all other literbikes are measured

FACTORY WARRANTY INFORMATION
One Year Transferable one-year, unlimited-mileage limited warranty; extended coverage available with a Honda Protection Plan.
---
2016 Honda CBR1000RR – www.Totalmotorcycle.com Canadian Specifications/Technical Details
Canada MSRP Price: $15,999 CDN

Engine & Drivetrain

Engine Type
Liquid-cooled inline four cylinder

Displacement
999 cc

Bore & Stroke
76 mm x 55.1 mm

Compression Ratio
12.3:1

Valve Train
Chain-driven DOHC, 4 valves per cylinder

Fuel Delivery
Dual Stage Fuel Injection

Transmission
Close-ratio six-speed

Final Drive
#530 O-ring-sealed chain

Chassis & Suspension

Front Suspension
43 mm inverted HMAS cartridge fork with full adjustability; 110 mm (4.3 in.) travel

Rear Suspension
Unit Pro-Link HMAS single shock with full adjustability; 138 mm (5.4 in.) travel

Additional Information

Tires
Front: 120/70ZR – 17 radial Rear: 190/50ZR-17 radial

Brakes
Front: dual 320 mm discs with radial-mounted four-piston calipers Rear: 220 mm disc with single-piston caliper. Electronically Controlled Combined ABS

Seat Height
820 mm (32.3 in.)

Wheelbase
1,410 mm (55.5 in.)

Curb Weight
210 kg (463 lbs.) including required fluids and full tank of gas – ready to ride

Fuel Capacity
17.5 litres

Colour
Matte Black Metallic

Warranty
12 months, unlimited mileage, freely transferable warranty; extended coverage available with Honda Plus
---
2016 Honda CBR1000RR – www.Totalmotorcycle.com European Specifications/Technical Details
Europe/UK MSRP Price: £12,199 GBP (On The Road inc 20% Vat)
Engine
Bore × Stroke (mm) 76 x 55.1
Carburation PGM-DSFI electronic fuel injection
Compression Ratio 12.3:1
Engine Displacement (cm³) 999.8
Engine Type Liquid-cooled 4-stroke 16-valve DOHC Inline-4
Ignition System Computer-controlled digital transistorised with electronic advance
Max. Power Output 133kW/12,250rpm
Max. Torque 114Nm/10,500rpm
Starter Electric
Wheels


Brakes Front 320 x 4.5mm dual hydraulic disc with 4-piston calipers and sintered metal pads
Brakes Rear 220 x 5mm hydraulic disc with single-piston caliper and sintered metal pads
Suspension Front Telescopic inverted fork with an inner tube diameter of 43 mm, and a Big Piston Front Fork with preload, compression and rebound adjustment, 120mm stroke
Suspension Rear Unit Pro-Link with gas-charged HMAS damper featuring 10-step preload and stepless compression and rebound damping adjustment, 138.2mm stroke. Rear Balance Free Rear Cushion with preload, compression and rebound adjustment, 62mm stroke.
Tyre Size Front 120/70 ZR17 M/C (W)
Tyre Size Rear 190/50 ZR17 M/C (W)
Wheels Front 12-spoke cast aluminium
Wheels Rear 12-spoke cast aluminium
Dimensions and Weights
Battery Capacity (VAh) 12V-6Ah
Caster Angle 23°30′
Dimensions (L×W×H) (mm) 2,075 × 720 × 1,135
Frame type Diamond; aluminium composite twin spar
Fuel Capacity (Litres) 17.5 litres
Fuel Consumption 50.8 mpg (WMTC mode)
Ground Clearance (mm) 130
Headlights 55W/55W
Kerb Weight (kg) 200
Seat Height (mm) 820
Trail (mm) 96
Wheelbase (mm) 1410
Transmission
Clutch Wet, multiplate with diaphragm spring
Final Drive #530 O-ring sealed chain
Gearbox 6-speed
Specifications, features, illustrations and equipment shown are believed to be correct – however, accuracy cannot be guaranteed. Honda Canada Inc. reserves the right to make changes at any time, without notice or obligation, in colours, specifications, accessories, materials and models. Some vehicles are shown with optional equipment. Some vehicles shown are U.S. or European models. Canadian specifications and models may vary.
Manufacturer Specifications and appearance are subject to change without prior notice on Total Motorcycle (TMW).