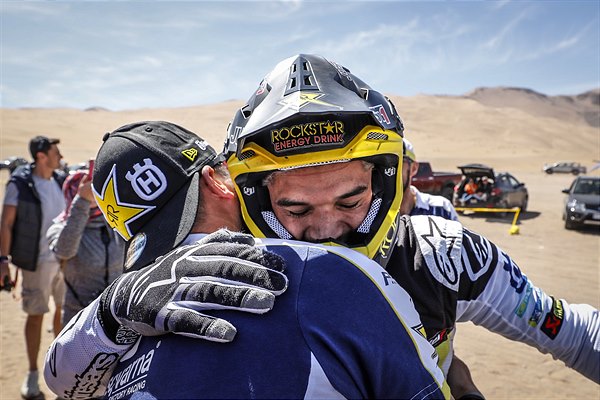 Putting in a dominant performance to top the fifth and final stage, Rockstar Energy Husqvarna Factory Racing's Pablo Quintanilla has won the 2019 Atacama Rally. Continuing to find his rhythm on the fast and technical stages, Andrew Short claimed an excellent eighth overall.
Going into the final day with a narrow 54-second advantage, Quintanilla knew he would have to make the final 184.59-kilometre timed special count. As the fifth rider to enter the stage, the Chilean star immediately set about chasing down the riders ahead. After soon catching and passing Matthias Walkner, Pablo was free to navigate his way through the sand dunes of the Atacama Desert.
Maintaining good speed while making the minimum of mistakes on the short, but tricky, final stage, the former Cross-Country Rallies World Champion crossed the line with a close-to-two-minute advantage over the second-placed rider. His pace on the timed special was enough for him to increase the gap at the top of the standings to almost four minutes – an incredible achievement considering the event marks the local hero's return to competition following the injury he sustained at the Dakar Rally earlier this year.
Feeling more confident as the rally progressed, Andrew Short was able to find a good rhythm and increase his pace. Eighth on stage five, the American rider was satisfied with his overall result of eighth and now looks ahead to the final round in Morocco, where he hopes to close his 2019 FIM Cross-Country Rallies World Championship with another strong finish.
The Rockstar Energy Husqvarna Factory Racing team will return to action at the final round of the 2019 FIM Cross-Country Rallies World Championship, the Rally Du Maroc in Morocco on October 3-9.
Pablo Quintanilla: "I'm really, really happy. I never expected to win the race here in Chile. It's been five very tough days but I've done it and feel over the moon right now. I couldn't have hoped for a better come back – after eight difficult months off the bike I have come back and won my home race. I am so happy for the team – they have stood by me the whole time and I couldn't have done this without them. Also, a big thank you to all the fans for the support they have given me over social media – it really does mean a lot. After such a tough time after Dakar, this victory feels very special."
Andrew Short: "Today's stage didn't go too well for me. I made some mistakes in the first half and that ended up costing me a lot of time. The second half went better and I was able to enjoy it more. This race is so fast, and with the different types of terrain it can really test your focus the whole time. Overall, the race went well, I was hoping for a slightly better result, but I'm safe and looking forward to Morocco now."
2019 Atacama Rally – Stage 5 Provisional Classification
1. Pablo Quintanilla (Husqvarna) 1:58:03
2. Joan Barreda (Honda) 1:59:42
3. Matthias Walkner (KTM) 2:01:04
4. Sam Sunderland (KTM) 2:01:05
5. Ricky Brabec (Honda) 2:03:22
6. Ignacio Cornejo (Honda) 2:03:52
…
8. Andrew Short (Husqvarna) 2:04:23
2019 Atacama Rally – Provisional Overall Classification [After Stage 5]
1. Pablo Quintanilla (Husqvarna) 15:15:59
2. Sam Sunderland (KTM) 15:19:55
3. Joan Barreda (Honda) 15:24:20
4. Toby Price (KTM) 15:27:23
5. Kevin Benavides (Honda) 15:31:40
6. Ricky Brabec (Honda) 15:37:20
…
8. Andrew Short (Husqvarna) 15:43:53