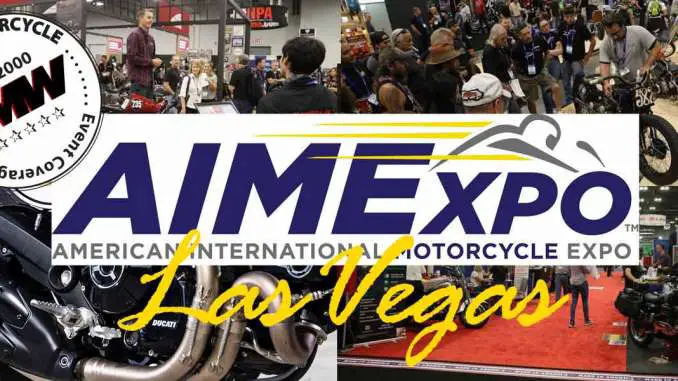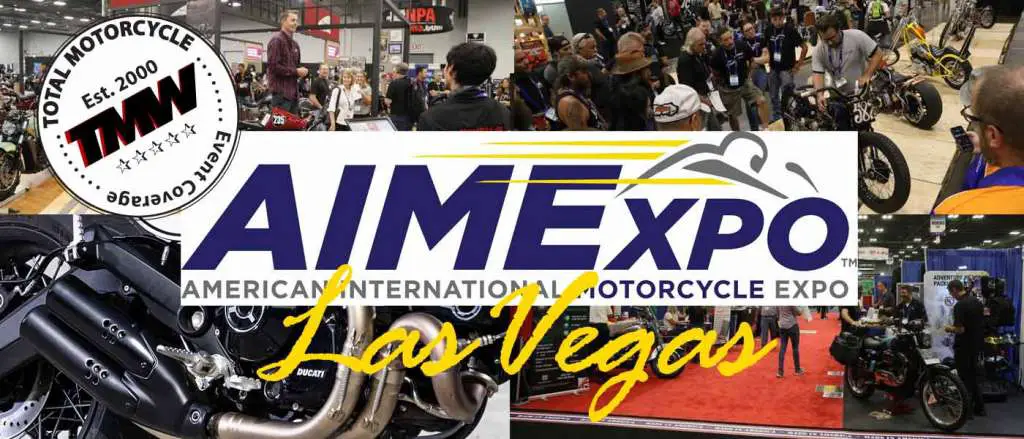 Las Vegas, AIMExpo 2018 is the largest motorcycle industry event in North America. Total Motorcycle staff writers Eric and Carrie Leaverton travel to Las Vegas to cover the show, see and test ride the latest 2019 motorcycles, products and get the dirt on future models just for you! Follow TMW around AIMExpo, learn some inside information and check out the video and photos from AIMExpo!
October is an excellent time of year to travel, visit Vegas and see the first motorcycle show of the year! Put them together, and you've got one excellent excuse for a road trip!
AIMExpo 2018 at Mandalay Bay
Eric and Carrie Leaverton Attending
Saturday, October 13th, 2018
Background
The AIMExpo (American International Motorcycle Exposition) is the largest motorcycle industry event in North America. Presented by Nationwide Auto Insurance and sponsored by the Motorcycle Industry Council (MIC), this event brings together press, dealers, and consumers in a single arena. Trade Show Executive Magazine identified the AIMExpo in their "Fastest 50" growing trade shows for two consecutive years, and for good reason. More than 20,000 people attended the 2017 show. With 44 vehicle manufacturers and 400+ exhibitors, dealers, media organizations and consultants attending the 2018 event, they're likely to rack up a hat trick.
One of the most unique things about the AIMExpo is their exclusive "AIMExpo Outdoors!" experience. This facet of the event gives attendees an opportunity to test ride dozens of brand new models, and not just around the parking lot! Eight major manufacturers, including Indian, Harley Davidson, Honda, and Kawasaki, participated in this exclusive event.
Adding to the appeal of AIMExpo 2018 was the location. The Mandalay Bay Convention Center is one of the largest privately held convention centers in the world. With literally a million square feet of indoor space on tap, it's hard to find a more accommodating venue. And that doesn't even take into consideration it's surroundings, namely, Las Vegas! If you're going to travel to attend a trade show, having attractive options for entertainment after-hours is an important consideration. With some of the greatest entertainment to be found anywhere in the world, Las Vegas is always a good choice!
Easy Come, Easy Go
I don't know about you, but my gear always slows me down when attending events. Carrying around my helmet, jacket and gloves can really be a pain. And that's just when attending. Cameras, notepads, pens and gimbals exacerbate the problem when we're covering an event.
Imagine our excitement, then, when we read that AIMExpo 2018 would be providing a free gear check! Helmet, jackets, gloves, chaps, whatever else you wouldn't need inside, these could all be checked for free just outside the main entrance to the expo center. The Christian Motorcyclist Association provided this service at the event, and they did an outstanding job.  We were able to leave $2,000 worth of gear in their capable hands, in the third most popular travel destination in the United States, without fear.
Besides the gear check, Sheffield Financial provided free motorcycle parking in the Mandalay Bay parking garage, on a first-come, first-serve basis. If you've never parked in Las Vegas, this is a significant service. October may be a great time of year to stay in Vegas, but it's terrible for riding through central Utah. As such, we had to bring our econobox to the show, and paid $20 for the privilege of parking.
On the Inside
As a writer, I don't often find the opportunity to use such a dramatic word as "cavernous". In this case, though, it fits. As stated above, the Mandalay Bay Convention Center is one of the largest private venues in the world. One MILLION square feet of indoor exhibitor space, with enough ballrooms to host 75 breakout sessions. All this space meant than even with 400+ exhibits and 20,000+ attendees, it never felt crowded inside. We personally spoke with a presenter at almost every booth we visited.
AIMExpo 2018 wasn't limited to just motorcycles, either. Every segment of the powersports industry was well represented on the floor. Besides bikes, there were snowmobiles, marine vehicles, side-by-sides (SxS), sports cars, and more. There was even one amphibious vehicle and an off-road monster featuring tank treads.


Time In a Bottle
Before I go any further, I have to say we have one major regret from this show. We only scheduled one day to attend, and this proved woefully insufficient. It was the demo rides, you see.
AIMExpo stated on their website the following.
"Unlike any other trade and consumer Powersports show, AIMExpo presented by Nationwide boasts more than 400,000 sq. ft. of outdoor space where thousands of street demo rides from major manufacturers are offered for a variety of cruiser, sport, adventure, and touring experiences."
In hindsight, it was that word "street" we missed. What we were expecting, much to our chagrin, was simple parking-lot demos. Hop on a bike, zip around the perimeter of the parking lot or through a cone course, hop off and wait for the next bike to be available. This was not the case, though. I'll go into more detail later.
Manufacturers
Besides the "Big Five" (Harley-Davidson, Honda, Kawasaki, Suzuki and Yamaha), there were numerous other vehicle manufacturers with booths at AIMExpo. These included middleweight contenders like Indian and Triumph, three-wheel makes like BRC and Vanderhall, and up-and-coming Asian brands like SSR/Benelli and LIFAN. There were also numerous ATV manufacturers in attendance with 4-wheelers, jet skis and other vehicles on display.
Due to the sheer size of the show and our time constraints as mentioned above, the only manufacturers booths we got to spend any time at was Kawasaki and Indian. More on those later. We did do some brief walk-throughs at other booths though, and here are our impressions.
Harley-Davidson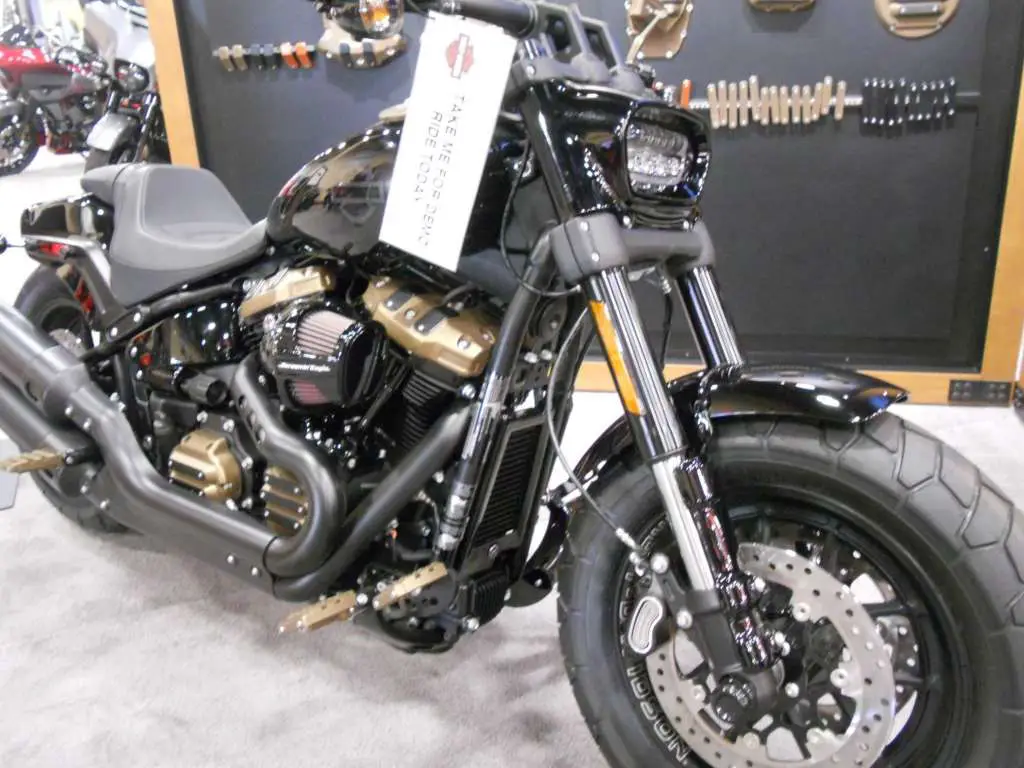 The Harley-Davidson booth was located just through the entrance to the convention floor. White carpet and black upright kiosks combined to create a classic, elegant space. They chose to place the 2019 114ci FXDR front and center, on the leading corner of their booth. There didn't seem to be a lot of foot traffic throughout the day, and we didn't see many representatives to answer questions. I want to stress that although we didn't linger in the Harley-Davidson booth, we did give them a thorough examination. I was hoping to see one of their recently announced 2020 models on display, either the as-yet-unnamed streetfighter or the Pan America. For that reason, I was careful to look at everything they had on display and spent some time doing so. Nobody approached us during that time.
Honda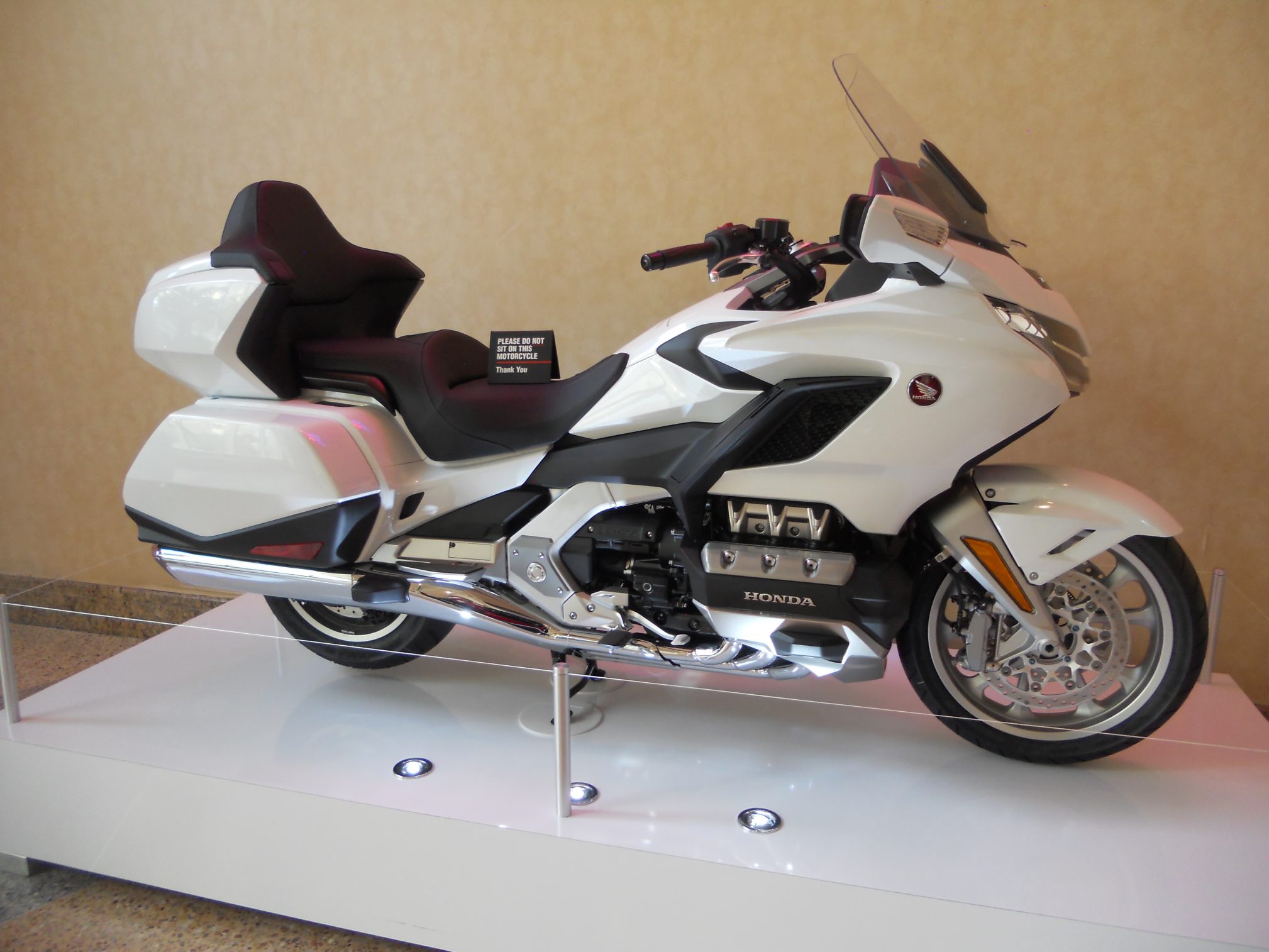 Arguably, the manufacturer with the largest presence at the AIMExpo was Honda. In fact, the very first bike to be seen, hundreds of yards before you even reach the entrance, was the 1800cc, six cylinder Honda Goldwing Tour. With 60+ unique models in their 2019 lineup, Honda commanded three entire booths on the expo floor. They generated a lot of foot traffic, with dozens of attendees thronging their displays throughout the day. The 2019 Honda Monkey was in attendance, and generated quite a buzz.
Yamaha
Yamaha was operating two booths on the convention floor. In one, they had their lineup of 2019 motorcycles on display, including the exciting R3. In the other, they were showcasing their extensive line of boats and waverunners. Curiously, these two booths were on completely opposite sides of the convention floor, about as far away as two booths could be in the space. We didn't spend enough time to get a concrete impression of their "buzz-factor".
American LIFAN
Also situated very close to the entrance, American LIFAN was displaying a veritable fleet of vehicles. Dirt, street, and enduro bikes were present, as well as gas and electric scooters and even "micro-cars". We breezed past their display with only a cursory glance, although my daughter fell in love with the pink CUTE on display.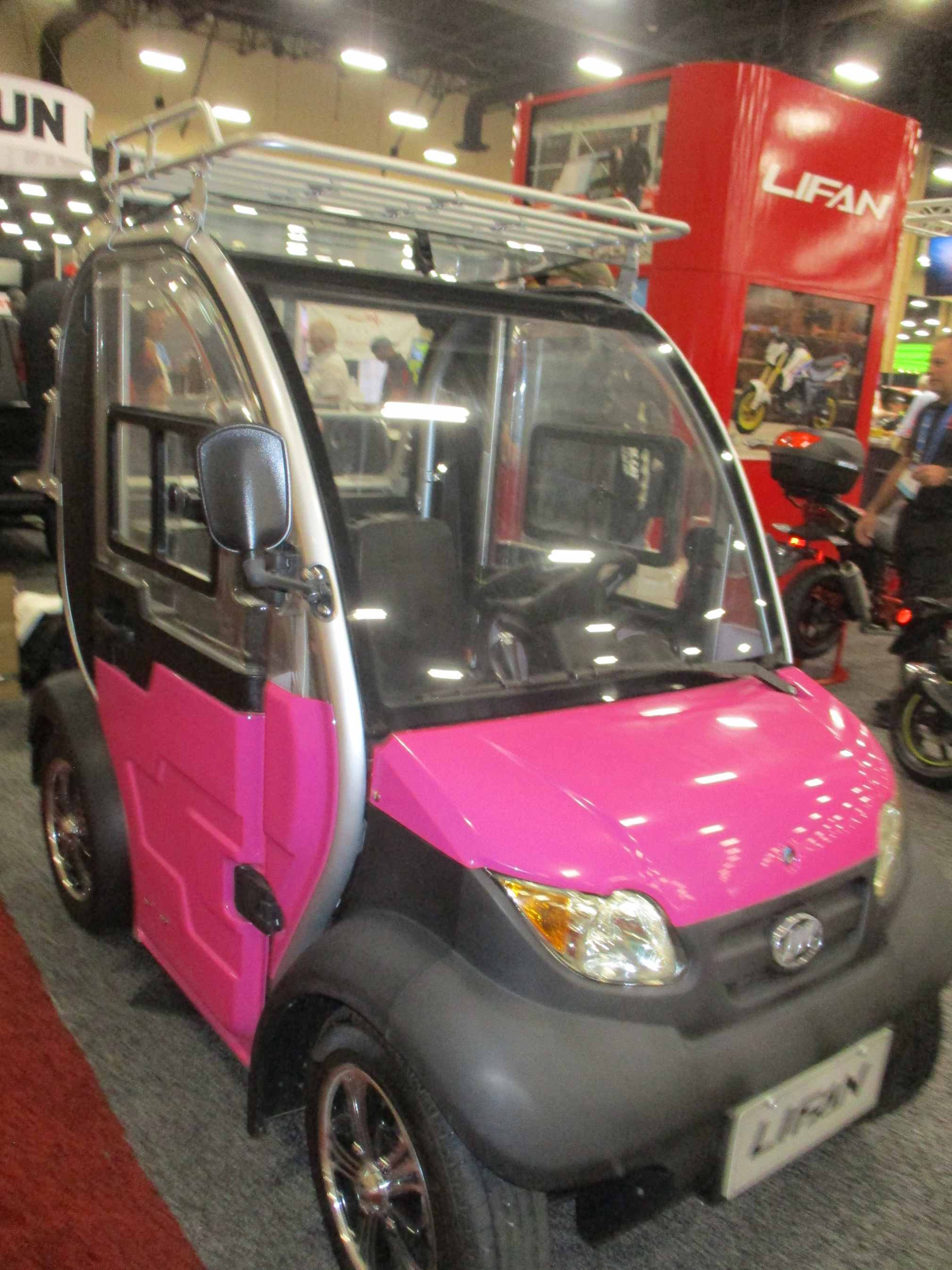 Kawasaki
Full disclosure; Carrie and I own and ride Kawasaki. They're a personal favorite of ours, and we made sure to check out their booth while we were at AIMExpo.
But, this personal preference did not contribute to the amount of time we spent at their booth. What really drew us in was the crowds, the representation, and the displays.  They had no less than five representatives working the crowd, fielding questions and offering insight. With dozens of bikes on display and twice as many people looking at them, there was something for everyone. The flagship Z900 was prominently displayed on a pedestal bathed in green neon, and tucked in a corner was the awe-inspiring H2 Carbon 1000.
While we were there, we spoke with a 27-year veteran of Kawasaki's Marketing and Research division. He was incredibly knowledgeable about every bike we looked at and answered every question we had. He even answered one question we didn't ask. The rumor, he told us, is that Kawasaki is doing something exciting to the 2019 iteration of the 1000cc Versys. We'll be sure to be watching when it comes out!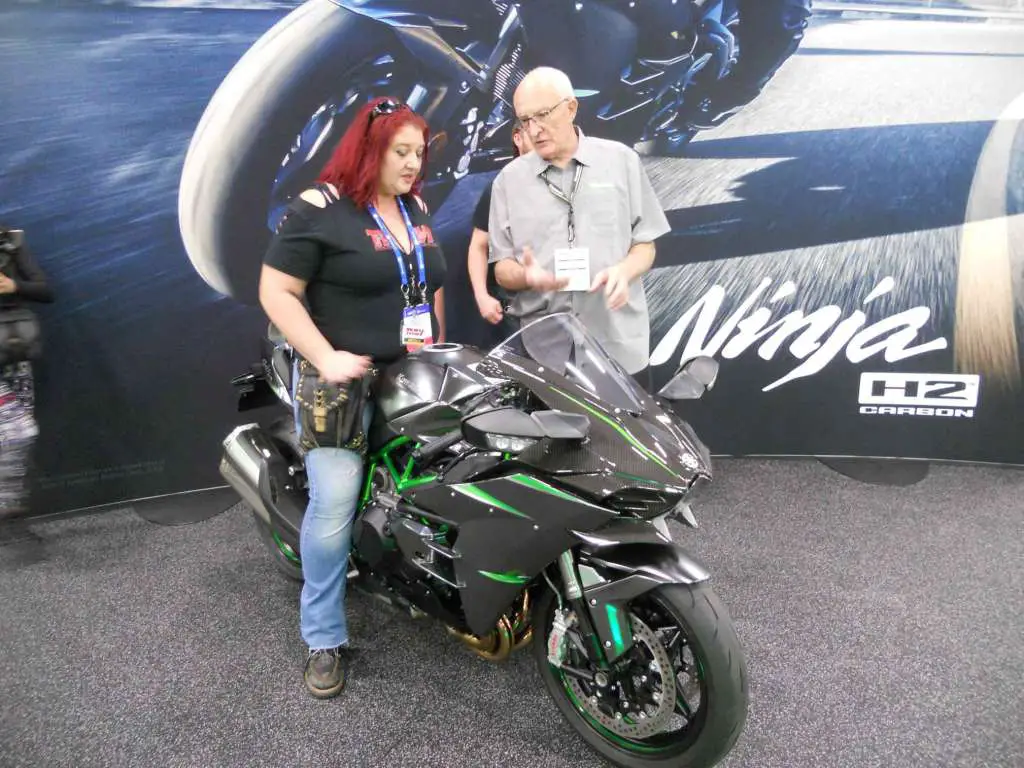 Indian
We made a concentrated effort to visit Indian Motorcycles as well. We're excited about the 2019 FTR, and we really wanted to see one live. Indian did not disappoint. In their stall they were exhibiting three FTRs, two 1200S's and one 1200.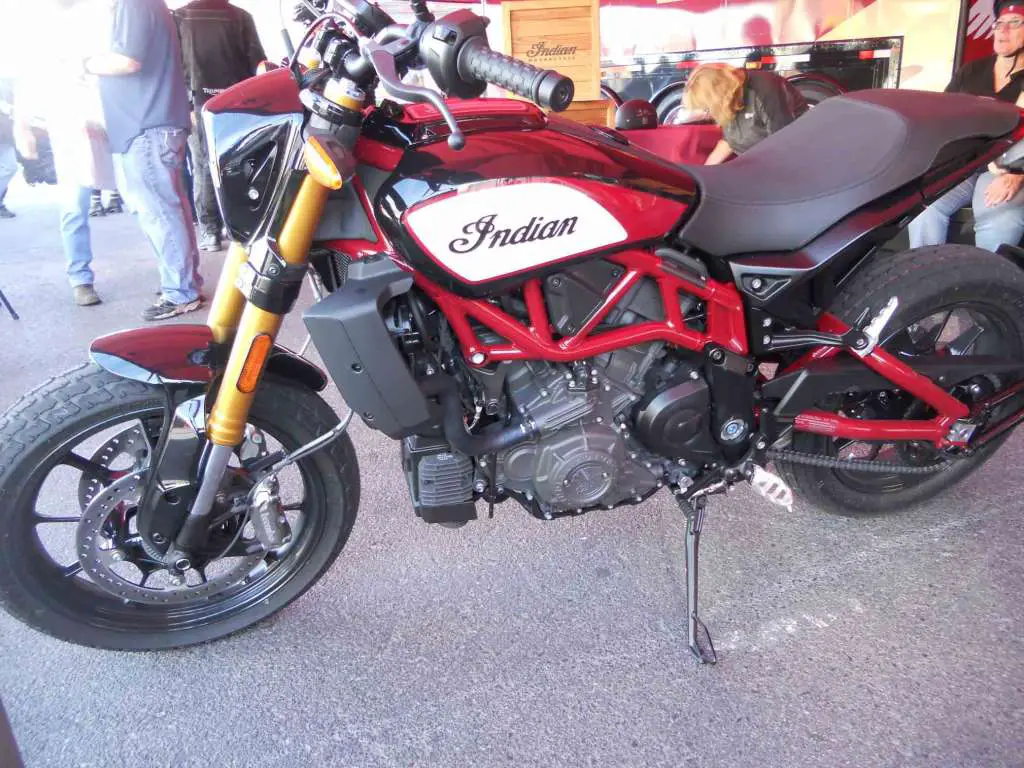 The FTR is a gorgeous bike, sporting clean, aggressive lines. All three bikes on display at AIMExpo had the optional Ride Command Touchscreen, which we have to say looks a little gimmicky in the Spartan cockpit. The trellis frame, dual front rotors, tire hugger and chain drive identify this bike solidly as a performance-oriented machine. Seeing it in person, it was everything we hoped it would be.
The only thing that could have been better was if we'd been able to ride it. Sadly, though, this wasn't in the cards that day. More on that later.
One observation that I feel obliged to mention is that, as excited as we are for the FTR1200, it did not appear very many other attendees shared our interest. Indian arranged their booth so the FTR1200 was segregated from the rest of their lineup. A clear demarcation in the walls and carpet defined the space as solely FTR territory, and the televisions and printed media concerning the FTR were faced away from the rest of their bikes.
And although Indian generated a lot of foot traffic in their booth, few people crossed that DMZ to look at the FTR. Our overall impression from the patterns of traffic around the FTR1200 is a little disheartening. For now, at least, it appears Indian fans aren't interested in their streetfighter, and streetfighter fans aren't interested in Indian. We sincerely hope this will change, as we really like the look of this bike.
 Gear, Accessories, and Aftermarket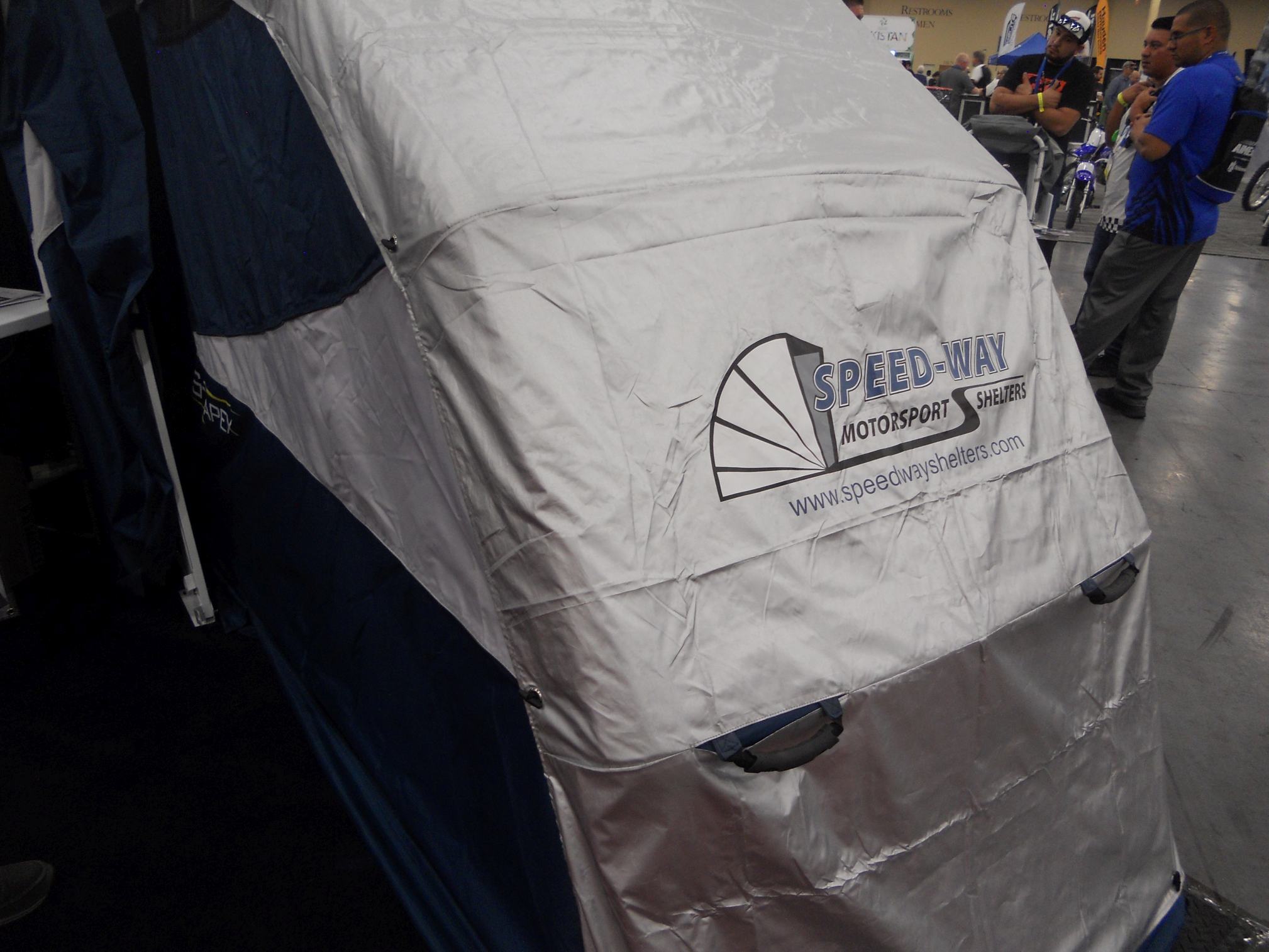 The rest of the show was comprised of this category of items. Attire, performance products, comfort accessories, custom builders, and electronics, there was an abundance of everything. It didn't matter if you were interested in side cases, cell phone mounts, custom 48″ rims, superchargers, turbochargers, eliminator kits, LED accent lights, green light triggers, leg bags, backpacks, fashion tee shirts, HID conversions…you get the idea.
And that's to say nothing of typical gear like helmets, boots, gloves and jackets. For any type of attire or accessory you can imagine, there were at least two booths selling it. Sometimes four or five. All the representatives and sales associates that we spoke to were friendly, knowledgeable, and engaging, and it was an absolute pleasure meeting with people from so many diverse segments of the motorcycle and powersports industry.
We spoke to dozens of representatives about numerous types of products, and although we'd like to go into detail about all of them, that just would be practical. We'd like to tell you about two products that really stood out though.
Makes motorcycle seat cushions. They offer models with or without gel layers for added comfort. This may seem like a trivial product, but competition in this segment is hot. Read any thread or forum about recommended modifications for almost any make and model of bike, and within the first five someone will mention replacing the stock saddle. With aftermarket seats ranging from about $300 to well over $1,000, a comfortable saddle comes at a premium.
They offer an attractive alternative, with their most expensive model coming in just under $230 USD. We spoke with Ranae, who demonstrated for us how the cushion exchanges air between interconnected cells as your weight shifts. This prevents pressure points from forming, and promotes good circulation. She also stated their product is classified as a medical device, with all the authority and quality control that entails.
Their Motorcycle Air Cushions are available in three main styles, which boil down to cruisers, sport bikes, and pillion seats. Other options like integrated gel pads and cushion covers are available on each.
Besides developing your riding skill and awareness on the road, visibly is your greatest protection against accidents. One of the most popular methods to improve visibility tail light modulators, and Bright2Wheels offers exactly that. We spoke with Adam, who explained their products in detail.
Bright2Wheels tail light modulator kits are full replacements, designed to mimic the OEM taillight cluster on your bike. Their kits are "plug and play", purportedly requiring very little effort to install. The kits feature stunningly bright LED lights that flash rapidly when you first apply the brake, then settle into a steady light. This is meant to capture the attention of motorists approaching from behind, thereby preventing the rear-end collisions we motorcyclists often experience. Besides SMIDSY left-turns, the rear end collision is one of our greatest concerns as motorcyclists. With filtering being illegal in most American states, a modulating tail light is our next best avenue of protection.
What really stands about the kits Bright2Wheels offers is that plug-and-play compatibility. A lot of modulator kits I've seen include a relay of some type, which can be hard to find room for on some applications. Also, the fact that their kits are OEM compliant is appreciated. Having the option to install something like this without complicated modifications and fabricating skills keeps the price of admission low.
Cabin Fever
After a couple hours, a couple dozen questions and a couple hundred bikes, we finally made the call to reclaim our gear and head outside. Here is one minor complaint we must voice about the shows execution. The gear check should have been the first kiosk in the hallway between the main entrance and the passage to the outside activities. The ticket booths were first, followed by Will-Call, and the gear check was clear at the end of a long hallway. This made going back and forth for your gear a challenge, and a time waster. But no matter, we scooped up our helmets and jackets and stepped out into the October Las Vegas sunshine.
Go Play Outside!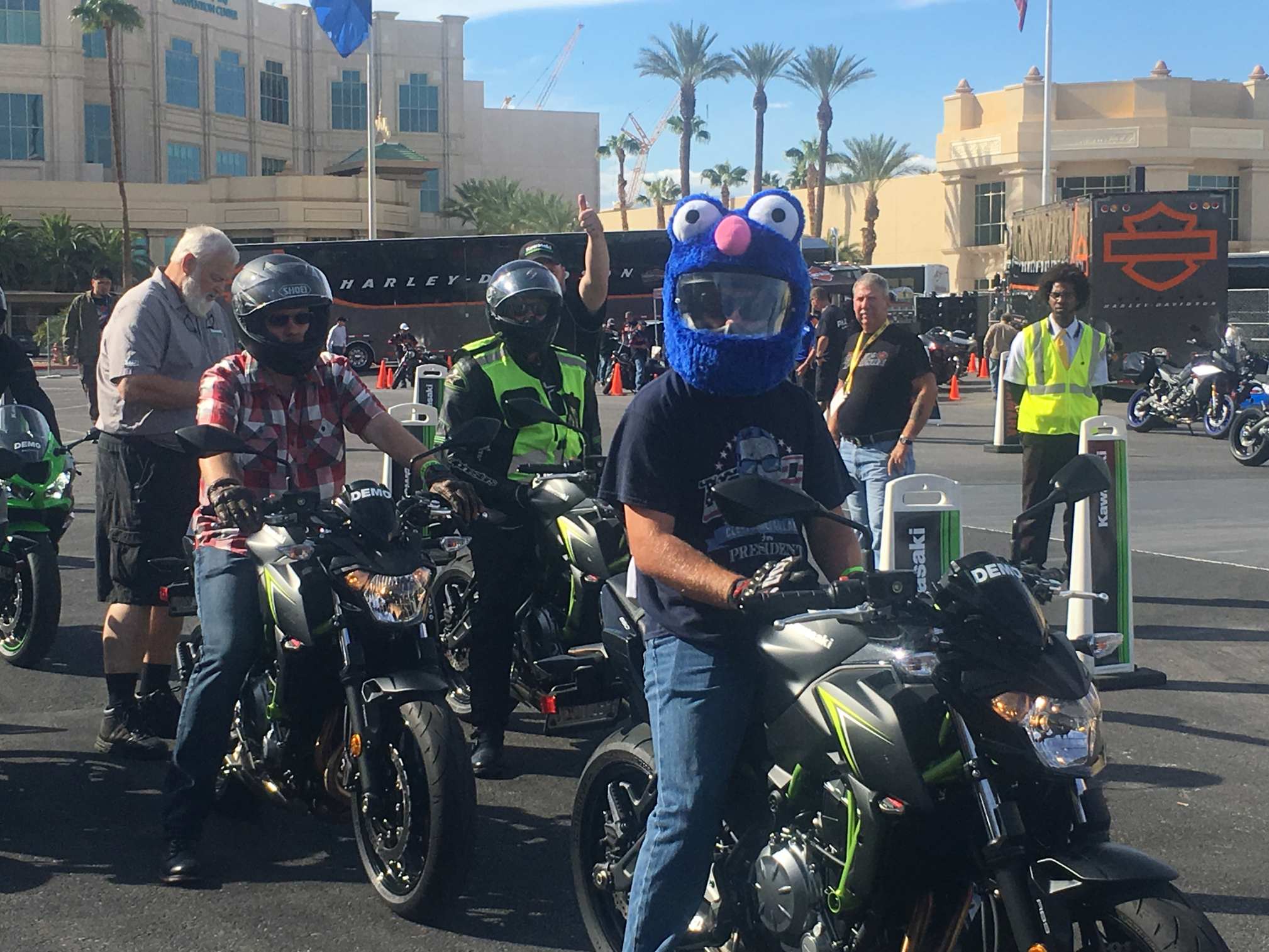 AIMExpo Outdoors was one of the most exciting features of this already-incredible expo. Seven manufactures offered guided, comprehensive test rides for almost their entire 2019 production fleets, while an eighth offered demo passenger rides conducted by a qualified stunt operator. Front-line consumers usually only get an opportunity like this at local events hosted by a dealership.  To get so many manufacturers all set up at a single event like this is simply awesome. And if that wasn't enough, the AIMExpo Outdoors experience didn't command a charge beyond the price of admission.
The Gang's All Here
The manufacturers who were offering guided demo rides were (in alphabetical order) Harley-Davidson, Honda, Indian, Kawasaki, SSR/Benelli, Vanderhall, and Yamaha. While most of them likely need no introduction, Vanderhall might. Vanderhall manufacturers three-wheeled roadsters of classic, retro design and impressive performance. They're based out of Provo, Utah, and their vehicles are genuinely impressive to behold.
They weren't the only three-wheelers there either. Polaris was there, offering stunt-driver piloted demo rides in their polarizing Slingshot. By all accounts the demo rides were a sight to behold, but we didn't get the opportunity. Two days of high performance drifting, black smoke and roaring engines was all the other manufacturers could endure. They (and here I want to say, I don't know which or how many) complained, whether to the venue or the expo management we don't know, and the Slingshot rides were axed. The vehicles were still on display and the driver was present to answer questions, but Saturday and Sunday saw no drifting.
Get Your Boots On
Each manufacturer set their own policies and requirements for demo riding. Printed material for the expo stated that at a bare minimum, riders would need DOT approved helmets, long sleeves, pants, gloves, and closed-toe shoes. All that of course in addition to a motorcycle endorsement on their driver's license. There didn't seem to be much enforcement to these guidelines though. We witnessed numerous riders departing in simple tee shirts, and in several cases, bare heads as well. In some cases, the manufacturers were offering loaner gear for their rides.
Bike selection also varied by manufacturer. Some, like Kawasaki, registered every ride in advance by model and time slot. You selected the bike you wanted to ride, found an open time slot, and got a wristband. Others simply lined up however many riders they had bikes for, and when the fleet came back a schoolyard pick ensued.
Ready, Set, GO!
The rides themselves were really the most stunning part of the event. As mentioned earlier, we were expecting two or three minutes on each scoot, just around the parking lot and grounds. This was not the case. Each test ride was at least twenty minutes, and in some cases longer than an hour. Honda was offering arguably the most intense route, taking their riders out of the city entirely to Red Rock Canyon to the west. With the time we had, we rode with Kawasaki twice and Indian once. We'll share our individual impressions of each bike in an upcoming article.
Kawasaki had most of the Z, Ninja, and Ninja-ZX lines on hand, including the popular Z900RS and Z900 Café. Absent from their lineup was any iteration of the Concourse or the Versys, and the only Vulcan present was the sporty Vulcan S. They had two or three of each model present, and the Kawasaki test ride lasted roughly forty minutes over some twenty miles of city and freeway riding. Carrie and I both rode the Vulcan S, mine in the "extended" and hers in the "mid" ergonomic layouts, and we also both rode the Z900.
Indian had one of everything on hand, from the mighty Roadmaster all the way down to the Scout Bobber, and everything in between. What we ended up on, after one of those schoolyard picks I mentioned earlier, was her on the Springfield and me on the Scout Bobber. A quick teaser, our Indian test rides ended up being a lot more dramatic than we anticipated. Make sure to watch for our write-ups from them in the coming days to see how.
But What About…
Inexplicably, Indian wasn't offering demo rides on the FTR1200, despite having three on display in their paddock. This was disappointing, as I don't mind admitting the FTR was the bike I was most excited to ride. Other exciting bikes that didn't make an appearance at AIMExpo Outdoors were the Yamaha Tracer, the Yamaha R3, the Honda Monkey and the Suzuki Katana. Suzuki, in fact, wasn't demoing bikes outside at all, the only one of the Big Five that wasn't. Buzz-worthy 2019 models that were available to ride included the Africa Twin from Honda and the FXDR from Harley-Davidson.
Let's Wrap This Up!
AIMExpo 2018 was, to put it simply, an incredible invent. If you're a participant of any kind in the powersports industry, this is the place to be. Emerging technologies, new models, industry news, fashionable and functional attire at every price point, exhibits, and seminars. They were even hosting a summit with workshops and lectures for powersport dealers. Add to all that the opportunity to test ride dozens of new models at AIMExpo Outdoors!, and it's hard to find a more complete and entertaining event to attend. It was even family friendly, with no mechanical bulls or wet tee-shirt contests to leave you feeling like Parent of the Year if you happened to bring your children along. We had a great time, and wherever AIMExpo 2019 is held (our vote is, just keep doing it in Vegas!!), rest assured we'll be there.
And the second time around, I think we'll plan for TWO days.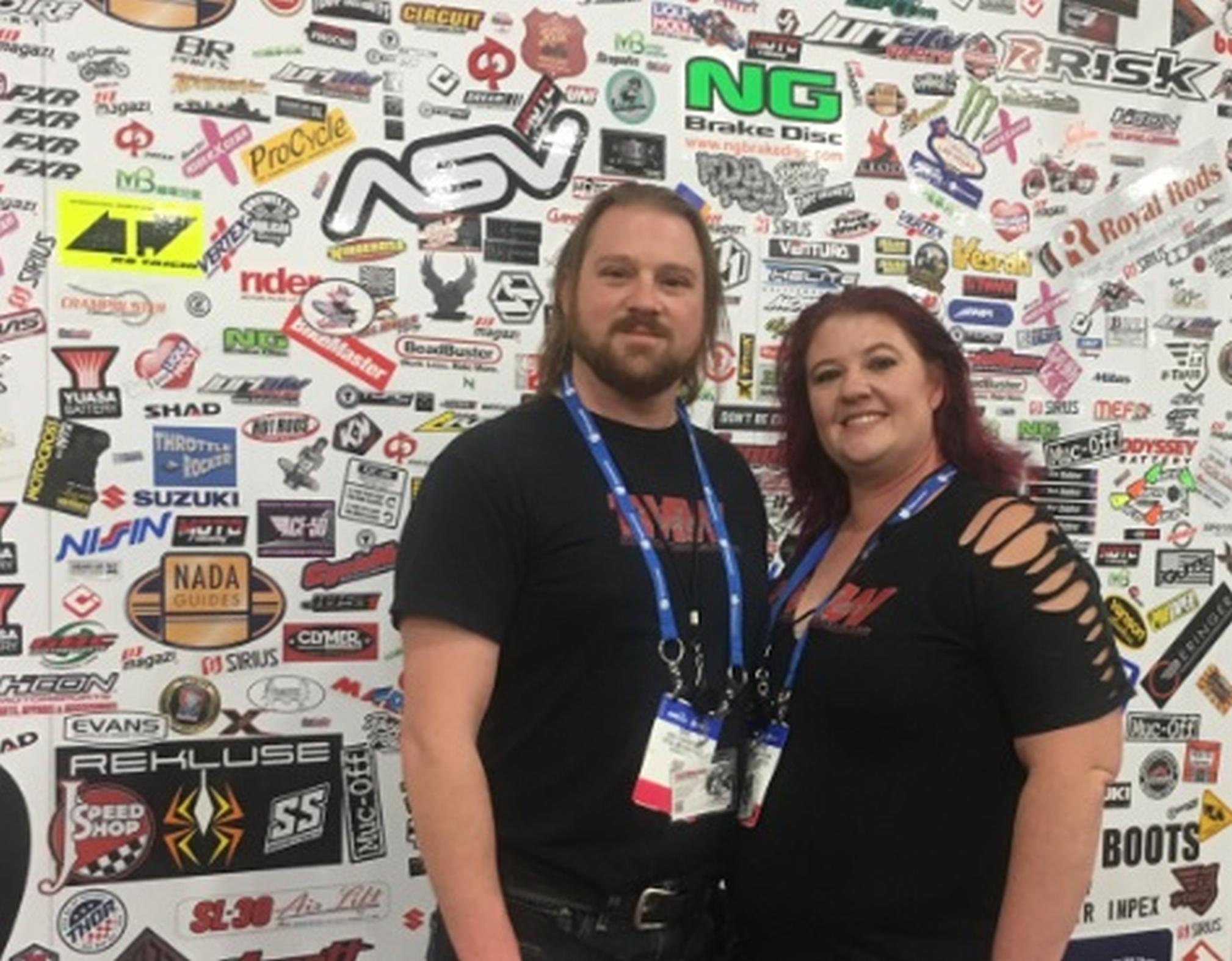 A Few More Pics