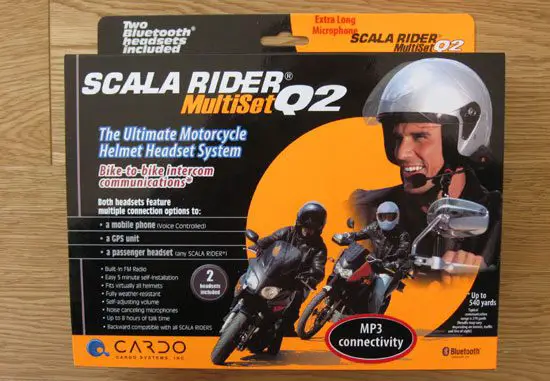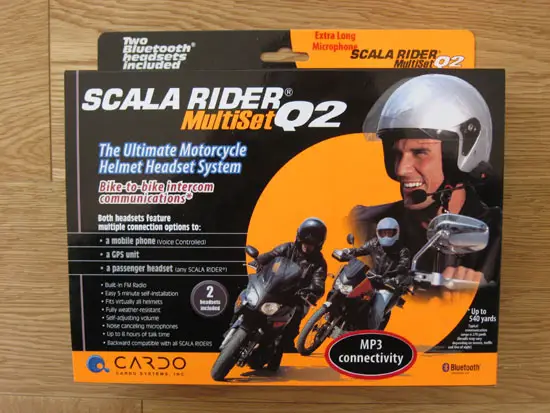 ---

Cardo Scala Rider Multiset Q2 Motorcycle Helmet Headset System – Introduction
Page 1 of 4

Cardo Scala Rider Multiset Q2 Motorcycle Helmet Headset System
It's not every day that one can be lucky enough to sample cool technology. We at Total Motorcycle were tickled to have the opportunity to test the Scala Rider Multiset Q2. It's a cool bit of technology and something we have been curious about for as long as we can remember.
Cardo produces a few versions of communications systems. The one we are reviewing is the Scala Rider and is marketed to folks who want to be able to communicate with at least one other rider while out on the road. Additional headsets can also be purchased and paired to work with the two that come in the box.
When the unit showed up we couldn't wait to dive in and see what was waiting for us. We were greeted by a sleek black box that had a carbon fiber look. We popped open the box to find two sets of receiver/microphone pairs. The presentation was quite nice and overall impressive. The look and feel of both the hardware and the packaging gave us a sense of real good quality.
First thing's first – we flip through the instruction manual to check for clarity and brevity. The book is quite compact and not too thick, considering it's in five languages (English, German, French, Italian and Spanish). With only 2 pages of English instruction it must be either very well written or too vague. In this case, we feel it is well written.
However, we did come across a confusing part right on the first set of steps on the opening page. Under the heading "Setup and Configuration" there are four steps mentioned; however, none of these steps are necessary for setup. The first two of these four is how you would pair the headsets for use or pair additional headsets but this section should be skipped because the headsets come already paired. The final two steps in this section outline how to pair the devices with a Bluetooth mobile phone or GPS device. We feel that most people who buy this product would probably want to first try it out of the box as a headset and microphone so these instructions should be moved further to the back of the book.
The instructions for completing the basic install of the headsets are quite well written and easy to follow. The two types of helmet install are to either clamp the headset base to the thickness of the helmet or to glue a plate onto the outside of the helmet. Ironically, our two testers each needed a different one of these options; one of the helmets was too thick to use the standard clamp attachment method. Whichever method you use for attaching the headset base it is important to get the positioning correct so make sure to enlist the help of a second set of hands.
The glue plate method works quite well but keep in mind that the plate is going to be permanent. Hopefully it will be possible to transfer the plate to a new helmet when required but if not then hopefully it is possible to obtain an additional plate when required. Do take the advice from the manual about allowing the glue to settle for 24 hours before riding as you wouldn't want to lose the headset part way through the ride!
Next we install the earphones to the inside of the helmets, which is not a problem. The speakers are Velcro-backed so the only finicky part is to get the position correct. Once they are fitted the helmets are ready to go. All you have to do now is slide the headset/microphone unit into the clamp when you want to use it (this is much easier to do when the helmet is off your head!). With all systems go, it is now time for us to test the unit for the first time.

*See below for contact and website information
---
Cardo Systems Websites and Contact Information
Cardo Systems
Dealer Websites and Contact Information
Cardo Head Office
100 High Tower Blvd., Pittsburgh, PA 15205, USA
Phone: +1 412 788-4533, Fax: +1 412 788-0270, Toll-Free 1-800 488 0363
Cardo International Offices
France: 168, rue Saint Denis; Paris 75002, Phone: [+33 1] 55 80 58 22, Fax: 55 80 58 25
Germany: 1 Hohenlindenerstr. , Munich 81677, Phone: [+49 89+ 450 36819, Fax: 404-817
Israel: 13 HaMifal St., Or-Yehuda 60221, Phone: [+972 3] 73 53 111, Fax: 634-1111
If you would like Total Motorcycle, North America's leading motorcycle information website to do a test ride and ride review of your motorcycle or scooter models just contact us for information or to book a date, location and time. It is a great way to promote your model and your company to over half a million visitors worldwide each month for no cost! Contact us today to inquire.
---