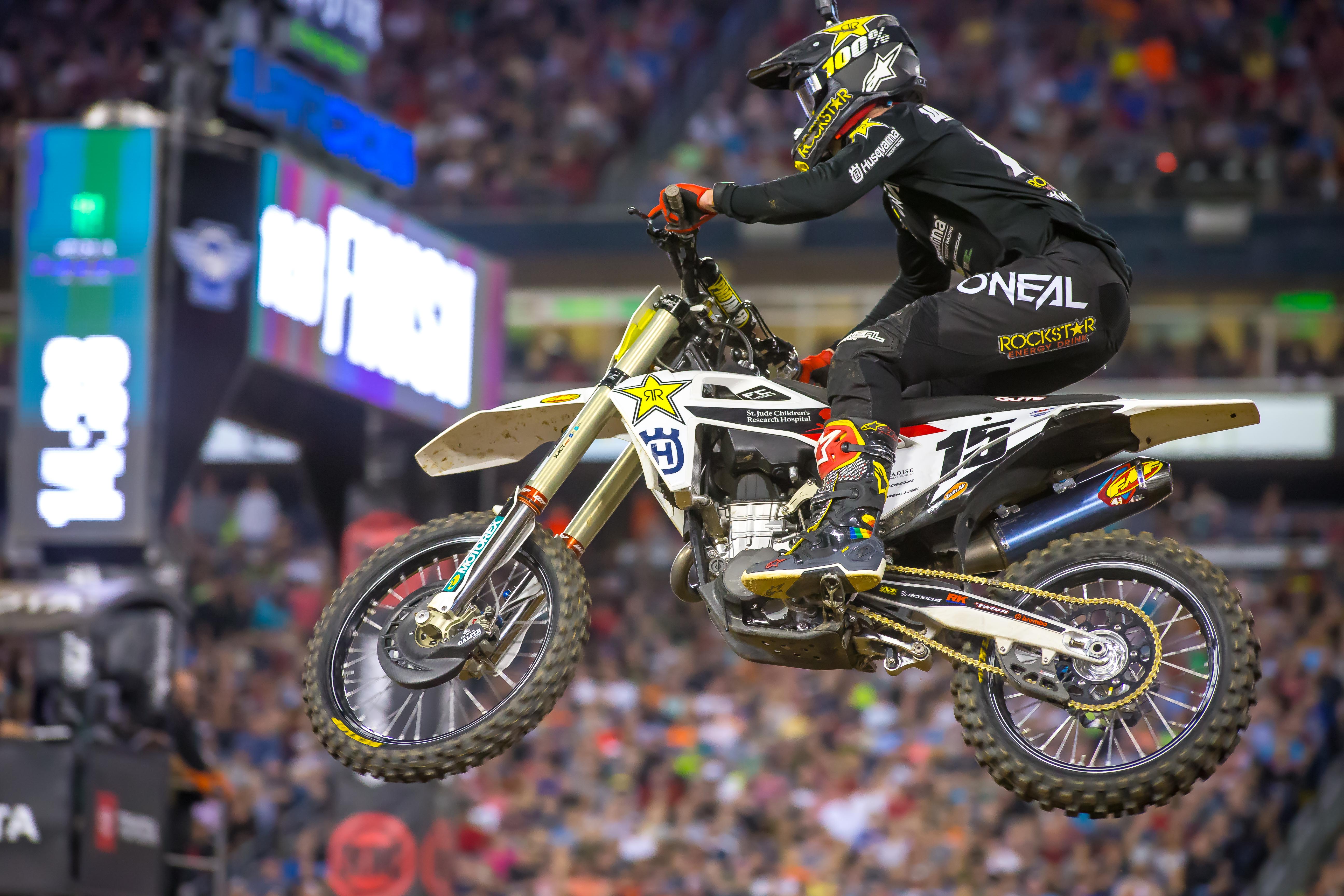 Round 14 of the 2019 AMA Supercross World Championship series hosted its first-ever Nashville SX inside Nissan Stadium in Nashville, Tennessee where the Rockstar Energy Husqvarna Factory Racing Team captured a pair of top-five finishes in the 450SX class. Team riders Dean Wilson and Zach Osborne rode their way to fourth and fifth-place finishes, respectively.
450SX
After capturing an impressive third-place in timed qualifying, Wilson battled his way to a fourth-place finish in 450SX Heat 2. In the 450SX Main Event, Wilson got off to a great start aboard his FC 450 as he assumed second-place early on. Wilson battled in podium contention for the remainder of the race, where he finished just off the podium in fourth.
"I qualified third, so the speed was good today," Wilson said. "In the heat race, I rode a bit tight and ended up fourth. In the Main Event, I got a good start and avoided some carnage early on and got into second. I got passed by a couple guys and from there I rode in a pretty solid fourth the whole race. Fourth is a good finish but the podium was so close, so I just have to keep pushing for that."
In 450SX Heat 1, Osborne rocketed his FC 450 into the lead off the start as he challenged the front-runners early on. He continued to battle in the third-place position, where he secured a solid top-three transfer into the Main Event. He captured a top-ten position off the start in the Main Event, rounding the opening lap in seventh. He bounced around just outside the top-five through the first half of the race before putting on a charge to secure a spot inside the top-five. Osborne held strong in the final laps to secure a career-best fifth place in the 450SX division.
"Progress is progress, even if it's slow or small," Osborne said. "I started off a little slow on the day but a third in the heat race and fifth in the Main Event definitely feels like we're going in the right direction. I'll keep plugging away and looking forward to outdoors."
250SX East
Rockstar Energy Husqvarna Factory Racing's Jordan Bailey qualified 10th to kick off the day of racing, where he lined up for 250SX Heat 1. Bailey put himself into eighth-place at the end of the opening lap and he quickly climbed his way into sixth, where he ultimately finished in the heat. In the 250SX Main Event, Bailey got a sixth-place start but he went down early on and dropped back to 19th. From there, he battled his way through the pack to ultimately finish 11th in the Main Event.
"In the Main Event I was running sixth for a little bit and ended up going down but I managed to come back to 11th," Bailey said. "It was a tough night but I'm definitely looking forward to New York."
Next Event: April 13 – Denver SX – Broncos Stadium at Mile High – Denver, Colorado
Nashville SX Results 
450SX Results 
1. Eli Tomac
Blake Baggett
Cooper Webb
Dean Wilson – Rockstar Energy Husqvarna Factory Racing
5. Zach Osborne – Rockstar Energy Husqvarna Factory Racing250SX East Results 
1. Martin Davalos
2. Chase Sexton
3. Kyle Peters
…
11. Jordan Bailey – Rockstar Energy Husqvarna Factory Racing

450SX Rider Point Standings 
1. Cooper Webb – 309 points
2. Eli Tomac – 288 points

Marvin Musquin – 288 points
… 
6. Dean Wilson – Rockstar Energy Husqvarna Factory Racing – 220 points
16. Zach Osborne – Rockstar Energy Husqvarna Factory Racing – 98 points
250SX East Rider Point Standings 
1. Austin Forkner – 151 points
2. Chase Sexton – 148 points
Justin Cooper – 144 points
…
10. Jordan Bailey – Rockstar Energy Husqvarna Factory Racing – 76 points