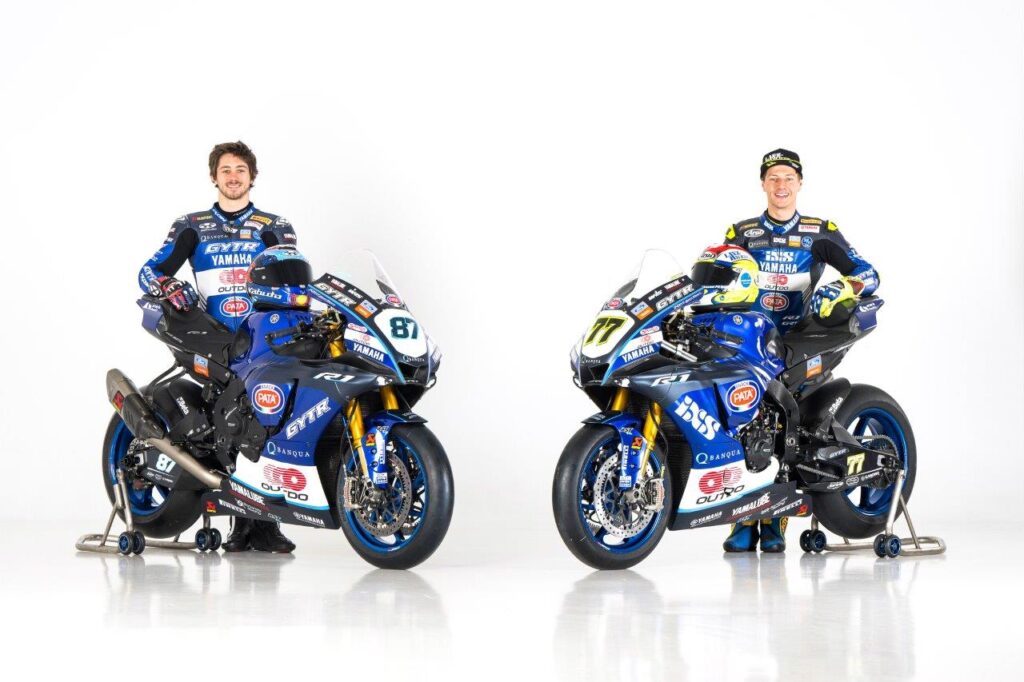 Right Hand Men – The Life of a WorldSBK Crew Chief
If you're watching the WorldSBK coverage on TV you will have noticed someone sitting next to the rider every time they pit. This person will have their eyes fixed on the screens during the track action, they will utter unknown instructions into the microphone on their headset, and when the rider returns to the box they will be hunched over in deep discussion with them, often with a clipboard in hand. This person is also one of the first to meet the rider in parc ferme after a podium success, offering hugs of celebration or comfort, before once again "talking tech".
This, and more, is the life of a Crew Chief. We sat down with the two Crew Chiefs from the Pata Yamaha Prometeon WorldSBK Team to find out what goes into a race weekend from their P.O.V – from cutting the riders' hair, to keeping them at arm's length. From making big decisions and learning to lead your side of the garage.
So, first thing's first, what does a Crew Chief actually do? Phil Marron, right hand man to Toprak Razgatlıoğlu, explains: "As a Crew Chief we have a few roles within the team; one would be to organise our crew, so the guys know what they have to do before the session, during the session and after the session. Another key part is to interpret what the rider says during the session, many times we'll need to translate the riders' comments into adjusting the bike. Then after the session we work hard to identify any problems and fix them, making sure we're prepared for the races."
Whilst many people would love to listen in to know how a rider feels after stepping off their bike, interpreting their comments is perhaps one of the most complex parts of a Crew Chief's job. "Trust is everything." States Marron "Every person is unique, but you need to get to know them to know what they want and what they are trying to communicate, it's the only way to work well together."
Andrew Pitt, Andrea Locatelli's Crew Chief agrees: "They trust us and we trust them, that's the key to it all."
But while you may see social media posts of Toprak and Phil running the track together, or Loka and Andrew discussing haircuts and sharing meals, the truth is that being friends is crucial, but being best friends means potentially compromising your professionalism…
"It's trust and respect, but you don't need to be best friends. There will be times when you need to call the rider out the back and have a serious talk, and they'll be other times when you need to put your arm round them and give them a hug. The rider is risking his life every time he goes on track, so he needs to completely trust you and that's what builds a close relationship." confesses Pitt. While Marron adds: "It's important not to be best friends, because sometimes the rider has to be strong with us, and we have to be strong with him. If you're too close you can fall out more easily – it's about balance."
So once you've established what the rider is trying to communicate and what he needs, what are the next steps to building the bike for the weekend? There are many people who, along with the Crew Chief, put their expertise into perfecting the performance of the bike. Among them, Niccolo Canepa – Yamaha Rider Coach and double Endurance World Champion, and Yamaha WorldSBK Technical Coordinator Riccardo Tisci as well as all the mechanics, the tyre and fuel technicians, the engineers and the suspension technician. Bike preparation comes in two forms; pre-event prep and pre-race prep.
Pitt explains further:
"A week ahead of a race we'll have already discussed things with Riccardo, we'll already have a plan and know what tyres we'll have available. Then on Thursday we'll have further technical meetings all together to check if we want to adjust anything ahead of FP1. But basically, we'll already have a plan for the electronics, the tyres, the fuel, and then after the session we'll see what we've learned. But it's always pre-planned. I'll also discuss things with Phil, to see what he and Toprak are doing and we'll try to cover all bases. It's all designed to gather info for the races."
All of this means that when the races do roll around, the preparation ahead of the grid is limited, keeping stress levels to a minimum. Marron talks us through what happens right before 'lights out'…
"The pitlane opens 20 minutes before the race, and we try to be as ready as possible on the grid. We don't want to be doing anything ahead of the race apart from putting the correct tyres in. Then we just watch the clock tick down, before removing the tyre warmers with one minute to go. This preparation is all in place to keep everybody calm. We want to keep the rider focused and relaxed, they can't be too tense or too chilled out, it's all about getting it spot on."
So with all the responsibilities and hard work in mind, if you still want to be a riders' right hand man or right hand woman and you feel you have the fine balance of technical knowledge and people skills necessary for this job, where do you start?
Marron remembers his intro into the role fondly: "I got into this job a long time ago, I started off working as a mechanic and I was very close to the Laverty brothers – Eugene, Michael and John – who were all racing at that time. I became very interested in improving their bike settings, I really enjoyed it, and I found that I was good at understanding what the riders needed. That was back in 2001 when I started with 125cc bikes, so I've been doing it for more than 20 years now!"
Andrew Pitt had a less conventional entry into his current job, coming from a background with numbers and his own World Championship success…
"For me getting started as a Crew Chief was something I never expected for myself. I used to race but I also used to be an accountant, which is not exactly the natural progression. But when I stopped racing, I got asked to give the role a go, and I was up for trying it. The rest is history…"
And despite having two very different riders and working in their own way towards their own goals, the ultimate marker of success remains the same for both Crew Chiefs:
"We're here for success, we don't come to work to finish last." Says Pitt emphatically.
"The best part of this job is putting yourself and your rider in a position to get victories." Adds Marron. "There's no substitute for winning."