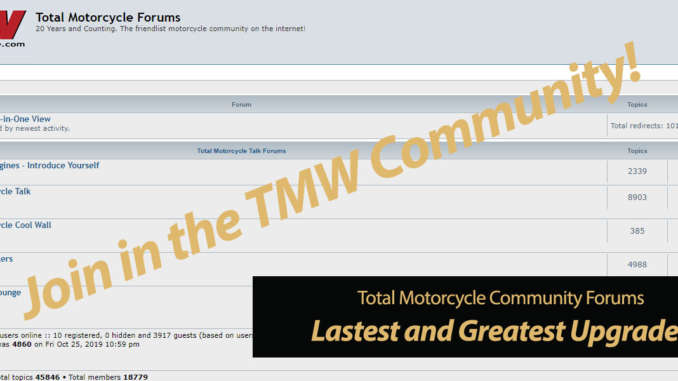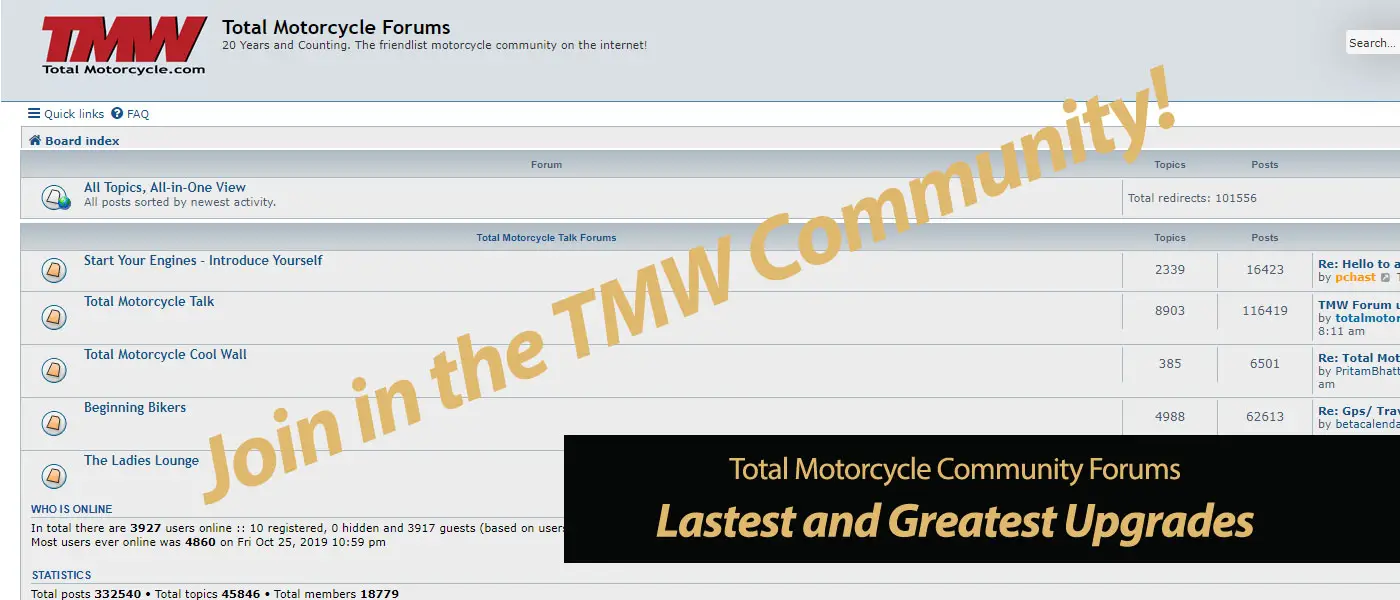 Great news everyone! Our forums are now upgraded to the latest, bestest, fastest and most feature filled just released version… 3.2.8! (yay!). Even though phpBB looks "old school" I like to keep our forums on the cutting edge and protect you all (the best I can) from any bad stuff with the best security.
Since 1999, Total Motorcycle has always been (and always will be) about supporting motorcyclists and motorcycling worldwide. We LOVE riding and the freedom it brings people, plus, it is a lot of fun too. That's why back in 2003 we started our forums, to connect riders with riders, no matter where they are (curious, new, veteran or returning) and no matter what you ride (street, dirt, cruise or track) or make (Ducati, Harley-Davidson, BMW, Suzuki, Honda, Kawasaki, Moto Guzzi or even Royal Enfield!) we support you all.
If you are new to Total Motorcycle or never joined our TMW Community, come on in and register up. If you are already a member, login, post, share and spend a few minutes helping a fellow riders out.
Total Motorcycle is also the only internet site that is accredited media for 39 motorcycle manufacturers!
Thank you for being part of the Total Motorcycle Community!!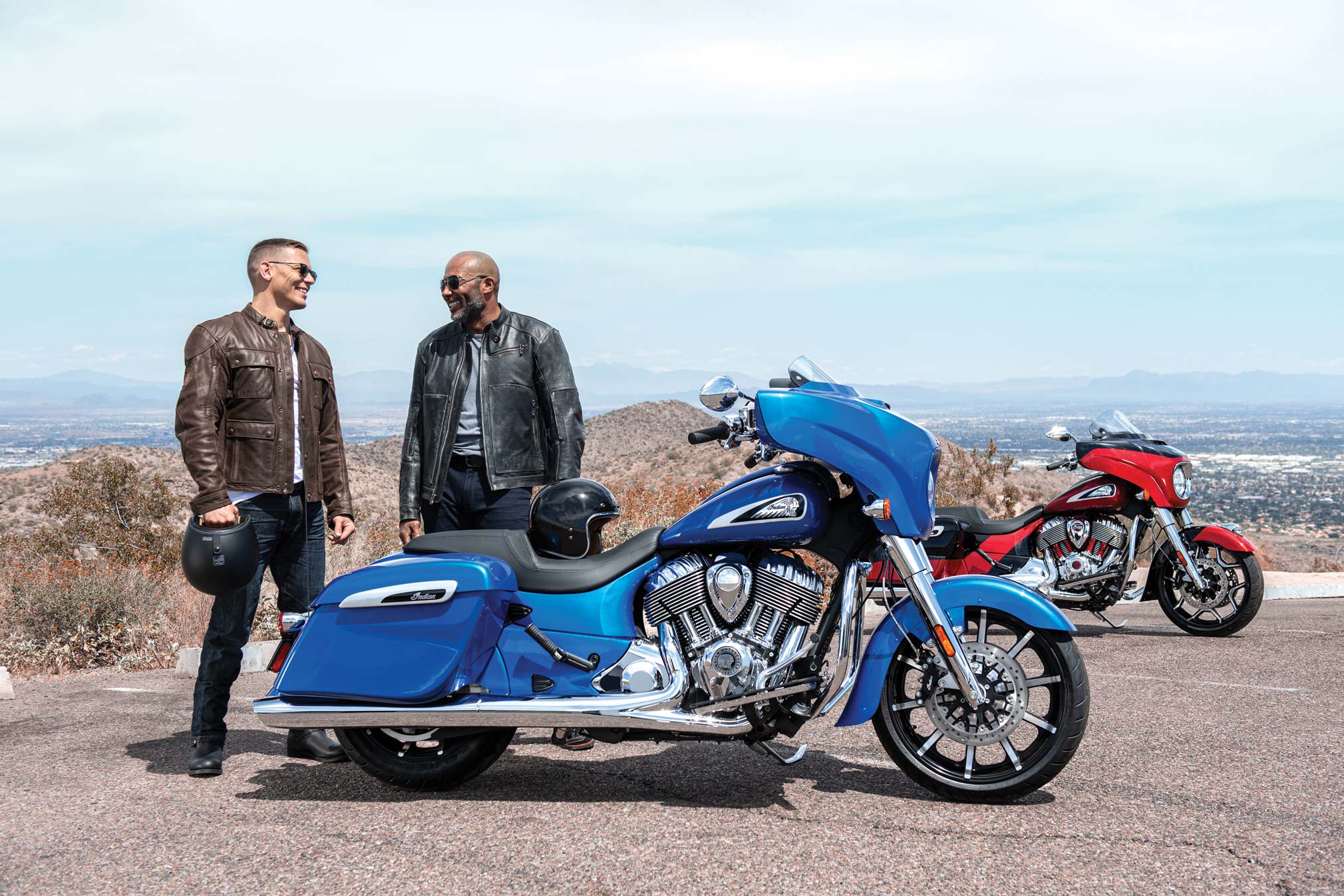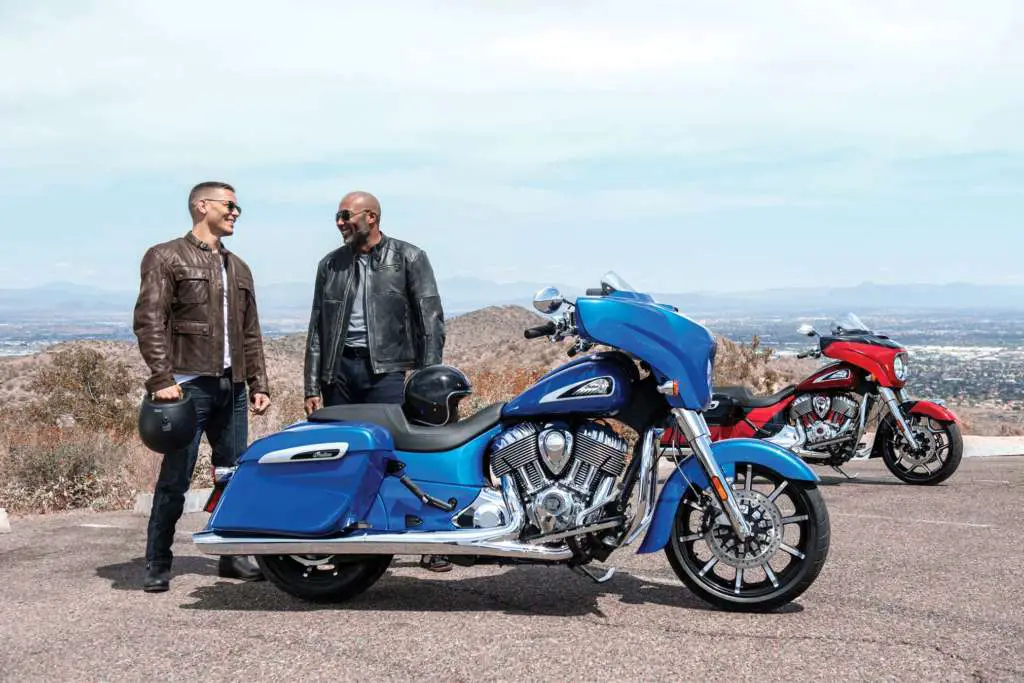 Changes if you are curious:
Improvements
Group helper methods – New group helper methods have been added that will allow easy access to e.g. get a group's avatar
Add Referrer-Policy header – phpBB will now output the Referrer-Policy header by default
Notable Changes
Deny prosilver uninstallation – It's no longer possible to uninstall prosilver from the ACP. It can however still be deactivated
User search by last visit – The user search by last visit returned unexpected users
Notable Bug Fixes
Cookies for domains with special chars – Added support for cookies on domains with special characters
Support Q&A plugin on MySQL 5.7 – An SQL query in the Q&A plugin failed to execute while using MySQL 5.7
Form token in login forms – Some login forms were missing form tokens and older styles did not support logging in
Inability to change topic type – A missing event dispatcher caused an internal server error when changing topic types
View PM folder broken – An incorrect PM state caused an undefined index error
URL links incorrectly shortened – Links were incorrectly shortened when posted inside the [url=] BBCode
Support for newer TLS in SMTP – Enable use of newer TLS versions for sending mail via SMTP
Login form token check – Restore ability to login from any page in phpBB and fix issues with banned users
Inability to restore backups – An incorrect change in a previous release resulted in the inability to restore backups via the ACP
OAuth login – Multiple issues with logging in from other pages and linking a user's account were resolved
Notable Changes
Update dependencies to latest versions – Updated dependencies like Symfony and the TextFormatter to their latest versions
Deny installations of 3.2 on PHP 7.3 – Due to the dependencies used in phpBB 3.2 and its minimum PHP version 5.4.7, it's currently not possible to run phpBB 3.2 on PHP 7.3
Hardening
Remove support for backup download – Removed support for downloading database backups via the ACP UI. This is to prevent the possibility of a database compromise on gaining access to a founder account