A guide to motorcycle gas mileage (MPG and L/100km) and efficiency
Your guide to motorcycle and scooter fuel economy in MPG and L/100km.
Over 5500 bikes by year, manufacturer and model from 1934 to today.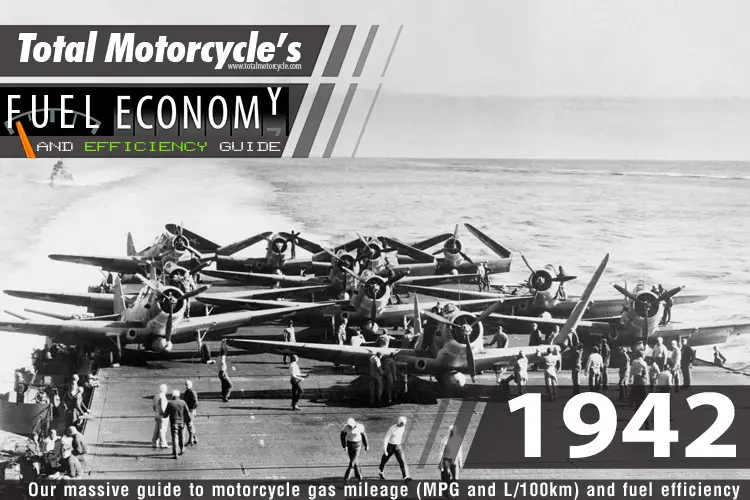 World Changing Event: June 4 to 7th, 1942 – The Battle of Midway: The Japanese naval advance in the Pacific is halted. It is widely regarded as the most important naval battle of the Pacific Campaign of World War II. The United States Navy decisively defeated an Imperial Japanese Navy (IJN) attack against Midway Atoll, inflicting irreparable damage on the Japanese fleet. The Japanese operation, like the earlier attack on Pearl Harbor, sought to eliminate the United States as a strategic power in the Pacific. The plan to lure the United States' aircraft carriers into a trap was handicapped by faulty Japanese assumptions of the American reaction and poor initial dispositions. American codebreakers were able to determine the date and location of the attack, enabling the forewarned U.S. Navy to set up an ambush of its own.
1942 Motorcycle and Scooter Models
| | | | | | | |
| --- | --- | --- | --- | --- | --- | --- |
| Year | Manufacturer | Model | Engine Size (cc) /Cyl | Average MPG | Average L/100km | Source |
| | Nimbus | Type C | 746/4 | 55.0 MPG | 4.3 L/100km | |
Feel free to add your motorcycle MPG data to help our guide grow.
2018

2019

1930

1931

1932

1933