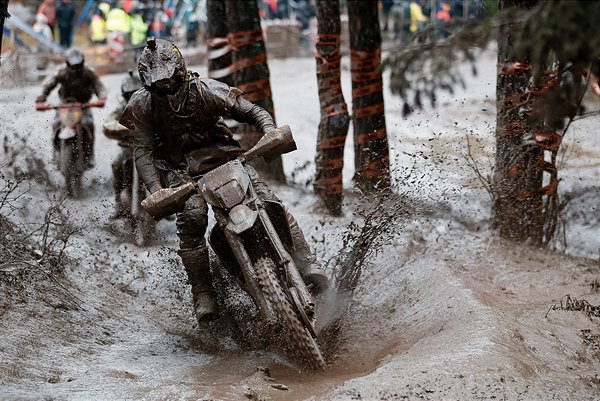 ROCKSTAR ENERGY HUSQVARNA FACTORY RACING RIDER MOVES 275 POINTS AHEAD WITH ONE ROUND TO GO
Rockstar Energy Husqvarna Factory Racing's Billy Bolt has edged further ahead in the 2018 World Enduro Super Series rankings, with just the eighth and final round of the series remaining. Battling his way to a hard-fought 13th place finish at round seven of the series – the Gotland Grand National in Sweden – Bolt now heads to the series finale in The Netherlands with the World Enduro Super Series title firmly in his sights.
Bolt's teammates Graham Jarvis and Alfredo Gomez both successfully battled their way through the deluge of mud to place 27th and 32nd respectively.
Over 3000 riders took to the start of this year's Gotland Grand National, marking the 35th edition of the Swedish classic. Heavy overnight rain continued into Saturday's race day ensuring an extremely wet and muddy three-hour competition.
Aiming to maintain his WESS championship advantage, Bolt was determined to put in a strong performance in the mud despite facing strong opposition from many of Sweden's top riders and Gotland Grand National specialists. However, numerous issues and crashes on the opening lap resulted in Bolt being forced to pit for repairs to a damaged throttle tube.
Slipping down the running order, the Brit pushed hard to battle his way back into contention. Steadily working his way forward with each passing lap, he eventually finished an impressive 13th to extend his lead in the championship chase.
Behind Bolt, Graham Jarvis fared well. Knowing that the race would be long and tough, he completed a steady opening lap while adjusting to the conditions. Feeling more comfortable with the terrain as the race progressed, he improved in both speed and positions to finish 27th.
Following a similar pattern, Gomez took lap one cautiously before building his pace as the conditions deteriorated. Picking up a few more positions during the closing stages, the Spaniard finished 32nd.
Putting in an incredible performance, Husqvarna Sweden's Albin Elowson was the overall winner of the race, claiming his debut victory at the Gotland Grand National.
The World Enduro Super Series concludes in The Netherlands on November 10 for the Knock Out Beach Race.
Billy Bolt: "It's been a really hard race, much harder than we initially expected when we first arrived in Gotland. The consistent rain from Friday onwards turned the entire track into a mud pit and from the very beginning it was a real tough battle. I had an ok start but then a really bad opening lap. A rider crashed in front of me and as I stopped to avoid him someone else crashed into me from behind and we all were stuck in a puddle. I got going again but got mixed up in another crash and went down again – that's when I broke the throttle tube. I tried to fix it at the side of the track but lost so many places as a result and had to pit on lap one to repair the damage. When I got going again I had to push to recover. Although 13th is not the result I wanted, considering the issues it was a good result. With my championship rivals also not having the best of days I still managed to stretch my lead at the top of the standings as we now look towards to the final round of the championship at Knock Out."
Graham Jarvis: "That was really tough, it was hard to learn the terrain and hard to get into it early on. It was difficult to know how much grip there was because there were a few slippery places but in other places it wasn't too bad, just very muddy. It took a while to get a bit more confident but when I did I was faster on the last few laps. It was hard to get warmed up and get going early on, but that was the same for everybody."
Alfredo Gomez: "It was so cold out there today – I don't think any of us expected it to be so tough. The first half of the race went well, but after that my brake pads wore out and everything got a lot more challenging. I think my riding was good but as the race went on I started to get very cold and it was tricky to keep to a good pace."
Results – Gotland Grand National, WESS Round 7
1. Albin Elowson (Husqvarna) 6 laps, 2:59:02; 2. Robert Kvarnstrom (Yamaha) 3:01:52; 3. Ken Bengston (Husqvarna) 3:03:38; 4. Taddy Blazusiak (KTM) 3:06:59; 5. Sebastian Martensson (Husqvarna) 3:08:33; 6. Johan Carlsson (Husqvarna) 3:08:42; 7. Calle Bjerkert (Husqvarna) 3:10:10; 8. Joakim Ljunggren (KTM) 3:10:44; 9. Oskar Ljunstrom (Husqvarna) 3:11:08; 10. Marcus Gothenberg (Husqvarna) 3:11:16… 13. Billy Bolt (Husqvarna) 3:14:24… 27. Graham Jarvis (Husqvarna) 3:22.54… 32. Alfredo Gomez (Husqvarna) 3:26:05…
World Enduro Super Series Standings (After round 7)
1. Billy Bolt (Husqvarna) 4420pts; 2. Manuel Lettenbichler (KTM) 4145pts; 3. Josep Garcia (KTM) 3700pts; 4. Taddy Blazusiak (KTM) 3675pts; 5. Wade Young 3220pts; 6. Nathan Watson (KTM) 3103pts; 7. Paul Bolton (KTM) 3092pts; 8. Graham Jarvis (Husqvarna) 3010pts; 9. Jonny Walker (KTM) 2900pts; 10. Lars Enockl (Gas Gas) 2272pts…