ROCKSTAR ENERGY HUSQVARNA FACTORY RACING'S MX2 RIDER EARNS TWO TOP THREE MOTO RESULTS IN PORTUGAL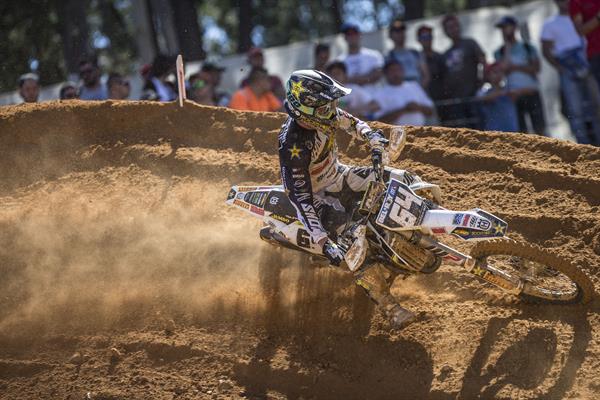 Claiming a start to finish qualifying race victory and then going on to earn two top three moto results, Rockstar Energy Husqvarna Factory Racing's Thomas Covington wrapped up round 12 of the FIM Motocross World Championship earning third overall in the MX2 class at the GP of Portugal.
The MXGP of Portugal proved to be a challenging one for all competitors due to changing track conditions and soring temperatures. Getting an early lead and never looking back during his qualifying moto Covington placed himself on pole for Sunday's final motos. Getting good starts and leading the way in the opening part of both motos the American collected a pair of third place results ensuring a strong third place overall result.
Showing good speed in both MX2 races, Covington's Rockstar Energy Husqvarna Factory Racing teammate Thomas Kjer-Olsen suffered a few mistakes that prevented him from battling for the overall podium. Earning fourth in moto one and then fifth in moto two the young Dane wrapped up the GP with a strong fourth place in the 250cc class.
Getting good starts in both motos Rockstar Energy Husqvarna Factory Racing's Conrad Mewse was frustratingly unable to keep up with the leading group during each race. Collecting 17/19 results the Brit rounded out the GP with 19th overall.
In the MXGP category, Rockstar Energy Husqarna Factory Racing's Max Nagl was involved in a great fight for the overall podium until the closing laps of the second moto. Getting the runner-up spot in the qualifying race, the German secured a good starting position for the final motos. Racing in third for most of the opening race, Nagl settled for fourth at the finish. Starting strongly in second during the second moto he finished fifth in race two.
Fresh from his first career podium result last weekend in Italy, Max Anstie was hoping for equally positive result at the Agueda track. Getting 10th in moto one and then eighth in moto two the Brit earned ninth overall at the GP.
Involved in some great battles during both motos Gautier Paulin secured 12/11 results for 12th overall at the GP.
The Rockstar Energy Husqvarna Factory Racing team will return to action at round 13 of the 2017 FIM Motocross World Championship in Loket, the Czech Republic on July 22/23.
Thomas Covington: "It's been another positive GP and I'm pleased with my results in Portugal. Once again I showed the speed is there to battle for victory and that's really important for the rest of the championship. To be honest I felt quite comfortable in this track. I started off the weekend with a win in the qualifying moto and that was a good psychological booster for the final motos. Despite the heat I had two good motos. In moto one I got the lead early and managed to stay up front for a few laps before settling for third. Then in moto two I got the holeshot and was able to lead for the first part of the race. Being in the lead felt quite good to be honest. By the end of the second moto I felt a bit tired. I guess all the travelling and the heat in Portugal took a toll on me so I had to settle for third again. I'm looking forward to coming back even stronger in Loket."
Thomas Kjer-Olsen: "The speed was there this weekend but a few mistakes didn't allow me to fight for the top three. Overall, I'm satisfied with how things went in Portugal. I had a good qualifying race for fourth. Then I got a good start in the first moto and was able to claim fourth. My start in moto two was not that good. As I was trying to make my way through the pack I got together with another rider and that made me lose a bunch of time. Luckily I still had time to push so I gradually made my way back to fifth. It's good that we salvaged some good points for the championship. The series is still long and anything can happen. We're still third in the championship and I will keep working hard to finish the season on a high."
Conrad Mewse: "My starts were on point throughout the weekend and that was really positive. I struggled to maintain my position in both motos but just couldn't hold on. Without making any big mistake the pace was not good enough to remain in the battle for the top 10. I guess it was just an off weekend. There are no excuses and the plan is to continue working hard hoping for some improved results. I want to take advantage of this short break in the series to continue my training and preparation for the second half of the season."
Max Nagl: "Overall, it's been a very positive weekend and I'm happy about that. Getting good starts in qualifying and both final motos I could get a good race pace and do my own races. Earning second in qualifying got me a good gate pick for Sunday's final motos. My riding was very good in race one. I started off well and managed to stay close to the leading group for fourth at the line. I got another good start in moto two and pushed hard for the overall podium. I really wanted to get on the podium this weekend but with 10 minutes to go in moto two I felt physically tired. It's disappointing I couldn't get on the podium but I'm happy the speed was there. We now have three weeks off and I want to take advantage of that to focus on getting even stronger physically for the second half of the season."
Max Anstie: "Getting a taste of the podium last weekend in Italy I was hoping for some similar results in Portugal. Knowing the track from the past I was able to prepare myself mentally for the weekend. But he track had changed a lot. It was bumpy, quite slippery and had lots of stones. Not getting a good result in qualifying didn't help my starts but I did the best I could to gain some places in both motos. Getting 10th in moto one and then eighth in moto two is not bad at all considering the level of competition in the class. I know I'm strong and I also know what I'm capable of so the plan is to keep working as hard as we do and hope for some better results. During the next three weeks I will work hard trying one more step with my riding and preparation."
Gautier Paulin: "I was a tough GP for everybody. With the track not offering many lines it was important to get a good result in the qualifying race but I could not make that happen. The opening moto was a fast paced one. Not being able to get a good start I had to settle for 12th at the finish line. Then in moto two my start was a lot better and I found myself battling for the top five. As I was going through a tight corner I made a mistake and stalled the engine and that cost me lot of time. It's good that we have a small break now in the championship. It'll be a perfect chance to regroup with the goal to come back even stronger in Loket."
Download all high-res images from the MXGP of Portugal here.
Results – FIM Motocross World Championship, Round 12
MXGP – Overall
1. Antonio Cairoli (KTM) 47pts; 2. Jeffrey Herlings (KTM) 47; 3. Arminas Jasikonis (Suzuki) 40… 5. Max Nagl (Husqvarna) 34… 9. Max Anstie (Husqvarna) 24… 12. Gautier Paulin (Husqvarna) 19; 13. Tanel Leok (Husqvarna) 17… 17. Rui Goncalves (Husqvarna) 8
MXGP – Race 1
1. Jeffrey Herlings (KTM) 18 laps, 35:13.457; 2. Antonio Cairoli (KTM) 35:14.737; 3. Arminas Jasikonis (Suzuki) 35:43.153; 4. Max Nagl (Husqvarna) 35:48.842… 10. Max Anstie (Husqvarna) 36:15.155… 12. Gautier Paulin (Husqvarna) 36:25.593; 13. Tanel Leok (Husqvarna) 36:32.962 … 18. Rui Goncalves (Husqvarna) 37:02.098
MXGP – Race 2
1. Antonio Cairoli (KTM) 18 laps, 35:28.572; 2. Jeffrey Herlings (KTM) 35:30.340; 3. Arminas Jasikonis (Suzuki) 36:07.316… 5. Max Nagl (Husqvarna) 36:14.792… 8. Max Anstie (Husqvarna) 36:24.691… 11. Gautier Paulin (Husqvarna) 36:35.521; 12. Tanel Leok (Husqvarna) 36:42.474 … 16. Rui Goncalves (Husqvarna) 37:21.380
MX2 – Overall
1. Jeremy Seewer (Suzuki) 47pts; 2. Pauls Jonass (KTM) 47; 3. Thomas Covington (Husqvarna) 40; 4. Thomas Kjer-Olsen (Husqvarna) 34… 10. Iker Larranaga (Husqvarna) 20… 13. Henry Jacobi (Husqvarna) 16; 19. Conrad Mewse (Husqvarna) 6
MX2 – Race 1
1. Pauls Jonass (KTM) 17 laps, 34:12.844; 2. Jeremy Seewer (Suzuki) 34:14.611; 3. Thomas Covington (Husqvarna) 34:15.544; 4. Thomas Kjer-Olsen (Husqvarna) 34:47.264… 11. Iker Larranaga (Husqvarna) 35:14.001… 13. Henry Jacobi (Husqvarna) 35:23.487… 17. Conrad Mewse (Husqvarna) 35:38.965
MX2 – Race 2
1. Jeremy Seewer (Suzuki) 17 laps, 34:25.343; 2. Pauls Jonass (KTM) 34:29.243; 3. Thomas Covington (Husqvarna) 34:48.739… 5. Thomas Kjer-Olsen (Husqvarna) 34:52.445… 11. Iker Larranaga (Husqvarna) 35:34.953… 13. Henry Jacobi (Husqvarna) 36:07.304… 19. Conrad Mewse (Husqvarna) 16 laps, 34:53.911
Championship Standings (After Round 12)
MXGP
1. Antonio Cairoli (KTM) 478pts; 2. Clement Desalle (Kawasaki) 387; 3. Gautier Paulin (Husqvarna) 383… 7. Max Nagl (Husqvarna) 289… 12. Max Anstie (Husqvarna) 240… 14. Tanel Leok (Husqvarna) 140… 19. Rui Goncalves (Husqvarna) 83… 25. Harri Kullas (Husqvarna) 21… 31. Evgeny Mikhaylov (Husqvarna) 10… 34. Yentel Martens (Husqvarna) 6
MX2
1. Pauls Jonass (KTM) 501pts; 2. Jeremy Seewer (Suzuki) 463; 3. Thomas Kjer-Olsen (Husqvarna) 377… 6. Thomas Covington (Husqvarna) 303… 19. Conrad Mewse (Husqvarna) 104; 20. Iker Larranaga (Husqvarna) 92… 22. Henry Jacobi (Husqvarna) 67… 25. Brian Hsu (Husqvarna) 60… 34. Giuseppe Tropepe (Husqvarna) 26; 35. Caleb Ward (Husqvarna) 14; 36. Karel Kutsar (Husqvarna) 14… 43. Ivan Petrov (Husqvarna) 1… 46. Aaron Tanti (Husqvarna) 1