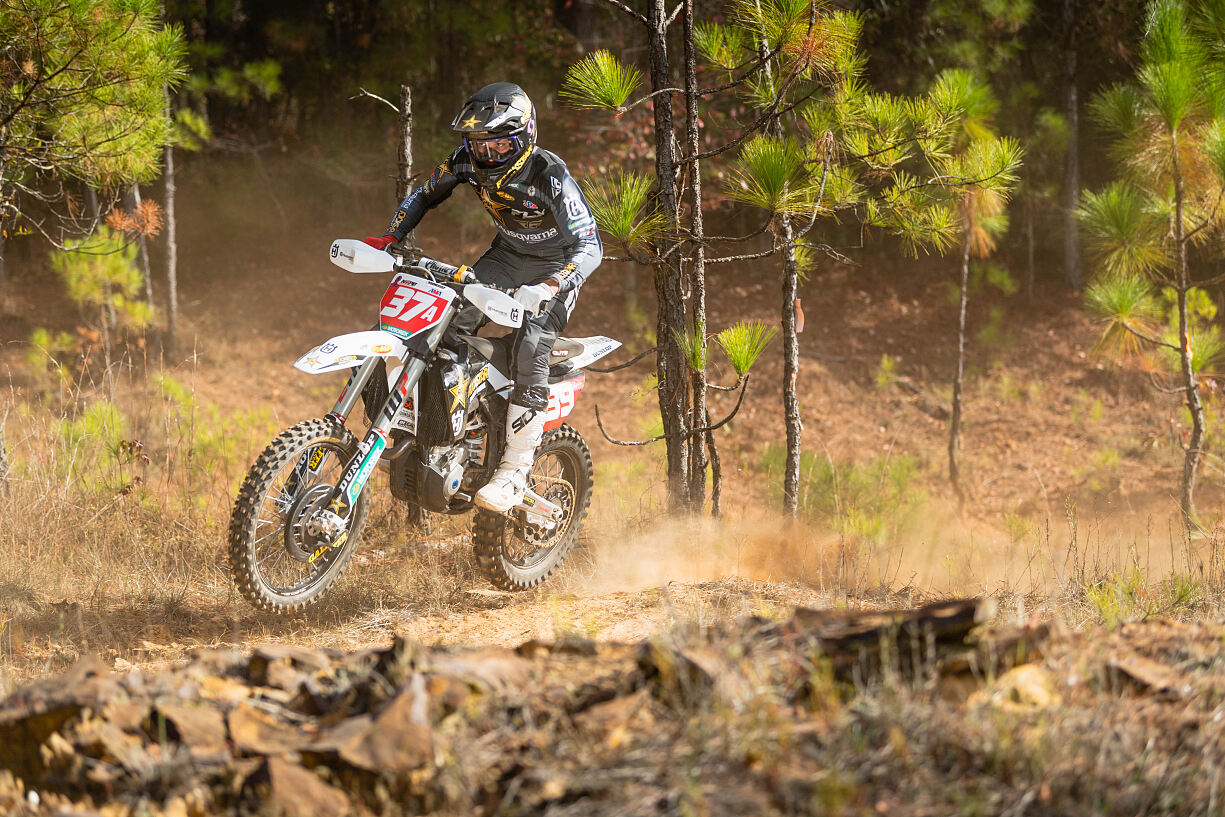 Rockstar Energy Husqvarna Factory Racing's Craig DeLong delivered a solid day of racing at the ninth and final round of the 2023 AMA National Enduro Series (NEPG), securing sixth place in the NE Pro1 Class at the Gobbler Getter National Enduro in Stanton, Alabama, on Sunday.
On a dusty, technical circuit, DeLong posted a ride that saw him fluctuate between P5 and P8 in each respective test, eventually crossing the line in sixth position to conclude his National Enduro campaign for this year.
Completing a busy schedule of racing in 2023, DeLong's NEPG pursuit included victory at round four of the championship, along with a further six top-five finishes, which secured the FX 350 pilot fourth overall in the NE Pro1 Class series standings.
"Today was an okay day here in Alabama," said DeLong. "I rode smooth and consistent, only falling on one occasion early in the race. After last weekend's GNCC round I just wanted to finish the year healthy and with a strong result, which I think we achieved here today. I'm looking forward to defending the GNCC championship next year and contending for the Sprint series title."
Teammate Trevor Bollinger experienced a difficult day at the final round of the NEPG Series, with the Rockstar Energy Husqvarna racer tipping over during the opening test after running in P8, which resulted in a finger injury that forced him into an early retirement for the weekend.
Bollinger's 2023 campaign was marred by unfortunate injuries, including a broken scapula early on in the season, with a fifth-place result at the eighth round of the NEPG season showcasing his outright pace in enduro competition.
"I was really excited to finish the season off strong here in Alabama," commented Bollinger. "Unfortunately, a tip-over in the first test gave me a pretty severe finger injury to my pinky, which forced me to retire. We'll heal up over the off-season and put in a good pre-season to return strong for next year. Thank you to my team and all those in my corner."
NE Pro1 Class – Gobbler Getter results
1. Steward Baylor (KTM), 151:08.850
2. Grant Baylor (Kawasaki) +41.844
3. Josh Toth (GASGAS) +1:05:450
…
6. Craig DeLong – Rockstar Energy Husqvarna Factory Racing
NC. Trevor Bollinger – Rockstar Energy Husqvarna Factory Racing