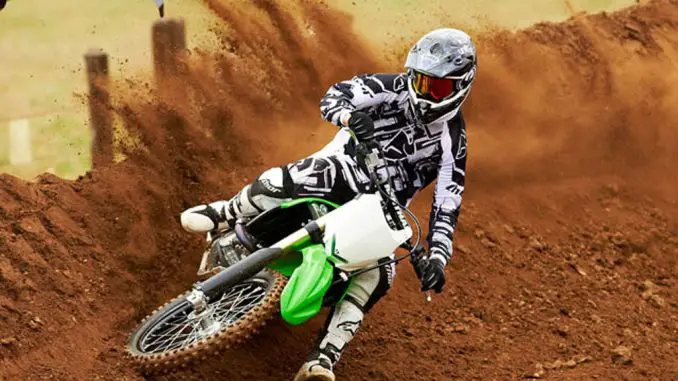 Click photos to enlarge. Our big, clean bike pics make great desktop wallpaper.
2013 Kawasaki KX450F Review

2013 Kawasaki KX450F
PROOF in Five Back-to-Back Titles
The KX™450F has been updated for 2013 to help continue its back-to-back string of recent championships. The string began with Monster Energy® Kawasaki's Ryan Villopoto winning both the 2011 Supercross and 2011 Motocross titles, followed by leading the U.S. team to an overall victory at the Motocross of Nations, then Villopoto's absolute domination of the Monster Energy Cup —which also earned him the Monster Million. Last but not least, Villopoto recently defended his Supercross title by winning the 2012 championship on his KX450F!
The KX450F's best-in-class performance is delivered through the highest level of rider adjustability and the most progressive electronics package ever seen on a production motocross bike. Get the picture? Don't blame the bike if you can't win on a KX450F!
Headlining the 2013 upgrades for the KX450F is a switch to the new 48mm KYB Pneumatic Spring Fork (PSF), which uses pressurized air to eliminate the traditional metal-coil fork springs. The reduced weight and inertia of an air spring improves smoothness and enhances the fork's ability to follow terrain contours. The Pneumatic Spring Fork also significantly reduces friction and cuts weight by an amazing 1.7 lbs. per set! Other benefits of the air spring include providing better bottoming resistance, quicker, easier and more effective tuning using nothing more than a hand pump, and reduced oil contamination due to the lack of microscopic metal particles caused by fork springs rubbing against the inside of the fork tubes. The super-hard Diamond-Like Carbon (DLC) coating on the outer surface of the inner fork tubes and high-tech Kashima Coat treatment on the inner surface of the outer fork tubes significantly reduce drag compared to a standard fork assembly and help deliver supple, fade-free action.

A new swingarm compliments the new front fork and features a larger front casting that extends further down the spars for maximum strength and improved rigidity. The Kayaba rear shock features a beefy 50mm piston and a top-shelf Kashima Coat surface treatment on the inside walls of the shock body. Ample adjustability helps ensure smooth, reliable and consistent action of the rear suspension that not only offers superior performance, but also helps the rider relax and conserve valuable strength on the way to the finish line. Kawasaki offers an optional rear suspension tie rod that is one millimeter longer than stock, which can be used to reduce seat height by four millimeters.
No other production motocross bike offers a higher degree of adjustability to the rider interface or engine character than the KX450F. With a choice of four different handlebar positions, two footpeg positions, and virtually unlimited ignition mapping capabilities, the KX450F is uniquely able to adapt to changing track and surface conditions and meet the needs of a wide range of riders.
The Digital Fuel injection (DFI®) system comes with three pre-programmed ignition maps which are easily selectable without the use of a laptop computer or any other electronic devices. Maps can quickly be changed between three settings – standard, hard (terrain) and soft (terrain) – by swapping the DFI wire coupler cap clipped to the side of the steering head. Easy access to the coupler cap means no additional accessories are needed to alternate between pre-preprogrammed maps – simply connect the appropriate coupler cap to activate an ignition mode to match track conditions. The ECU is also fully re-programmable and custom maps can be created by using the accessory Kawasaki Racing Software Calibration Kit, the same tool used by Kawasaki factory and privateer teams in AMA and FIM racing.
The KX450F's engine provides proven top-end and over-rev performance, but ups the ante with improved torque from ultra-low revs all the way through the upper mid-range. Revised intake valve lift, a revised piston crown and tweaked ignition settings provide the increased torque and improved throttle response for 2013. The end result is a smoother powerband with more "area under the curve," AKA usable power. The KX450F's works-style bridge-box bottom piston allows for optimum strength and high rev durability.

New, longer grips for 2013 extend further toward the center of the handlebars, allowing riders to slide their hands up to 20mm closer together, for a more compact feel than last year's bike. The grips also feature a taller pattern and are molded from lower density material to make life easier on the rider's hands. Minimalist body work, shrouds and number plates contribute to the slender feel and sleek looks of Kawasaki's flagship motocross machine. Sparing no attention to detail, the seams between the radiator shrouds, seat and side covers are very flush fitting, which help prevent snags and allow the rider to change position and maneuver more freely on the bike. The compact fuel tank also forms a smooth and nearly straight line with the seat to allow maximum rider movement.
A blue finish on the oil cap and two caps on the generator cover highlight the factory appearance of the KX450F motor, and match the blue anodized finish on the suspension adjusters. An embossed logo on the clutch cover features a trick design and is painted silver to help hide the normal signs of wear.
The 2013 KX450F is available in Kawasaki Lime Green, with black anodized rims, blue highlights and aggressive graphics inspired by the Team Monster Energy Kawasaki factory race bikes.
Racers who ride their KX450F at designated events are eligible to receive support from Team Green™, Kawasaki's amateur racing support program. For over 30 years, Team Green has been providing regional support vehicles and highly trained technicians at more than 100 yearly events throughout the United States, offering technical information and assistance to those who race Kawasaki products. Kawasaki also offers a comprehensive contingency program for amateur and professional riders who place well at designated events.
2013 Kawasaki KX450F Features and Benefits
At a glance…
• New Kayaba Pneumatic Spring Fork (PSF) replaces the main fork springs with compressed air to reduce weight, provide easier and more effective tuning and improve bottoming resistance
• Revised engine tuning offers more power and smoother delivery from basement revs through mid and into the upper rpm range; this provides more thrust while exiting corners and all the way down the straights, while also enhancing rider confidence
• Revised piston crown improves ultra-low to mid-range engine response
• Revised intake cam features slightly less lift, to promote better low-rpm throttle response
• New front master cylinder features a knocker-style lever-to-piston interface for improved feel and more consistent performance than the old piston-type unit
• New longer, lower density grips make life easier on the rider's hands. They also extend further towards the center of the handlebars, allowing riders to move their hands up to 20mm closer together
• New lightweight 240mm petal-type rear rotor features the same aggressive petal style as the front rotor and is gripped by a single piston hydraulic rear caliper
• Launch Control improves low-gear acceleration by helping to reduce wheelspin during the run to the first corner
• Pre-programmed ignition maps are interchangeable trackside, no PC required
• Adjustable 4-position handlebar and 2-position footpegs allow riders to fit the KX to match their personal preference
• Black Anodized Aluminum rims for a factory look

Engine Overview
• 449cc liquid-cooled, DOHC, four-stroke single with legendary Kawasaki power!
• Works-based Bridged-box Bottom piston has optimum rigidity for maximum high-rpm power and durability
• A forward lean angle of 3° puts the engine in the ideal position for maximum traction
• Highly balanced crankshaft, on par with Villopoto's factory racer, creates minimal vibration and has a high inertial mass to help maximize rear wheel traction
• Compact cylinder head is only 100mm tall
• Double valve springs help ensure stable valve operation and also allow for a short cylinder head height
• Camshafts, lobes and tappet surfaces feature a soft-nitride treatment for long wear and high-rpm reliability
• Automatic cam chain adjuster is maintenance-free
• Crankshaft and connecting rod feature a special carburizing and quenching treatment to maximize rigidity, boosting long term reliability without adding weight

Digital Fuel Injection
• Digital Fuel Injection (DFI®) self-adjusts to atmospheric changes for easier starting, sharper throttle response and accessible power for jumping
• It is not necessary to re-tune, or change any jets to suit climatic conditions like carbureted models
• Ultra-fine atomizing injector with 12 holes sprays particles with a droplet size of 60µ for smooth power delivery and engine response throughout the throttle range
• 43mm throttle body uses a progressive throttle linkage to deliver airflow in much the same way as an FCR carburetor
• Using two linked shafts, the throttle body opens more quickly after reaching the 3/8 open position
• Fast-idle knob on the throttle body allows riders to increase engine speed when starting a cold engine
• Fuel injector set at 45°, the optimum angle for mid-range power
• Revised airbox flap helps prevent mud and water from entering, but has enlarged access hole to simplify air filter maintenance

High-performance Multi-map ECU
• Revised ignition timing boosts response when re-opening the throttle after deceleration (when landing jumps, etc.)
• ECU programming is easily selectable via interchangeable DFI coupler caps that provide three preprogrammed maps for Standard, Hard (terrain) and Soft (terrain), without the need for a programming computer
• The engine can be started with only three rotations of the crankshaft using the electricity generated by a single kick of the starter, no battery needed
• The system delivers electricity to the bike's electronics in sequence: first the ECU, then the fuel pump, and finally the injector for quick, easy starting
• The compact, lightweight ECU, located on the front of the steering head behind the number plate, was designed specifically for motocross use. The fuel pump relay is integrated with the ECU to help cope with the shocks and vibrations of tough racing

Launch Control Mode
• Factory-style launch control system increases the ability to get good starts, by maximizing available traction
• Push-button activation of the Launch Control Mode retards ignition timing in first and second gears, giving the greatest effect within the first few seconds of releasing the clutch
• Launch Control can be activated in neutral, first or second gear
• Shifting into third gear automatically deactivates Launch Control Mode and returns the ignition to normal mapping
• System is designed to same specifications as factory Kawasaki AMA machines

Easy Starting
• Strong output from the large ACG rotor provides enough electrical power for the battery-less FI system to enable true one-kick starting without using a battery
• Equipped with an automatic compression release (ACR) system for quick and easy starting. The dual-weight centrifugal decompression system is fitted to the exhaust cam
• Compression release features 1.0mm of valve lift, to minimize the required kicking power

Bridged-Box Bottom Piston
• Revised piston crown improves ultra-low to mid-range engine response
• Same design as used on our factory racers; offers optimum performance at all rpm
• Lighter and more durable than traditional piston designs
• Short piston skirt features low-friction coating to minimize mechanical losses
• Reinforced external ribs enhance strength and durability

PSF Front Fork
• New 48mm KYB Pneumatic Spring Fork (PSF) eliminates the main fork springs by using compressed air as a spring. The reduced weight and inertia of the air spring improves smoothness and enhances the fork's ability to follow terrain contours
• Air spring significantly reduces friction and cuts weight by 1.7 lbs. per set, while also providing better bottoming resistance, less oil contamination, plus easier and more effective tuning
• Larger 32mm diameter internal damping cartridges allow the use of pistons with approximately twice the surface area as last year's 24mm AOS damper pistons. This provides more consistent performance and enhances bottoming resistance
• A removable spring pressure adjustment valve is included to simplify connection of an air pump
• Diamond-Like Carbon (DLC) coating on the outer surface of the inner fork tubes offers minimum stiction when the fork is exposed to lateral forces that would usually hamper slide action. The result is improved fork response, especially during cornering
• Friction-reducing Kashima Coat on the inside of the fork's outer tubes contributes to smooth suspension action (especially at the initial part of the stroke)
• Wrap-around fork tube guards offer effective protection for the sliders
• New lower triple clamp features integrated locating pins to help simplify installation and removal of the front number plate
• New one-piece front fender attachment screws feature integrated grommets to simplify installation and removal

Rear Shock
• New rear suspension settings have been tuned to compliment the new PSF forks
• New 33-position rebound damping adjuster allows more precise fine-tuning of the rebound circuit
• Easy adjuster access allows track-side suspension tuning with a minimum of hassle or lost time
• Rear shock features dual compression adjustability, allowing 22-position high-speed and stepless low-speed damping adjustments to be made independently
• KYB rear shock features a large 50mm piston and a Kashima Coat treatment on the cylinder wall for reduced friction and smoother suspension action

Aluminum Swingarm
• New swingarm features a larger front casting that extends further down the spars for maximum strength and improved rigidity
• Tapered "D" shape swingarm is lighter than a comparable box-section unit and provides superior rigidity for its weight
• Features tapered hydroformed spars and forged chain adjusters
• Uni-Trak® rear suspension linkage is mounted below the swingarm to allow precise tuning and maximum rear suspension stroke
• Optional linkage tie rod is 1mm shorter, creating a 4mm reduction in seat height

Fuel Tank and Lightweight Aluminum Fuel Pump
• Compact 1.6-gallon fuel tank is formed using a blow molding process
• Fuel pump features a one-piece filter cover and body, eliminating the need for fuel return tube from pressure regulator
• Features a plastic fuel filter cover that wraps around the inlet port and acts as a fuel trap to help ensure a stable fuel supply during vigorous motocross riding

Efficient Cooling • High-capacity Denso radiators feature tightly packed cores and a fin design that deliver superior cooling efficiency
• Shroud shape features a slim profile and large cooling outlet hole to help keep excess heat to a minimum
• Radiator louvers feature four small blades set at a shallow angle for minimum overlap and maximum air flow

Strong and Durable Clutch
• Clutch assembly provides a direct feel and superb control of engagement
• Excellent oil drainage reduces power loss caused by excess oil around the clutch basket
• Friction plates with substantial friction material contribute to fade resistance and long service life
• Clutch case cover features embossed logo and is painted silver, making scuffs and normal wear less noticeable

Close-Ratio 5-Speed Transmission
• 5-Speed transmission and low-rpm engine response combination offers riders more gear options for traversing rough sections or getting into the rhythm of a course easily so they can focus on racing
• Thick first gear offers excellent durability for launching off the line in high-traction situations

Powerful Disc Brakes
• New front master cylinder features a knocker-style lever-to-piston interface for improved feel and more consistent performance than the old piston-type unit
• New front brake pads offer a higher coefficient of friction for stronger braking force and enhanced feel
• New front brake hose is 30mm longer than last year
• Lightweight 250mm front rotor is squeezed by a powerful twin-piston caliper and features an aggressive petal design to help clear mud and debris
• New lightweight 240mm petal-type rear rotor features with the same aggressive petal style as the front rotor and is gripped by a single piston hydraulic rear caliper

Rider Interface and Styling
• New longer grips are made of lower density material and feature a taller pattern to make life easier on the rider's hands. The new grips also extend further towards the center of the handlebars, allowing riders to move their hands up to 20mm closer together
• Slender frame helps the bike feel compact and nimble, but tapers to become wider near the rider's ankles to offer optimum grip and control
• Wide 50mm footpegs can be adjusted to alternate position, 5mm lower than stock
• Dual injected 2-tone, one-piece plastic shrouds and side number plates are compact and lightweight to help mass centralization and enhance rider comfort
• Black triple clamps and black anodized rims – just like Kawasaki's factory teams
• Blue finishes on suspension adjusters and engine plugs match blue accents in the graphics
• Slim seat design uses urethane foam designed to retain its original shape and provide optimum durability

Additional Features
• Skid plate made of resin material offers great protection without excess weight
• Clutch cable boot features a large quick adjuster, making it easy for riders to adjust play in the clutch cable on the fly
• Rear caliper guard helps protect the caliper from damage
• Ribless rear hub and butted spokes offer light weight and excellent durability


Optional KX Accessories
• KX DFI Calibration Kit allows racers to reprogram the ECU's data maps for volume of fuel injected and ignition timing to alter engine characteristics to suit rider preference. ECU setting tool available with programming software updated to match 2013 engine and intake upgrades. The tool can also be used as a data logger, recording up to six hours of data, including engine rpm, degree of throttle opening, engine boost, coolant temp, air temp, ignition timing, fuel adjustments, gear position and system voltage
• Kawasaki recommends a 0-60 PSI air pump with bleeder valve and no-loss Schrader valve connector, Kawasaki part# K5609-060A for adjusting fork air pressure with maximum accuracy and ease of use


2013 Kawasaki KX450F Additional Details
New Uni-Trak rear suspension
Linkage mounts below the swingarm for more precise suspension tuning. Dual compression adjustability offers a wide range of tuning options. Kashima coat on the tank cylinder improves action, additionally for MY13 revised damping settings match the new front fork.

Pneumatic Spring Fork (PSF)
The KX450F is the first mass-production motocrosser to features this next-generation fork technology. Shock absorption duties are carried out using pressurized air instead of springs. Reduced weight, easier adjustability and wider setting range are some of the advantages.

Factory Styling
Complementing the new front fender design and white rear fender, factory-style graphic, black alumite' rims, black fork guards, blue alumite' finish on the suspension adjusters, and a blue finish on some of the engine trim give the KX450F the looks to match its highly tuned performance.

Factory-inspired engine tuning
Revised high performance piston (0.2mm lower crown featuring sloped edges), intake cams and ECU settings resul in an increased performance in ultra-low to mid range torque.

Petal break discs
The KX450F features petal break discs front and rear. In addition to helping reduce unsprung weight, the wave shapes of the petal discs help clean the break pads for more efficient breaking performance.

Slim racer-friendly rider interface
The KX450F's slim aluminum perimeter frame is a lightweight construction composed of forged, extruded and cast parts. Chassis balance and settings were all set to suit race-experienced riders. Designed with rider ergonomics in mind, offers a slim rider interface and racer-friendly ergonomics. New handle grips enable a more compact riding position.

Race oriented suspension
KYB AOS (Air-Oil-Separate) fork keeps oil and air in separate chambers. The increased rigidity results in improved fork action. A super-hard Diamond-Like Carbon reduces sliding friction (and stiction). The coating is even effective when exposed to lateral forces that would hamper slide action. The surface hardness minimises scratches and damage to the tubes.

Precision engine tuning: KX FI Calibration Kit (option)
The KX FI Calibration Kit enables expert riders to adjust engine characteristics (by rewriting actual data maps) to suit their preference, record riding data, and analyse their riding data to further fine-tune their settings.

Hard-hitting fuel-injected power
Fuel-injected 449 cm³ liquid-cooled, 4-stroke Single delivers hard-hitting power from low- through high-rpm. The broad powerband and responsive throttle offer a broad spread of torquey response that enables racers to get on the gas and go even from down low.

Adjustable footpeg position
Adjustable footpeg brackets enable riders to lower their footpeg position 5 mm. In the lower position, CofG is lowered as is the rider's point of view, adding to both physical and psychological stability.

Easy engine tuning: DFI Setting Data Selection (3 map choices)
Using provided DFI couplers, riders are able to easily switch to suit riding conditions. Plugging in each of the 4-pin couplers activates the corresponding engine map. Each of the three maps can be reprogrammed using the optional KX FI Calibration Kit.

The holeshot advantage: Launch Control Mode
The 2012 KX450F features a launch control system similar to that on our factory racers. With the simple press of a button, riders can activate a separate engine map designed to ensure efficient race starts in slippery conditions.

Adjustable handlebar position
Upper triple clamp with two sets of handle mount slots and reversible handle mounts offer riders a choice of four handle positions to choose from: 25 mm FWD, 15 mm FWD, STD and 10 mm BK.
---
2013 Kawasaki KX450F – USA Specifications/Technical Details
US MSRP Price: $8,699 USD
Engine Liquid-cooled, four-stroke single with DOHC and four-valve cylinder head
Displacement 449cc
Bore x stroke 96.0 x 62.1mm
Compression ratio 12.5:1
Fuel Injection DFI® with 43mm Keihin throttle body
Ignition Digital DC-CDI
Transmission Five-speed
Rake / trail 26.9 degrees / 4.4 in.
Front suspension / wheel travel 48mm inverted, Kayaba PSF with DLC coated sliders, 22-position compression and 20-position rebound dampening adjustment / 12.4 in.
Rear suspension / wheel travel UNI-TRAK® linkage system and Kayaba shock with 50mm piston, 22-position low-speed and stepless high-speed compression dampening, 33-position rebound dampening and fully adjustable spring preload / 12.4 in.
Front tire size 80/100-21
Rear tire size 120/80-19
Front brake Single rigid-mount 250mm petal disc with dual-piston caliper
Rear brake Single 240mm petal disc with single-piston caliper
Overall length 85.8 in.
Overall width 32.3 in.
Overall height 50.2 in.
Wheelbase 58.3 in.
Ground clearance 13.0 in
Seat height 37.6 in.
Curb weight 248.0 lbs.
Fuel capacity 1.64 gal.
Color Lime Green
---
2013 Kawasaki KX450F – Canadian Specifications/Technical Details
Canada MSRP Price: TBA CDN
ENGINE
Type 4-stroke, Single
Displacement 449cc
Bore and Stroke 96.0 x 62.1 mm
Compression Ratio 12.5:1
Valve System DOHC, 4 valves
Fuel System Digital fuel injection with 43 mm Keihin throttle body
Ignition Digital DC-CDI
Starting Primary Kick
Lubrication Forced lubrication (semi-dry sump)
Cooling Liquid

DRIVETRAIN

Transmission 5-speed, return
Final Drive Chain
Primary Reduction Ratio 2.727 (60/22)
Gear Ratio: 1st 1.750 (28/16)
Gear Ratio: 2nd 1.412 (24/17)
Gear Ratio: 3rd 1.188 (19/16)
Gear Ratio: 4th 1.000 (19/19)
Gear Ratio: 5th 0.875 (21/24)
Final Reduction Ratio 3.846 (50/13)
Clutch Wet multi-disc, manual

FRAME

Type Perimeter, Aluminum
Wheel Travel: Front 314 mm (12.4 in.)
Tire: Front 80/100-21
Wheel Travel: Rear 315 mm (12.4 in.)
Tire: Rear 120/80-19
Caster (Rake) 26.9°
Trail 113 mm (4.57 in.)
Steering Angle (Left/Right) 42°/42°

SUSPENSION

Suspension, Front 48 mm upside-down telescopic Pneumatic Spring Fork (PSF), 22-position compression and 20-position rebound damping adjustment
Suspension, Rear New Uni-Trak linkage system and Kayaba shock with 22-position low-speed and 2-turns or more high-speed compression damping, 33-position rebound damping and fully adjustable spring preload

BRAKES

Front: Type Single rigid mount 250 mm petal disc
Front: Caliper Dual-piston caliper
Rear: Type Single 240 mm petal disc
Rear: Caliper Single-piston caliper

DIMENSIONS

Overall Length 2,180 mm (86.0 in.)
Overall Width 820 mm (32.3 in.)
Overall Height 1,275 mm (50.4 in.)
Wheelbase 1,480 mm (58.3 in.)
Ground Clearance 330 mm (13.2 in.)
Seat Height 955 mm (37.8 in.)
Curb Mass** 112.5 kg (248 lbs.)
Fuel Capacity 6.2 litres (1.59 gal.)
** Includes all necessary materials and fluids to operate correctly, full tank of fuel (more than 90% of capacity) and tool kit (if supplied)

DETAILS

MSRP* TBA

Lime Green KX450FDF TBA

* The Manufacturer's Suggested Retail Price does not include freight, pre-delivery inspection or applicable taxes. The final price is at the discretion of the dealer. Prices and Specifications are subject to change without prior notice.
The specifications mentioned here apply to and have been achieved by production models under standard operating conditions. We intend only to give a fair description of the vehicle and its performance capabilities but these specifications may not apply to every machine supplied for sale. Kawasaki Heavy Industries, Ltd. reserves the right to alter specifications without prior notice. Equipment illustrated and specifications may vary to meet individual markets. Available colours may vary by market.
---
2013 Kawasaki KX450F – United Kingdom Specifications/Technical Details
UK MSRP Price: £6,649 (Prices are recommended and inclusive of VAT @ 20% and delivery)
Engine
Fuel system Fuel injection: ø43 mm x 1
(Keihin)
Ignition Digital DC-CDI
Starting Primary kick
Lubrication Forced lubrication, semi-dry
sump
Engine type Liquid-cooled, 4-stroke Single
Displacement 449 cm³
Bore x stroke 96.0 x 62.1 mm
Compression ratio 12.5:1
Valve/Induction system DOHC, 4 valves

Transmission
Clutch Wet multi-disc, manual
Primary reduction ratio 2.727 (60/22)
Gear ratios: 1st 1.750 (28/16)
Gear ratios: 2nd 1.412 (24/17)
Gear ratios: 3rd 1.188 (19/16)
Gear ratios: 4th 1.000 (19/19)
Gear ratios: 5th 0.875 (21/24)
Final reduction ratio 3.846 (50/13)
Transmission 5-speed, return
Final Drive Chain

Frame
Frame type Perimeter, aluminium
Rake/Trail 26.9° / 113 mm
Wheel travel, front 314 mm
Wheel travel, rear 315 mm
Tyre, front 80/100-21 51M
Tyre, rear 120/80-19 63M
Steering angle, left / right 42° / 42°
Suspension
Suspension, front Type: 48 mm upside-down
AOS-type
telescopic fork
Compression damping: 22-way
Rebound damping: 20-way
Suspension, rear Type: New Uni-Trak
Compression damping: 22-way
(low-speed), 2-turns or more
(high-speed)
Rebound damping: 22-way
Spring preload: Fully adjustable

Brakes
Brakes, front Type: Single rigid-mounted 250
mm petal disc
Caliper: Dual-piston
Brakes, rear Type: Single 240 mm petal disc
Caliper: Single-piston

Dimensions
Dimensions (L x W x H) 2,180 mm x 820 mm x 1,275 mm
Ground Clearance 330 mm
Wheelbase 1,480 mm
Seat height 955 mm
Fuel capacity 6.2 litres
Curb Mass 113 kg

---
2013 Kawasaki KX450F – Australia Specifications/Technical Details
Australia MSRP Price: TBA AU
TBA
---
2013 Kawasaki KX450F – Press Release
New KX250F and KX450F racers – 2013 bikes unveiled
With many riders already looking towards the next season in Motocross and Supercross racing, Kawasaki has stolen the initiative and unveiled its incoming adult off-road racers.
Featuring a host of changes as a result of countless podiums and many wins in the current season, the new machines can truly said to be factory derived and inspired by the feedback from off-road hero's like Ryan Villopto, the Pourcel brothers, British star, Tommy Searle and many, many others
Sharing some new features while having a host of influential and unique updates, both bikes would be podium contenders even if left unchanged but, with these new mods, Team Green is hoping to push the off-road bar even higher and deliver success to a far greater range of riders across the experience and ability spectrum.
As Ross Burridge, Racing Coordinator for Kawasaki Motors UK says, the four stroke KX range is highly respected and each season's bikes are eagerly anticipated.
"It's such a delicate balance, the relationship between the demand for more power and aspects like a fluid and controllable over-rev with some of the basic must-have's like strong pull from low revs plus start gate dominating urge. It's no secret that the factory work directly with our top riders and, in many cases, machines ridden or tested in the current season feature the mods being lined up for the incoming bikes".
So what's new about the 2013 crossers, and does it mean a sea-change in KX thinking?
New for both bikes is the narrowing of the chassis by 4mm to make direction changes and control even easier. On paper it seems like a small amount but, according to riders, it has made a significant effect and marries well with other updates and innovations for the new season pushing KXF technology another step forwards.
Also, both machines feature plug and play trackside tuning thanks to a range of colour coded plugs to simply add to the loom and change the ECU power and fuel settings for such things as hard pack and soft sand etc. With the addition of the optional Fi Calibration kit, numerous maps can be created on a bespoke basis as well as a handy data logging function to build a picture of laps completed and settings tried, just like a factory team would.
Suspension too has been tweaked on both machines. Most radical is the addition of a Pneumatic front fork on the KX450F. An innovative feature,. It allows quick and simple adjustment using air proposed to make small changes and negating the need to dismantle forks to change internal mechanical components for a setting change.
In the case of the 2013 KX250F, the successful separate function front fork has been upgraded further still for more compliance and better performance over a wider range of settings suiting an even large cross-section of rider abilities. And in the performance stakes, the well-received twin injector fuelling system is retained which, along with further subtle mods to piston dimensions etc. have crated even more power for urge hungry riders.
Although now shirt of go, the KX450F also enjoys increased power for 2013 along with the carry-over of its highly praised push-button launch control system. And let's face it, what could be better than taming a mega-performance machine like the mighty KX450F off the line to ensure the holeshot and rush to the first, and possible race-wining, corner.
As Ross Burridge concludes, the success already being enjoyed this season looks set to be repeated in 2013 thanks to these clever additions, along with the retention of current innovative technology.
"It's always a considered aspect when launching new bikes. You have to see what it well received and effective on the current machinery and what also needs to be added to raise the bar another notch. With such a strong development team of riders and factory technicians all pulling on the same direction, the incoming bikes represent the very peak of current technology and look set to be heading the pack from clubman level all the way to the GP heights in the upcoming season both in Europe and in the States."
For more details of the KX250F, KX450F- and to find out about the other machines in the incoming 2013 Kawasaki off-road range – contact your nearest Team Green dealer now.