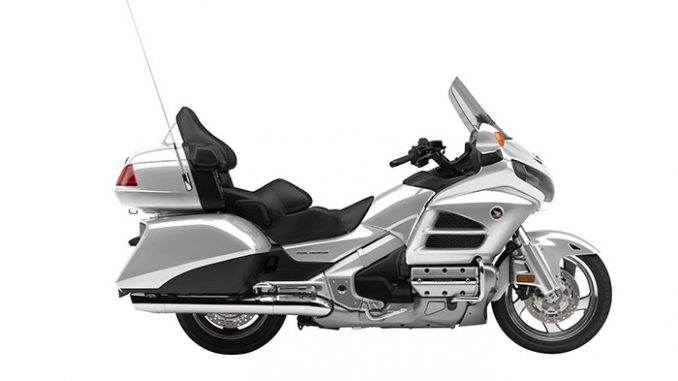 Click photos to enlarge. Our big, clean bike pics make great desktop wallpaper.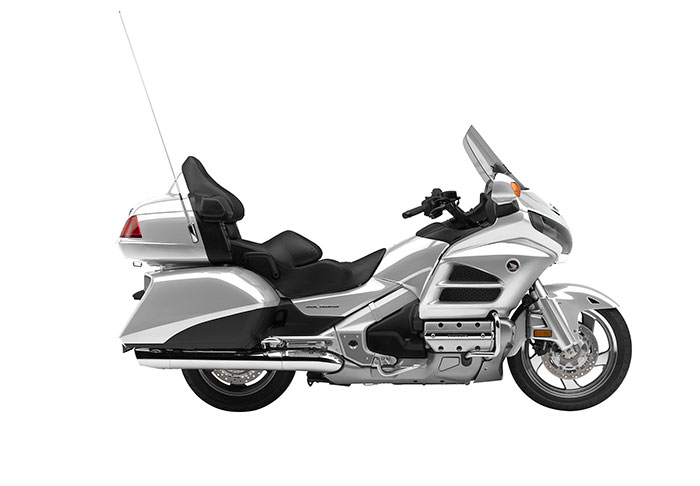 2015 Honda Gold Wing GL1800 Audio Comfort Navi XM

2015 Honda Gold Wing GL1800 Audio Comfort Navi XM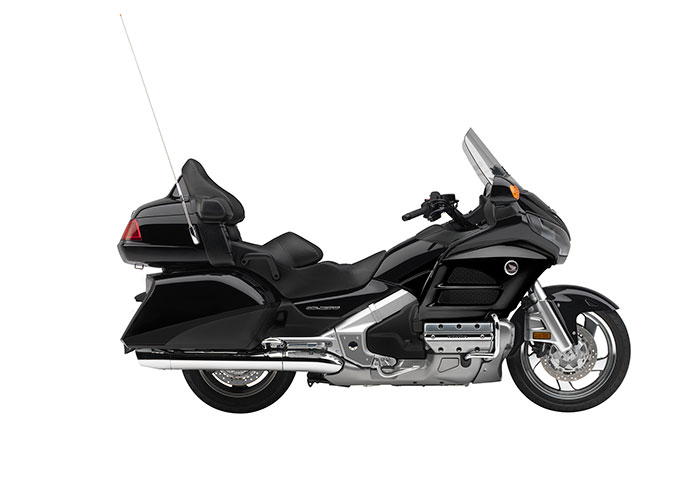 2015 Honda Gold Wing GL1800 Audio Comfort Navi XM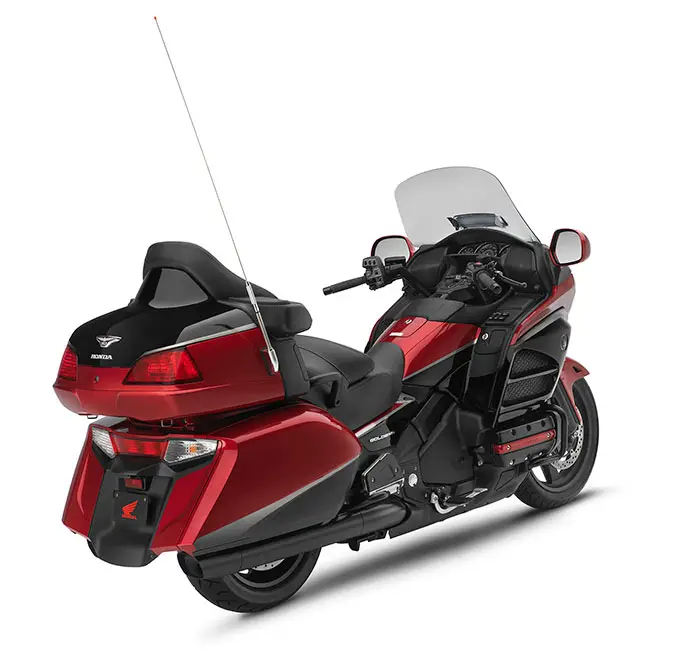 2015 Honda Gold Wing GL1800 Audio Comfort Navi XM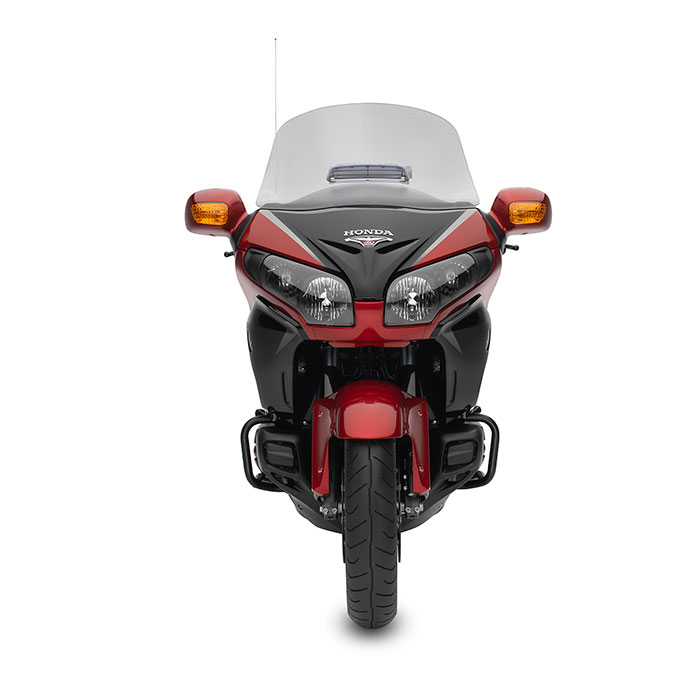 2015 Honda Gold Wing GL1800 Audio Comfort Navi XM
2015 Honda Gold Wing GL1800 Audio Comfort Navi XM Review

2015 Honda Gold Wing GL1800 Audio Comfort Navi XM on www.Totalmotorcycle.com
Your Journey Starts Here…
No motorcycle has changed the concept of touring like the Honda Gold Wing. A horizontally opposed engine offering power, performance, and perfect smoothness. Shaft final drive. A chassis designed for day-long comfort. And over the last four decades, the Gold Wing has just gotten better and better, and touring riders have had it better and better too—full-coverage bodywork, bigger engines, more cylinders, better chassis, more power, integrated luggage.
So this year it's time to celebrate with a special 40th Anniversary Edition—our 2015 Gold Wing, a motorcycle that's come to define what a touring bike can be, and to set the standards for luxury on two wheels.
Take a week off—or even just a weekend. Pack up the Gold Wing's saddlebags. Settle in behind that full-coverage windshield and bodywork. And point it down the road to someplace you've never been.
Or plan your lifetime trip, and program it in to the Gold Wing's navi system. You see, the Gold Wing doesn't dictate how or where you ride—it lets you live the dream, and lets you take a lucky passenger along too.

The Best. And Proud Of It.
If there's one thing that sets a Honda apart, it's our dedication to superior engineering. Make that two things—in addition to that innovative design, Honda's build quality is second to none. You can see it in your Gold Wing's fit and finish. But you also see it in how well your Gold Wing runs, and for how long. The Honda Gold Wing is the absolute gold standard in motorcycling, that's for sure. You'll realize it on your first ride. But, more important, you'll still know it's true 1,000 rides later.
Revolutionary. Extraordinary. Standard-setting. It's what you've come to expect of the Gold Wing. And that's especially true with our latest model.
Machines come and go in the motorcycling world. Times change, as do riders and their expectations. But since 1975 there's been a bike in the Honda range that has stood the test of time – the Gold Wing. It's evolved, of course, but just as it was originally, it remains one of the most special experiences available on two wheels. And no other bike in Honda's current line-up has been on sale for longer in Europe.
Many riders are addicted to its avalanche of turbine-like torque, or its sheer handling poise at low – or high – speed. Some revel in its mileage-munching ability, carrying capacity and all-day two-up comfort. But all will agree on one thing – there really is nothing else quite like a Honda Gold Wing.
And fittingly for such an astonishing platform the Gold Wing has spawned two other very special machines, broadening its attraction and appeal: the Gold Wing F6B, with its long, low and pared down 'Bagger' style and hot rod Gold Wing F6C, an unfettered street prowler that defines the term 'Power Cruiser'.
To mark 40 years of constant Gold Wing manufacture Honda has produced a 40th Anniversary machine, marking this milestone along what has become in motorcycling terms, one incredible journey.
Model Overview
The Honda Gold Wing has always stood alone. Launched as the GL1000 in 1975 its horizontally opposed four-cylinder engine was not only physically different, it felt very different with a silky output perfect for long days in the saddle. A six-cylinder, 1500cc overhaul in 1987 saw the Gold Wing once again state its intent and purpose to benchmark the ultimate touring machine.
The Gold Wing GL1800 which debuted in 2001, after eight years of intensive research and development, added further dynamic ability and riding enjoyment to the Gold Wing's repertoire. The box-section aluminium frame delivered stability and accurate steering at speed. It also worked with the unique flat-six engine to keep the centre of gravity low – a key factor in the bike's excellent low-speed balance and agility, which made twisting mountain roads or busy city streets a pleasure to negotiate.
And just as the engine enjoys a legendary reputation for reliability, so the rest of the machine is finished to the very highest standards, with outstanding build quality and paint finish.
The core appeal of the Gold Wing remains its unique ability to make long-distance travel a truly rewarding and enjoyable experience. A visual update in 2011 – with improved luggage capacity – under the style concept of 'majestic aggression' perfected a look that is at once elegant, imposing and vibrant.
To celebrate 40 years of production the 2015 Gold Wing will be available in an additional – and very special – two-tone colour scheme, with commemorative key fobs and fairing/trunk badges. The 40th Anniversary badges and key fobs will also be found on the three other Gold Wing colours.
Gold Wing Audio Comfort
Base MSRP $23,999
•1832cc liquid-cooled horizontally opposed six-cylinder engine; Heated grips, seat, & foot warmer; Premium Surround Sound; Cruise Control; Electric Reverse
Gold Wing Audio Comfort Navi XM
Base MSRP $26,899
•Adds: Satellite-Linked Navigation System & XM Radio, Weather & Traffic
Gold Wing Audio Comfort Navi XM ABS
Base MSRP $28,129
•Adds: Combined Anti-Lock Brakes
Gold Wing Airbag
Base MSRP $30,599
•Adds: First Motorcycle Airbag
†Some local governments may prohibit the use of a headset by the operator of a motor vehicle. Always obey applicable laws and regulations.

2015 Honda Gold Wing GL1800 Audio Comfort Navi XM www.Totalmotorcycle.com Key Features

New model: Celebrating 4 decades of unique, enduring appeal, the 40th Anniversary Gold Wing comes in 4 colour options, including a stunning two-tone paintwork and blacked out chassis, plus special 40th Anniversary emblems and key fob.
Special 40th Anniversary Edition
Forty years ago, we introduced our first Gold Wing, and this year it's time to celebrate! Your new Gold Wing features special 40th Anniversary badging and emblems. You already know that a Gold Wing sets the standards for luxury touring, and it has for the last four decades.


Gold Wing Timeline
With 40 years of Gold Wing models, there's a lot of innovation and history. Take a look back through the Gold Wing line-up from 1975 till now.


Capturing Memories
Every Honda journey is fueled by planning and preparation. Excitement and anticipation. And to help you get the most out of your next journey, we bring you the Gold Wing family of motorcycles: our pure-muscle Valkyrie. Our versatile F6B. And our flagship Gold Wing — the standard in long-distance touring.


Trip Planner
You can plan trip routes on your home computer and upload them into your Gold Wing's available navi system. You can share your trips with friends, or download routes from others. And when you're using your navi system, you'll notice features like a lane guidance/junction view feature and a GPS receiver that captures satellite signals faster.


It Just Keeps Getting Better
Add XM®'s incredible line-up of entertainment programming, and the available XM® NavTraffic® and NavWeather™ features, you can stay on course and ahead of bad weather.**XM Radio, NavTraffic and NavWeather are available on the 2015 Gold Wing Audio Comfort Navi XM, Audio Comfort Navi XM ABS and airbag models. XM Radio requires a subscription, sold separately after the first 90 days.


Four Performance Packages
We offer the Gold Wing in four distinct performance package options, with exclusive features like Premium Surround Audio; XM® Radio with navigation, traffic, and weather; trip planner; a tire pressure monitoring system; ABS; heated grips and seat; and even one with the industry's first airbag.
2015 Honda Gold Wing GL1800 Audio Comfort Navi XM www.Totalmotorcycle.com Features and Benefits
40th Anniversary Badging
2015 is a special year for the Honda Gold Wing, and we're celebrating with a special 40?? Anniversary badge, located Front face cowl, rear trunk lid, above the glove box, passenger seat emboss, and key.

Clear-Coated Wheels
Wheels that are clear coated from the factory give you an improved appearance and easier to clean.

Tire-Pressure Monitoring System (TPMS)
Checking tire pressure can be a hassle—except when you're riding a Gold Wing with our Tire-Pressure Monitoring System (TPMS). A pair of monitors keeps track of both front and rear tire pressures, and the dashboard readout is updated once per minute. They'll send you an alert if either tire is significantly underinflated.

Combined Anti-Lock Brakes (Combined ABS)
Improved Ride Quality
Suspension settings revised through repeated testing and your feedback are a part of the reason your Gold Wing offers handling that can put many a sportbike to shame. Gold Wings have always offered the best overall handling of any touring machine, but these settings really improve things when you decide to dial it up a notch.

Up-to-date Styling
The Gold Wing's design aims for a more integrated appearance, with a sporting edge and visual flow line linking the front to the rear, and an integrated taillight and saddlebag treatment. New this year: special blacked-out trim on our Red/Black model. Other touches include redesigned front fascia and air intake, blacked-out headlight garnish and instrument panel fonts.

Adjustable Windscreen
Our sturdy, ratcheting windscreen adjustment system provides six settings over nearly four inches of travel.

Satellite-Linked Navigation System
Our exclusive Honda design and technology gives you the best available fully integrated GPS-based navi system on two wheels, featuring a brighter color LCD screen and step-by-step verbal directions via Gold Wing's sound system. Additional features include a lane guidance feature, junction view and 3-D terrain view. Plus, with TripPlanner.Honda.com, you can plan trip routes on your home computer and upload them into your Gold Wing's navi system.

XM® Satellite Radio/Weather/Traffic
Want to listen to the radio you want, no matter where you ride? With our XM-equipped models you get a free 90-day trial subscription included with your XM-equipped Gold Wing. This was the first integrated implementation of Satellite radio on a motorcycle, and still offers the most features, including traffic (XM Nav Traffic) and weather (XM Nav Weather) in addition to regular XM programs. (Separate subscription required after 90-day trial.)

Airbag
The airbag-equipped Gold Wing boasts the industry's first (and only) production motorcycle airbag system. The motorcycle's fork incorporates two sensors to detect a frontal impact. Someday all motorcycles may offer this feature, but right now only a Gold Wing gives you this choice.

Lockable Glovebox
Non-airbag models also get a center-mounted lockable glove box for added convenience, boosting the cockpit area storage capacity to 2.8 liters.

Heated Grips/Seat
Heated grips, a heated rider's seat and a heated passenger seat/backrest, all with individual rider and passenger controls. There's even a foot-warming system for cold mornings!

Pro-Arm Rear Swingarm
The Gold Wing's MotoGP-inspired single-sided cast-aluminum swingarm is super-rigid and lightweight with reduced unsprung weight, delivering sharper, sportier handling. Its unique Pro-Arm® design mates up with Honda's patented Pro-Link® rear suspension, featuring electronically adjustable hydraulic preload settings for various riding and load conditions.

Seat Cover and Urethane Seat Material
A special touch: The Gold Wing offers a special 40th Anniversary logo on the rear seat this year. Both the rider and passenger will feel the difference that our urethane seat material makes. The waterproof cover also features a sporty custom perforated look too. A day in the saddle never felt so good!

Shaft Final Drive
Outstanding Storage Capacity
With a total capacity luggage capacity of over 150 liters–including trunk and fairing pockets—the Gold Wing lets you carry plenty of gear for you and your passenger, keep it secure and out of the weather, and helps you stay organized in the process.

Audio System with Surround Sound
Featuring a surround-sound system that's tuned exclusively for the Gold Wing. When using the speakers (SRS CS Auto*), the audio image is enhanced along with deep low tones, producing a powerful surround sound. When using the headsets (SRS Headphone**), you'll hear a three-dimensional sound field brimming with realistic sound. (SRS CS Auto* and SRS Headphone** are trademarks of SRS Labs, Inc.)†

iPod® Connectivity
It's easy to connect a compatible Apple® iPod® player or other USB mass storage devices, such as flash drives that contain MP3, WMA6 or AAC music files, and control them through the Gold Wing's audio controls. The connector is located in the lockable trunk, where devices can be conveniently carried and discreetly stored.

Styling
The Gold Wing's front fairing features a strong diagonal styling element that accentuates the strong lines of the twin-spar frame, running down the sides of the bike from the headlights to the pannier cases. The result is a dynamic look with sharp surfaces and sleek forms, sculpted by CFD (Computational Flow Dynamics) for reduces buffeting for rider and pillion.
Total luggage capacity is 150 litres and the shape of the rear of the machine actively contributes to aerodynamic stability. A vehicle moving at speed naturally creates an area of negative pressure behind it. By better managing the movement of air over and through the rear of the bike, this negative pressure is reduced, increasing stability.
The seat is one of the most important features of a touring motorcycle and the Gold Wing's has always excelled when it comes to day-long comfort. The shape of the seat wraps around the passenger, creating the sensation of complete comfort and security. A urethane seat material increases comfort, while the weather proof cover is perforated for a sporty look. Seat height of 740mm gives accessible ground reach.
The 2015 Gold Wing 40th Anniversary model will be available in a very special Candy Prominence Red/Graphite Black paint option. Both colours are tied together, and separated, by a silver band inlaid with 40th Anniversary emblems and the effect – along with the blacked out wheels, frame forks, swingarm and mufflers – is simply stunning. Finishing details are the 40th Anniversary emblems on the fairing front and inner, trunk lid and key fob.
Three other colour options, also wearing 40th Anniversary emblems (and complete with special key fob), will also be available:
– Graphite Black
– Pearl Glare White
– Digital Silver Metallic (new for 2015)
Equipment
SRS CS Auto 6-speaker 80W surround-sound system
Offering superb sound presence and quality, this system delivers high quality stereo technology. The engine room is a powerful 80-watts-per-channel amplifier capable of delivering clear, crisp sound, even at motorway speeds. The amp powers a full complement of six speakers, with two rear speakers, two front speakers and two tweeters.
The result is a rich and full surround sound experience through either the speaker system or the optional headsets. In addition the RDS radio allows easy access to radio stations via the integrated handlebar controls.
iPod® compatibility
The audio system is compatible with iPod®, iPhone® and USB memory sticks, meaning riders can play MP3, WMA and AAC music files on the go. The system is fully integrated, giving full device control through the handlebars and displaying music file information on the main display.
Controls on the central panel take care of switching between music sources (for example radio or USB), switching displays and selecting music while at a standstill. The USB port for connecting digital music devices is in the large lockable top box, which also features an interior storage case to hold the device on the move.
Honda Navigation System (airbag models only)
The Gold Wing's Navigation System offers fast and accurate functionality. The bright colour screen boasts a range of functions including lane assist and junction view, while optional voice-prompting further reduces the chance of taking a wrong turn. The system also offers points of interest information, including petrol stations, Honda dealers, hotels and restaurants.
Easy to use controls ensure all of these features can be accessed easily and safely. Reception sensitivity allows the system to operate effectively even in areas with a poor signal, such as on roads beneath large structures or on mountain roads.
Central storage compartment (on models without airbag)
On models not fitted with an airbag the handily placed front pocket has 2.8 litres storage space. It is ideal for storing sunglasses, wallets and mobile phones while on the move.
Heated seats and handlebars; foot-warming system
Five-position heated grips and independently adjustable heated seats make touring a year-round possibility. The foot-warming system channels engine-heated air over the rider's feet and is controlled by a fairing-mounted lever.
Reverse Gear
The slow-speed, electric Reverse system is engaged with the simple push of the thumb control on the right handlebar.
Cruise Control
Lightweight electronic cruise-control system utilises a 16-bit ECU-based, motor-actuated throttle mechanism.
Adjustable windscreen
A simple yet ingenious ratchet windscreen-adjustment system provides six settings over nearly 100mm of travel. The manually operated adjustable and closeable windscreen vent routes fresh air to the rider's face or chest.
Luggage capacity
Between the fairing pockets, top box and rear panniers, the Gold Wing boasts over 150 litres of luggage capacity. The specially designed luggage features a remote-control key lock, permitting pop-open rear trunk operation, remote lock/unlock for the trunk and panniers and a horn-actuated bike locator. If remote locking is attempted while a lid is open, the turn signals flash to alert the rider.
Engine
The horizontally opposed SOHC 2-valve six-cylinder engine is as much a part of the Gold Wing legend as the name or the sales success. Unique in motorcycling, the 1832cm³ engine is the perfect long-distance ally.
Its layout minimises engine vibration and helps create a low centre of gravity, reducing rider fatigue at speed and making the bike easy to handle at walking pace. At the same time the large displacement gives exceptional power and torque, especially in the midrange. Bore and stroke is set at 74mm x 71mm, with compression ratio of 9.8:1. Peak torque of 167Nm is delivered at just 4,000rpm, with power output of 87kW @ 5,500rpm.
PGM-FI fuel injection ensures a crisp throttle response and low exhaust gas emissions. Together, the fuel injection system's fine air/fuel ratio control, the three-way catalytic converter and the air injection system – that encourages the oxidisation of unburned gases – ensure that the Gold Wing easily meets EURO-3 emissions standards. For longer maintenance intervals, automatic adjustment for the silent cam chain has been retained.
The engine's power is transmitted to the rear wheel through a five-speed gearbox spinning the opposite way to the engine's crankshaft. This cancels out the side-to-side torque reaction effect generated by longitudinally mounted engines. Fifth gear is an overdrive, offering very low cruising revs on a long haul for optimised comfort and reduced fuel consumption. Shaft final drive means no messy chain lubrication or adjustment.
Chassis
The skeleton of the Gold Wing is a twin-spar aluminium beam frame which holds the engine as a stressed member, improving its already outstanding levels of rigidity, while the design's low weight and optimised weight distribution make it a joy to ride at any speed. Rake is set at 29.15°, trail 109mm. Overall dimensions are (L) 2,630mm × (W) 945mm × (H) 1,455mm with wheelbase of 1,690mm and kerb weight of 413kg (421kg airbag model).
Both the 45mm cartridge front telescopic forks and Pro-Link single-side swingarm rear suspensionuse low-friction bushes, with the forks also benefitting from low-friction dust seals. Equipped with a two-position memory function, the computer-controlled, electric hydraulic-type adjustable rear suspension allows for quick adjustments to spring preload depending on load.
The Gold Wing is fitted with Honda's Dual Combined ABS. The Combined element of the system links the front and rear brakes to deliver the perfect balance of braking effort, whether the rider uses the front brake lever or the rear foot brake for high levels of deceleration in all situations. The ABS monitors front and rear brakes – a pair of 296mm discs and three-piston calipers at the front, and a ventilated 316mm disc and three-piston caliper at the rear. Braking effort is momentarily reduced should the system detect that a wheel is about to lock up. Hollow section 5-spoke cast aluminium wheels are sized (front) 18 x MT3.5 and (rear) 16 x MT5. They wear 130/70 R18 (63H) and 180/60 R16 (74) tyres respectively.
In addition to the standard model, the Gold Wing is also available fitted with a fully integrated airbag, which represented an industry-first when introduced in 2006. The airbag module containing the airbag and inflator is positioned in front of the rider. The ECU to the right of the module detects changes in acceleration based on information it receives from the two crash sensors (one positioned on each of the front fork legs), to determine whether or not to inflate the airbag in certain frontal impacts.
Note: all models fitted with airbag are also installed with satellite navigation.
Accessories
The versatility and visual appeal of the Gold Wing can be further enhanced with a range of genuine Honda accessories.
– Colour-matched rear spoiler with built-in high mount brake lights
– High-intensity LED fog lights
– Full-face and open-face helmet headsets
– DC socket
– Averto alarm kit
– Trunk inner lights
– Pannier and top box inner bag set
– Pannier and trunk carpet set
– Fairing pouch
– Pannier cooler
– Top box cargo net
– Pannier and top box lid organisers
– Front brake disc cover set
– Pannier scuff pad set
– Pillion armrest extension set
– Outdoor motorcycle cover
– Chrome-plated front mudguard ornament, exhaust tips, swingarm pivot covers, handlebar end sets, front undercowl, pillion floorboard undercover set, fairing accent set, spoiler accent and top box handle
– Cylinder head cover emblem sets
---
2015 Honda Gold Wing GL1800 Audio Comfort Navi XM – www.Totalmotorcycle.com USA Specifications/Technical Details
US MSRP Price: $26899 USD

ENGINE

Engine Type
1832cc Liquid-Cooled horizontally opposed six-cylinder
Bore And Stroke
74mm x 71mm
Induction
Programmed Fuel Injection (PGM-FI)
Ignition
Computer-controlled digital with three-dimensional mapping
Compression Ratio
9.8:1
Valve Train
SOHC; two valves per cylinder
DRIVE TRAIN

Transmission
Five-speed including Overdrive, plus electric Reverse
Final Drive
Shaft
CHASSIS / SUSPENSION / BRAKES

Front Suspension
45mm cartridge fork with anti-dive system, 5.5 inches travel
Rear Suspension
Pro Arm® single-side swingarm with Pro-Link® single shock with computer-controlled spring preload adjustment with two memory presets; 4.1 inches travel
Front Brake
Dual full-floating 296mm discs with CBS three-piston calipers
Rear Brake
Single ventilated 316mm disc with CBS three-piston caliper
Front Tire
130/70R-18
Rear Tire
180/60R-16
DIMENSIONS

Rake
29.15 degrees
Trail
109mm (4.3 inches)
Wheelbase
66.5 inches
Seat Height
29.1 inches
Curb Weight
904-933 pounds, depending on option packages selected (Includes all standard equipment, required fluids and a full tank of fuel-ready to ride)
Fuel Capacity
6.6 gallons
Miles Per Gallon
35 MPG – Miles per gallon values are calculated estimates of fuel consumed during laboratory exhaust emissions tests specified by the EPA, not during on road riding. Use for comparison purposes only. Your actual mileage will vary depending on how you ride and maintain your vehicle, weather, road conditions, tire pressure, cargo and accessories, rider and passenger weight, and other factors.
OTHER

Model Id
GL1800
Emissions
Meets current California Air Resources Board (CARB) and EPA standards.
Available Colors
Black, Light Silver Metallic and Candy Red/Black
FACTORY WARRANTY INFORMATION

Three Years
Transferable, unlimited-mileage limited warranty; extended coverage available with a Honda Protection Plan.

---
2015 Honda Gold Wing GL1800 Audio Comfort Navi XM – www.Totalmotorcycle.com Canadian Specifications/Technical Details
Canada MSRP Price: $ CDN
---
2015 Honda Gold Wing GL1800 Audio Comfort Navi XM – www.Totalmotorcycle.com European/UK Specifications/Technical Details
UK/European MSRP Price: Starting at £25,339 GBP (On The Road).
GL1800 Gold Wing (ED-type without airbag)

ENGINE
Type Liquid-cooled 4-stroke 12-valve SOHC flat-6
Displacement 1,832cc
Valves per cylinder 2
Bore ´ Stroke 74 x 71 mm
Compression Ratio 9.8: 1
Max. Power Output 87kW/5,500rpm (95/1/EC)
Max. Torque 167Nm/4,000rpm (95/1/EC)
Oil Capacity 4.6L
FUEL SYSTEM
Carburation PGM-FI electronic fuel injection with automatic choke
Throttle Bore 40mm
Air cleaner Viscous, cartridge type paper filter
Fuel Tank Capacity 25 litres (including 4.4L warning light reserve)
Fuel Consumption 15.24km/l (WMTC mode)
ELECTRICAL SYSTEM
Starter Computer-controlled digital transistorised with electronic advance
Ignition Timing 2 degrees before top dead centre
Battery Capacity 12V/20AH
ACG Power Generation Capacity 12V/90A
DRIVETRAIN
Clutch Type Hydraulic, wet, multiplate with coil springs
Transmission Type 5 speed (including overdrive. Plus electric reverse)
Primary Reduction 1.591 (78/49)
Gear Ratios
1 2.375 (38/16)
2 1.454 (32/22)
3 1.068 (31/29)
4 0.843 (27/32)
5 0.686 (24/35)
Final Reduction 2.750 (33/12)
Final Drive Enclosed shaft
FRAME
Type Diamond; triple box section aluminium twin spar
CHASSIS
Dimensions (L´W´H) 2,630mm x 945mm x 1,455mm
Wheelbase 1,690mm
Caster Angle 29° 15′
Trail 109mm
Turning radius 3.3m
Seat Height 740mm
Ground Clearance 125mm
Kerb Weight
413kg (F: 185kg; R: 228kg)
* 421kg airbag version (F: 189kg; R: 232kg)
Maximum loaded weight 603kg / * 611kg airbag version
SUSPENSION
Type Front
45mm telescopic fork with anti-dive, 140mm stroke
Type Rear
Pro-Link Pro-Arm with electronically-controlled spring preload adjustment, 105mm axle travel
WHEELS
Type Front Hollow-section 5-spoke cast aluminium
Type Rear Hollow-section 5-spoke cast aluminium
Rim Size Front
18 x MT3.5
Rim Size Rear
16 x MT5
Tyres Front
130/70 R18 (63H)
Tyres Rear
180/60 R16 (74H)
BRAKES
System Type Dual Combined ABS
Type Front
296 x 4.5mm dual hydraulic disc with
3-piston calliper, floating rotors and sintered
metal pads
Type Rear
316 x 11mm ventilated disc with 3-piston
calliper and sintered metal pads

All specifications are provisional and subject to change without notice.

* Airbag version

# Please note that the figures provided are results obtained by Honda under standardised testing conditions prescribed by WMTC. Tests are conducted on a rolling road using a standard version of the vehicle with only one rider and no additional optional equipment. Actual fuel consumption may vary depending on how you ride, how you maintain your vehicle, weather, road conditions, tire pressure, installation of accessories, cargo, rider and passenger weight, and other factors.