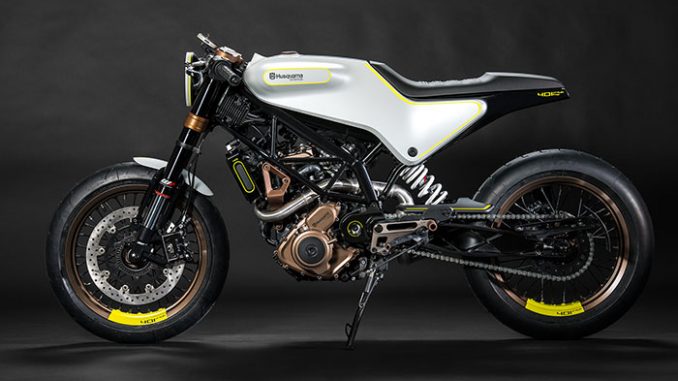 Click photos to enlarge. Our big, clean bike pics make great desktop wallpaper.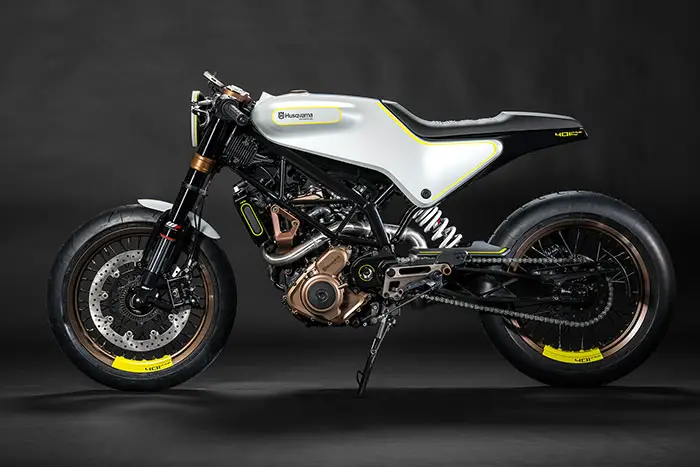 2015 Husqvarna 401 Vitpilen Concept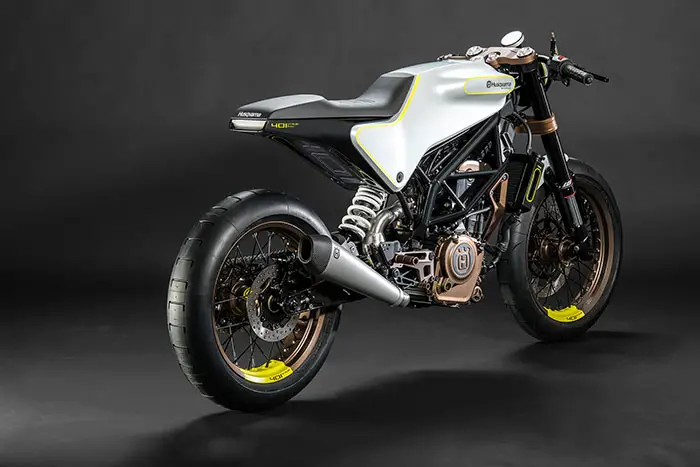 2015 Husqvarna 401 Vitpilen Concept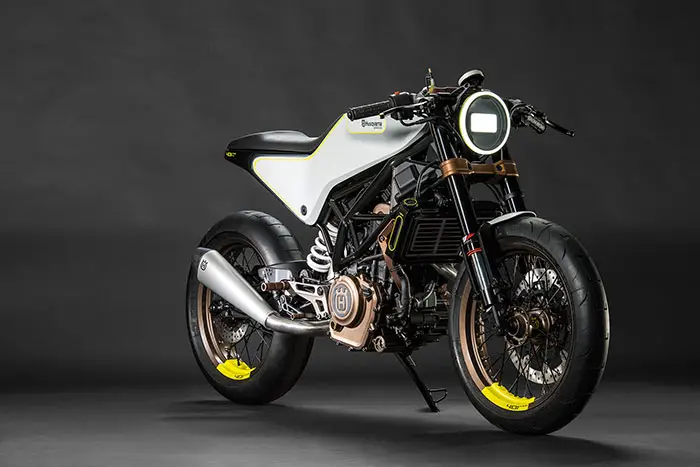 2015 Husqvarna 401 Vitpilen Concept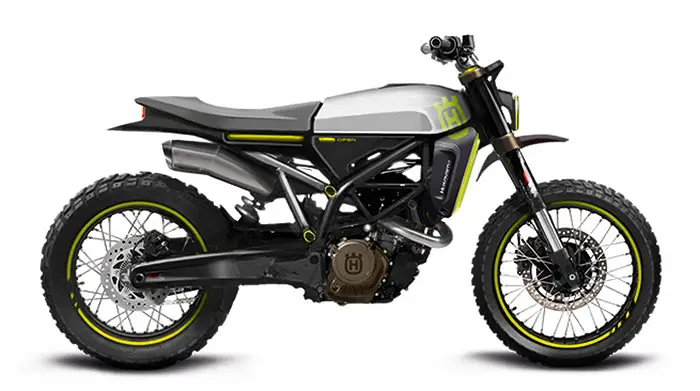 2015 Husqvarna 401 Vitpilen Concept
2015 Husqvarna 401 Vitpilen Concept Review

2015 Husqvarna 401 Vitpilen Concept on Totalmotorcycle.com
Stripped to the Essencse…
Now in 2014, the new Husqvarna 401 concept bike draws on the rebellious spirit that was born in that golden age. The freedom, simplicity and honesty of man and machine united. Compact and agile – expertly crafted to deliver minimalist styling with exceptional performance – reduced to the bare essence of what a motorcycle should be.

The Husqvarna 401 VITPILEN (Swedish for 'White Arrow') draws on the DNA of the pioneering 1953 Silverpilen street bike. That was an iconic Husqvarna model, which was the brainchild of famous Swedish industrial designer Sixten Sason and started a motorcycling revolution. The new 401 VITPILEN is a groundbreaking design in its own right – interpreting the functional simplicity of the classic Silverpilen ('Silver Arrow'), combining it with modern technology, cutting-edge design and premium quality hardware to deliver an uncompromised, genuine riding experience for the street.
Husqvarna's lightweight single-cylinder models proved wildly popular in post war Europe, and motorcycle sales climbed steadily right through to the golden age of 60's and 70's, when Husqvarna's legend was truly forged. The eager post-war generation was hungry for something new and crazy to capture their imaginations. Momentum from the fast growing offroad movement in Europe spread to America and struck a chord with a new breed that was fascinated by the thrill of riding wild motorcycles and exploring far off the beaten track. It was new, creative, rebellious, raw and full of excitement.

Offroad motorcycling at the time was the embodiment of freedom – a crazy idea whose time had come. Going offroad back then represented breaking boundaries – exploring new terrain, new ideas and having fun.

The 60's offroad movement fast became a pop sub-culture all of its own. For the first time, mainstream audiences were exposed to this new sport, the associated lifestyle and it's heroes. US motorsport legend Malcolm Smith and silver screen icon Steve McQueen
introduced an entire generation to the revolutionary Husqvarna motorcycle in the 1971 film "On Any Sunday ".

Long before the US explosion though, the pioneering spirit was evident in the earliest Husqvarna street bikes. Husqvarna had tested various bulky V-twin configurations in the 20's and 30's, before settling on a more compact and lightweight single-cylinder design in the 40's. This new design concept gave birth to iconic models such as the "Svartkvarna", "Drombagen" and "Silverpilen". Whilst the same original concept of a compact, lightweight single-cylinder street motorcycle has been revived with the new 401s, it is now
interpreted in a very modern way, utilising the latest design, cutting edge technology, sophisticated construction processes and materials. The result is a pair of motorcycles that pay homage to the original concept, but with performance levels that those pioneering Husqvarna designers almost a century ago, could only have dreamt of.
Husqvarna Motorcycles GmbH was founded in October 2013, and positioned alongside KTM Sportmotorcycle GmbH, under the umbrella of parent company KTM Motorrad AG. In a very short time, Husqvarna Motorcycles has re-established itself as one of the main players in the offroad segment, thanks to a high quality and competitive product portfolio and an ever-increasing distribution network. Husqvarna motorcycles, parts and accessories are distributed worldwide through a dedicated network of 16 subsidiaries,
including North America and Japan, and 46 high profile importers.
The sales success of the new Husqvarna products has exceeded expectations and for 2014, the first full business year after the re-birth of the historical brand, production of over 15,000 units is forecasted. The updated motocross and enduro line-ups have been
fine-tuned and are expected to consolidate Husqvarna as a producer of the highest quality premium offroad motorcycles available today. Now, with the 701 SUPERMOTO and the concept bikes 401 VITPILEN and 401 SVARTPILEN, Husqvarna Motorcycles takes its first major steps towards street bikes while fulfilling its brand promise and expanding its model range into the street segment.

The state-of-the-art manufacturing facilities in Austria are located in the area around Mattighofen, the most technologically advanced motorcycle manufacturing site in Europe.
The Research and Development facility is strategically placed alongside the main headquarters and between the main assembly facility and the engine manufacturing facility, with the Motorsport building just a short distance away. WP Performance Systems GmbH, also a KTM Motorrad AG Group company, is situated in nearby Munderfing, where frames, radiators, suspension and exhausts are produced to the highest quality standards.
Highly automated production procedures at WP include hydro-forming and robot welding for maximum precision and consistent quality.
Optimal communication between departments thanks to their close vicinity guarantees efficient and integrated development of the products, with technological knowhow from R&D, Motorsport and WP being transferred directly onto the bikes that roll off the four
production lines in Mattighofen.

With the advent of the 701 SUPERMOTO, Husqvarna's vast product portfolio expands in late Summer 2015 to include a new street model. As clearly demonstrated by the striking, new concept bikes 401 VITPILEN and 401 SVARTPILEN at Eicma, dedicated product development will see Husqvarna continue to grow in the coming years, consolidating the premium image of the historic brand, and ensuring a bright future.
In the first half of the 20th century, when motorcycling heroes chased glory on treacherous early road race courses such as the Tourist Trophy, Husqvarna achieved fame throughout Europe thanks to its commitment to street based motorsports.
Despite significant success in those early European Grand Prix and TT race seasons, Husqvarna Motorcycles pulled out of road racing all together by the mid 30's in the wake of the great depression and with the tensions of a looming world war.

The post-war era was a turning point for Husqvarna. A severely damaged road network in Europe meant the common heavy and cumbersome pre-war designed mainstream motorcycles could not easily navigate bombed, potholed and rubble strewn streets.
Often detours through fields and forests were necessary. This called for lightweight, manoeuvrable, robust and easy-to-ride motorcycles. The subsequent economic climate also called for functional yet affordable machines. Husqvarna's small engined single-cylinder bikes of the day were the answer, and from the mid 40's to late 50's Husqvarna models such as the Svartkvarna, Drombagen, Silverpilen and Guldpilen increasingly grew in popularity due to their minimalist design and functional simplicity.
Husqvarna's winning heritage was further engraved into motorcycling history in the 50's, as the first manufacturer to produce purpose-built motorcycles for offroad disciplines.
Offroad is where the brand forged its legend, dominating the many forms of offroad motorcycle racing up to the late 70's. This reputation built in offroad competition, together with Husqvarna's proven high quality standards are evidence of the brand's
serious intent, and form the basis for success in any motorcycling segment.
Now, with 111 years of heritage in both street and offroad motorcycling, Husqvarna Motorcycles makes its return to the street segment with a new large displacement single-cylinder model, the 701 SUPERMOTO. This renewed enthusiasm for street bikes
fulfils Husqvarna's brand promise and expands its model range. The 701 leads the competition in terms of power, weight, technology and performance. These premium characteristics are highlighted by modern colours, graphics and clean bodywork –
maintaining the Swedish tendency towards functional design. True Husqvarna, faithful to the brand's core values. Premium motorcycles with state-of-the-art technology and a rich sense of heritage.

With the unveiling of Husqvarna's new concept bikes, the 401 VITPILEN and 401 SVARTPILEN, we now have a small glimpse of what the future chapters will look like!
First look at the 701 SUPERMOTO and presentation of the 401 VITPILEN and 401 SVARTPILEN concept bikes
Husqvarna Motorcycles is proud to announce that it has unveiled three new street models at the International motorcycle Expo EICMA. With 111 years of heritage in both street and offroad motorcycling, Husqvarna today makes its return to the street segment delivering machinery featuring the finest characteristics – clean bodywork, state-of-the-art technology and functional Swedish inspired design.
Years of supermoto tradition combined with the finest craftsmanship and unparalleled single cylinder performance are embodied in the all-new 701 SUPERMOTO. Highest quality components and uncompromising engineering provide outstanding levels of agility and handling. The new Husqvarna street model features the latest ride-by-wire throttle control and Engine Management System as well as the most advanced WP suspension dedicated Supermoto ABS and APTC slipper clutch.
145kg and producing 67hp, the 701 SUPERMOTO allows riders to accurately feed power to the rear wheel while enjoying superior levels of stability, safety and enjoyment. The bike will be available on dealer's floor in Autumn 2015.
With the unveiling of Husqvarna's new concept bikes, the 401 VITPILEN and 401 SVARTPILEN, we have a small glimpse of what the future street chapters will look like. Inspired by the rebellious spirit of the golden age of the brand in the 60s and 70s, these concept machines are true Husqvarna – high quality motorcycles with a rich sense of heritage.
The Husqvarna 401 VITPILEN (Swedish for 'White Arrow') draws on the DNA of the pioneering 1953 Silverpilen. With a ground-breaking design in its own right – interpreting the functional simplicity of the classic Silverpilen – it combines modern technology, cutting-edge design and high quality hardware to deliver an uncompromised, genuine riding experience for the street.
The Husqvarna 401 SVARTPILEN (Swedish for 'Black Arrow') concept bike is a golden-age inspired modern street bike that draws its design ethos from past iconic Husqvarnas. Reduced to the bare functional essentials, it's free of gimmicks, gadgets and extravagant design embellishments. It ensures a riding experience that honours the simple idea behind early, pioneering Husqvarnas. With a lightweight and powerful single-cylinder fourstroke engine in a compact chassis, the Husqvarna 401 SVARTPILEN provides a more upright, comfortable and natural riding position – designed to reflect the timeless authenticity evident in the growing revival of the motorcycling scene.
The new Husqvarna 401s are very much new and progressive motorcycles, where advanced engineering meets authentic design. They bring back the honest and pioneering spirit of pure motorcycle riding from the good old days into our modern times.

2015 Husqvarna 401 Vitpilen Concept Totalmotorcycle.com Features and Benefits
BODYWORK
Man and machine united. Stripped to the bare essence of riding, the simple bodywork provides ease of movement and emphasises the sleek lines of the 401 VITPILEN.

FRONT LIGHT / HANDLEBAR
Components such as the headlight brackets are consolidated to provide multiple functions, reducing parts and simplifying the overall design of the 401 VITPILEN.

---
2015 Husqvarna 401 Vitpilen Concept – www.Totalmotorcycle.com International Specifications/Technical Details
MSRP Price: Concept only.

ENGINE
Engine type Single cylinder, 4-stroke, double-Cam
Displacement 46 hp
Transmission 6-speed
Electronic fuel injection
Clutch Multi-plate in oil bath
CHASSIS
Chassis Trellis frame in steel
Rear frame steel
Front suspension WP-USD Ø 43 mm
Rear suspension WP-Monoshock
Front brake caliper 4-piston, radially mounted, single disc Ø 300 mm
Rear brake single piston floating caliper, brake disc Ø 230 mm
Seat height 800 mm
Weight (dry) 135 kg
Specifications and appearance are subject to change without prior notice.