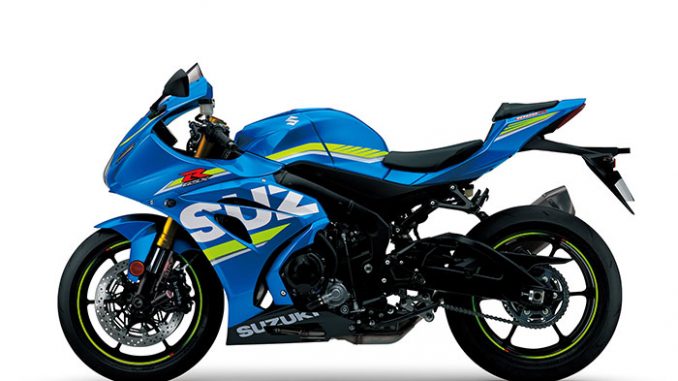 Click photos to enlarge. Our big, clean bike pics make great desktop wallpaper.
2016 Suzuki GSX-R1000 Concept Review

2016 Suzuki GSX-R1000 Concept on www.Totalmotorcycle.com
You've been waiting for this moment? We get it….
That's why we've built the most powerful, hardest accelerating, cleanest running GSX-R ever. It is also the lightest, most compact, most aerodynamic and the best handling GSX-R1000, with smoother throttle response and better combustion efficiency.

2016 Suzuki GSX-R1000 Concept www.Totalmotorcycle.com Key Features
2016 Suzuki GSX-R1000 Concept www.Totalmotorcycle.com Features and Benefits
Heart of a Racebike
The GSX-R line has always been known for making broad power across the rev range, combining low-end and mid-range torque with an exciting top-end rush. The New GSX-R1000 engine is designed to produce the most top-end power without sacrificing low-end and mid-range power and torque. To achieve the engine design target of "Increasing top-end power without losing low-to-mid range output", MotoGP derived technologies are built into the new GSX-R power plant, using the "Broad Power System". The combination of Suzuki Racing Variable Valve Timing (SR-VVT), Suzuki Racing finger follower valve train, Suzuki Exhaust Tuning-Alpha (SET-A) and Suzuki Top Feed Injector (S-TFI) systems form the Broad Power System designed to increase high-rpm performance and top speed without detracting from lower-rpm and mid-range performance. The result is strong, linear power and enhanced acceleration throughout the rpm range.

Suzuki Racing Variable Valve Timing (SR-VVT)
Steel balls are positioned in grooves in the intake cam sprocket and adjacent guide plate. Moved outward by centrifugal force, they stack in di?erent grooves in low and high rpm, rotate the intake cam at high rpm, retarding intake cam timing. Intake cam timing is thus optimised for both high-rpm and low and mid-rpm ranges; extra top-end power is added, without losing low-to-mid range output.
Suzuki Racing Finger Follower Valve Train
The New GSX-R1000 valve train system is changed from the previous model's bucket-tappet system to a ?nger follower rocker arm system to improve valve control and allow higher rpm. The reduced moving mass also allows increased valve lift and higher peak rpm, increasing peak output. Valve response and control is also improved throughout the rev range.

Engine

Suzuki Exhaust Tuning-Alpha (SET-A)
Suzuki engineers added two servo-operated SET-A butter?y valves, one in each header balance tube. The SET-A valve in each header balance tube remains closed to enhance lower-rpm and mid-range power, then opens to add signi?cant power at higher rpm.
Suzuki Top Feed Injector (S-TFI)
Secondary injectors located in the top of the air box operate at higher rpm and deliver ?nely atomised fuel to the combustion chamber. The dual-injector design produces greater top end power without detracting from low-mid rpm range output.

An All New Chassis
Now, the 6th-generation GSX-R1000 is redefining what it means to be The Top Performer. It embodies the life work and professional ambition of Suzuki engineers who are passionate about the GSX-R1000 and its place in motorcycle history. Men who love riding and racing, enthusiasts determined to restore the GSX-R1000 to its proper title of The King of Sportbikes. It is the lightest, the most compact, the most aerodynamic and the best-handling GSX-R1000 ever.
SHOWA BFF (Balance Free Front Forks)
The GSX-R1000 features the latest Showa BFF® (Balance Free Front) forks, which were developed for racing and have now been adapted to mass production. The Showa BFF® forks provide more consistent damping and enhanced performance, increasing cornering performance by delivering smoother, more controlled travel and improved response to surface imperfections.
SHOWA BFRC Lite (Balance Free Rear Cushion)
BFRC®* lite is the newest version of SHOWA's Balance Free Rear Suspension, which is significantly lighter than the previous version. It minimises pressure balance fluctuations common in existing dampers thanks to its unique hydraulic circuit. As well as integration of the damping force generating mechanisms in compression/rebound sides into one which has be arranged onto cylinder's outer surface. As the result, smooth and optimum oil flow was achieved, which improved damping force responsiveness, offering superior traction and absorption capability.

Advanced Technology

Suzuki Drive Mode Selector (S-DMS)
The Suzuki Drive Mode Selector (S-DMS) allows selection of one of three engine power delivery settings to suit the rider's personal preferences in various riding situations, such as different racetracks or tight, twisty roads. The rider can select three different power modes by using a switch on the left handlebar. Three different fuel maps are pre-set in the ECM, delivering three different engine characteristics. The rider can select the power mode based on personal preference or riding conditions. Together with the 10-level traction control, S-DMS offers a variety of choices.
10-level Traction Control System
The New GSX-R1000 features Suzuki's advanced traction control system, allowing the rider to select three different power modes and 10 different levels of traction control, depending upon road or racetrack grip conditions as well as personal preference and experience level. The power mode and level of TC intervention can be changed while riding, as long as the throttle is closed.
Quick Shift System
The GSX-R1000 also has a new racing-type quick shift system. The quick shift system allows the rider to upshift and downshift, without using the clutch. The system automatically interrupts power just long enough, between 50 and 75 milliseconds, depending upon the sensitivity adjustment, to unload the transmission gear dogs and allow a clean upshift at full throttle, producing almost uninterrupted acceleration. For quicker and smoother downshifts without blipping the throttle grip or using the clutch, the system automatically opens the throttle valves just enough to increase rpm and match engine speed to the lower gear ratio.
Launch Control System
The launch control system makes it easier for a racer to get a good start in closed-course competition by automatically limiting engine rpm and optimising torque delivery while the rider holds the throttle twist grip wide open and concentrates on feeding in the clutch lever.



Styled for Performance

Track Ready Design
The New GSX-R1000 is fitted with MotoGP-inspired, more aerodynamic bodywork designed to contribute to better overall racetrack performance by increasing handling and top speed on the racetrack.
Aerodynamic Bodywork
The new bodywork is more compact, sleeker and narrower, to increase aerodynamic efficiency. Lift and drag have been reduced compared to the previous model's bodywork, thanks to a smaller frontal projected area. Even the fairing mounting bolts have been redesigned, with a new flat-top shape to reduce air resistance. The new fuel tank has a lower top and a sleeker shape, helping the rider tuck in more completely and easily. The improved rider tuck contributes to improved aerodynamic performance of the motorcycle.
LED Lighting Technology
The New GSX-R1000 features Suzuki's first LED headlight. The high output LED design means the unit is more compact and lightweight, helping minimise the overall bike mass and contributes to the new model's sharp appearance. The New GSX-R1000 also benefits from sharply styled LED position lights for a distinctive front view and minimal LED indicators too. The rear tail and brake light is also of full LED construction.

---
2016 Suzuki GSX-R1000 Concept – www.Totalmotorcycle.com USA Specifications/Technical Details
US MSRP Price: $ USD

---
2016 Suzuki GSX-R1000 Concept – www.Totalmotorcycle.com Canadian Specifications/Technical Details
Canada MSRP Price: $ CDN

NA

---
2016 Suzuki GSX-R1000 Concept – www.Totalmotorcycle.com European Specifications/Technical Details
Europe/UK MSRP Price: £11399 GBP (On The Road inc 20% Vat)
Dimensions and Weights
Overall length: 2045mm (80.5in)
Overall width: 705mm (27.8in)
Overall height: 1130mm (44.5in)
Wheelbase: 1405mm (55.3in)
Seat height: 810mm (31.9in)
Kerb Mass: 205.0kg (451.9lbs)
Fuel capacity: 17.5litres (3.8 UK gallons)
Ground clearance: 130mm (5.1in)

Engine Specifications

Engine capacity: 999cc
Engine: 4-stroke, 4-cylinder, liquid-cooled, DOHC
Bore: 74.5mm x 57.3mm
Compression ratio: 12.9 : 1
Lubrication: Wet sump
Ignition: Electronic ignition (transistorised)
Fuel system: Fuel injection
Starter: Electric
Transmission: 6-speed constant mesh
Drive: Chain
MPG: 54.80*
Power: 136.10kW @ 12000rpm (182.50hp)†
Torque: 116.70N.m @ 10000rpm (86.00lb.ft)†

Chassis Specification
Front suspension: Inverted telescopic, coil spring, oil damped
Rear suspension: Link type, coil spring, oil damped
Front brakes: Disc, twin
Rear brakes: Disc
Front tyres: 120/70ZR17M/C (58W), tubeless
Rear tyres: 190/50ZR17M/C (73W), tubeless


Manufacturer Specifications and appearance are subject to change without prior notice on Total Motorcycle (TMW).