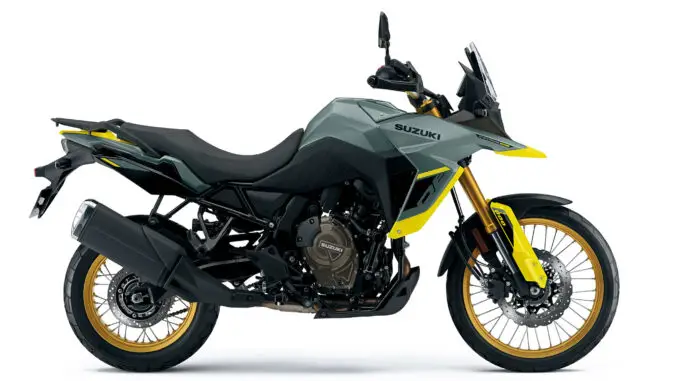 2024 Suzuki V-Strom 800DE: VERSATILITY AND FUNCTIONALITY.
Introducing the 2024 Suzuki V-Strom 800DE…
Building on the ground-breaking performance and riding capabilities of V-Strom, the V-Strom 800DE combines new features with the versatility and functionality riders have come to expect from V-Strom.
V-Strom 800DE offers comfort in all riding scenarios with superior performance on paved roads and gravel alike.
BREAK NEW GROUND WITH V-STROM 800DE
BORN TO EXPLORE
Journey without limits, with a rugged steel frame, fully adjustable 220mm travel suspension, a 21" front wheel and 220mm ground clearance. Conquer new ground with an all-new, torque loaded 776cc 270° crank parallel twin engine. Equipped with a bi-directional quickshifter, 5" colour TFT display, traction control with gravel mode and switchable ABS the V-Strom 800DE is ready for anything. ANY TERRAIN. ANY HORIZON. ANY ADVENTURE.
POWERING YOUR NEXT GREAT ADVENTURE
The V-Strom 800DE is powered by an all-new 776cc DOHC 270° crank parallel twin engine, with four valves per cylinder and a long-stroke configuration it delivers a balance of punchy low-down grunt, usable mid-range drive and a free-revving pull, all the way to the top-end.
2024 Suzuki V-Strom 800DE Totalmotorcycle.com Key Features
A brand new – parallel twin 776cm3 DOHC, 4-valve-per-cylinder engine
A rugged new frame
The longest amount of suspension travel and the most ground clearance of any V-Strom model to date
Wide, tapered aluminum handlebars, 21-inch front wheel, inverted front forks
5″ colour LCD TFT instrument panel
Suzuki Drive Mode Selector for a customizable experience geared to the rider's abilities and preferences
Suzuki Traction Control System with Gravel Mode
Rear ABS off mode
Bidirectional quick shift for smooth, effortless acceleration
Tackle any road with confidence, comfort and pure exhilaration with V-Strom.
21" WIRE SPOKE FRONT WHEEL
The V-Strom 800DE features wire-spoked wheels, with a 21-inch aluminium front rim for greater stability and better control off-road, and a 17-inch rear. The new 90/90-21 front and 150/70R17 rear Dunlop Trailmax Mixtour tyres feature a semi-block tread pattern with long, straight diagonal grooves that achieve both solid traction on unpaved surfaces and reduce noise when riding on-road. The tread also features wider, deeper grooves exclusive to the V-Strom 800DE that achieve the optimal balance between on-road handling and longevity, and positive grip and agile handling when the rider decides to explore the trails.
WHEREVER YOUR JOURNEY TAKES YOU
The front and rear suspension spring rate, valve, and piston settings are tuned to maximise performance and comfort when riding on all surfaces, they provide 220mm of travel in harmony with the V-Strom's 220mm ground clearance. The Showa inverted front forks deliver a smooth, controlled ride and feature stable damping characteristics that make them suitable for adventure riding. Spring preload, compression and rebound damping can be adjusted, allowing the suspension to be set to best match the rider's preference or the usage conditions. The Showa mono-shock rear suspension with a piggyback remote gas reservoir contributes to agility and stability. Not only can the spring preload and compression and rebound damping be adjusted, but the spring preload can be adjusted by simply turning the dial by hand. This is particularly beneficial when preparing to ride with a pillion or luggage.
AN ALL-NEW CHASSIS
A compact, lightweight chassis engineered to maximise performance and comfort, to create a chassis that contributes to comfort when riding on the road, but also to great performance off it, and to providing sure and stable handling in both these environments. The all-new chassis delivers reassuring straight-line stability when riding at motorway speeds, even when carrying a passenger and when the bike is fitted with the genuine-accessory luggage, loaded with gear. The compact front-to-rear dimensions of the slim new parallel twin engine contributes to achieving optimum weight distribution, riding position, and the ability to move the rider's hip point forward. This makes it easier for the rider to use their body weight to ably negotiate tight corners, or to place more weight on the front wheel when standing on the footpegs to explore rougher trails.
RUGGED STEEL FRAME
Designed around the new engine and made from rugged steel tube sections, the frame for the V-Strom 800DE is engineered to provide all the strength needed for negotiating rougher trails, to provide excellent straight-line stability, to contribute to agile handling, and to perform well at motorway speeds when touring for long distances. The use of steel over other materials also allows the engineering to maximise fuel tank volume and optimise ride ergonomics too.
DEDICATED GEOMETRY
Featuring a dedicated geometry, the long wheelbase, long rake, tall ground clearance, and a wide handlebar grip provide maximum stability and control when riding on road and on unpaved surfaces. The V-Strom 800DE lends the passenger added comfort because they have plenty of space and can sit without overly bending their knees. This is true even when the bike is fitted with Genuine Accessory luggage.
20L FUEL TANK
The V-Strom 800DE utilises a large 20L fuel tank to offer extended riding range for long distance touring on the road or making it between infrequent refuelling points off it. Combined with the frugal 64.12MPG this gives the V-Strom a theoretical range of over 280 miles.
STRONG STOPPING POWER
Calipers that best match the V-Strom 800DE's fork pitch and wire-spoked wheels bite onto 310mm diameter discs to provide strong stopping power and reliable braking performance. The rear brake has a 260mm diameter disc and uses a single-piston pin-slide caliper.
RIDER CONTACT POINTS
The V-Strom 800DE adopts wide tapered handlebars made from a strong-yet-flexible aluminium that allows them to flex and absorb shock when riding on rough unpaved surfaces. Not only does this provide greater comfort, but the wide grip and positioning also provide positive control, particularly when standing on the pegs. Fitted with wide, tough, sturdy footpegs designed to offer greater stability when standing on them while riding. These steel footpegs are covered in rubber with a textured surface designed to prevent the rider's feet from slipping. The durable seat stands up to input load when riding on off-road, as well as to weight shifts as the rider changes position. It uses a denser foam to improve comfort for rider and passenger.
ADVENTURE SCREEN
The small windscreen is designed to maximise visibility when adventuring on the trails, while wind tunnel testing ensures comfort for the rider at higher speeds and on longer distance road rides. The windscreen's three-step height adjustment lets it be adjusted in 15mm increments using an allen key.
EXTRA PROTECTION AS STANDARD
Hand guards help protect the rider's hands from the elements and also debris and branches on the trails. There's also a radiator guard designed to protect against flying stones and other objects. The V-Strom 800DE features a plastic under cover that protects the engine and adds to the tough image.
2024 Suzuki V-Strom 800DE Totalmotorcycle.com Features and Benefits
THE NEW V-STROM 800DE ENGINE
V-STROM 800DE's newly developed 776cm3 parallel-twin DOHC engine delivers a fine balance of smooth, controllable power from low rpm and the pleasant feeling of free-revving performance to the high end.
V-STROM 800DE's engine is ideal for the back roads. It demonstrates tenacious staying power at extremely low speeds, which makes for easy control on gravel and hard dirt roads.
This new engine introduces Suzuki Cross Balancer, which suppresses vibration for smoother operation and contributes to a lightweight powerplant that is more compact from front to rear.
Finally, the six-speed transmission realizes smooth shifting and improved controllability, and Suzuki Clutch Assist System (SCAS) helps reduce fatigue on long rides and contributes to smoother shifting.
SUZUKI INTELLIGENT RIDE SYSTEM (SIRS)
The Suzuki Intelligent Ride System (SIRS) is a system that better supports the rider in matching performance to the riding conditions, riding surface or preferred riding style, resulting in a more pleasurable ride.
Bi-directional Quick Shift system (with ON/OFF) provides quicker and smoother operation without the need to operate the clutch lever
Suzuki Traction Control System (STCS) with optional G (gravel) mode allows the rider to match the performance of the bike to the riding conditions to better negotiate gravel roads and dirt roads
Ride-by-wire electronic throttle responds faithfully to the rider's intentions
ABS system with 2 mode settings + off allows the rider to control braking performance on gravel
Suzuki Easy Start System starts the engine with one quick press of the starter button
Low RPM assist helps maintain engine idle speed for smoother and easier starts
Suzuki Clutch Assist System (SCAS) realizes a light touch to clutch lever operation that helps reduce fatigue on long rides and contributes to smoother shifting
RUGGED DESIGN, NIMBLE HANDLING, SUPERIOR RIDE
The V-Strom 800DE features a rugged new steel frame that contributes to comfort, straight-line stability and nimble handling. Narrow profile seat rails are engineered to handle the rigors of unpaved surfaces, even with optional sidecases mounted.
FRONT AND REAR STROKE
The Longest Front and Rear Stroke Available on V-Strom
With 220mm ground clearance the V-Strom 800DE has more ground clearance than any other V-Strom model.
ADJUSTABLE SUSPENSION FOR A BETTER RIDE
The fully-adjustable Hitachi Astemo (SHOWA) inverted front forks, with a long 220mm stroke, deliver a smooth controllable ride, while the adjustable SHOWA link-type rear suspension with 220mm of travel contributes to agility and stability. Additionally, the spring preload can be adjusted by hand when adding a passenger or luggage.
REAR TIRE
With dual front 310mm diameter disc brakes, the V-Strom 800DE provides the comfort and reassurance of sure stopping power and controllability.
FRONT TIRE
Attractive and functional wire-spoked 21-inch front and 17-inch rear Dunlop Trailmax Mixtour adventure tires feature a semi-block pattern and custom-engineered internal structure.
SWINGARM
The uniquely shaped lightweight aluminum swingarm has enhanced torsional rigidity to support the increased suspension travel and contributes to straight line stability.
KNUCKLE GUARDS
The V-Strom 800DE also features knuckle guards to protect your hands from the elements, a plastic under cover and it is the first V-Strom to feature a radiator guard, protecting against flying stones or other objects on unpaved roads.
Go Further with V-Strom 800DE. Feel comfortable going further.
FUEL TANK
A large 20-L capacity fuel tank means fewer stops to deliver superior touring range.
WINDSCREEN
Experience less fatigue with the shock-absorbing wide tapered handlebars that use a strong yet flexible aluminum material.
A short windscreen maximizes visibility when exploring gravel surfaces yet protects the rider from buffeting when touring at higher speeds.
SEAT
As well, the solid-mount rider seat is rugged to withstand the input load of riding on unpaved surfaces, and rubber-covered footpegs with slip-resistant surface allow freedom of movement and an upright riding position.
V-STROM 800DE ELECTRONICS
V-STROM 800DE features a new 5-inch colour TFT LCD multi-function instrument panel with both day and night visibility features for easy operability in all light conditions. A USB port is built into the left side of the meter cluster.
LED LIGHTING
It also features full LED lighting with both the front stacked headlight for a clear view of what's ahead, along with compact LED position lights, turn signals, and tail light to ensure visibility.
V-STROM 800DE STYLING
V-Strom 800DE features functional beauty that symbolizes the future of Suzuki design, while respecting the V-Strom heritage.
The distinctive V-Strom "beak" is positioned higher to visually convey the extended suspension stroke and the model's ability to handle gravel and dirt roads. The bodywork features flatter surfaces with sharp lines, exciting colours and dynamic decals.
2024 Suzuki V-Strom 800DE – Totalmotorcycle.com USA Specifications/Technical Details
US MSRP Price: $ See Dealer USD
Canada MSRP Price: $13,999 CDN
Europe/UK MSRP Price: £10,699 GBP (On The Road inc 20% Vat)
TBA
2024 Suzuki V-Strom 800DE – Totalmotorcycle.com Canada Specifications/Technical Details
| | |
| --- | --- |
| Type | 4-stroke, 2-cylinder, liquid-cooled, DOHC |
| Displacement | 776 cm3 (47.4 cu. in.) |
| Bore x Stroke | 84.0 mm x 70.0 mm (3.3 in. x 2.8 in.) |
| Compression Ratio | 12.8 : 1 |
| Fuel System | Fuel injection |
| Starter | Electric |
| Lubrication | Forced feed circulation, Wet sump |
| Ignition | Electronic ignition (transistorized) |
| Oil Capacity | 3.9 L (1.0/4.1 US/Imp qt) |
| | |
| --- | --- |
| Traction Control | Suzuki Traction Control System |
| ABS | Suzuki Antilock Braking System |
| | |
| --- | --- |
| Transmission | 6-speed constant mesh |
| | |
| --- | --- |
| Length | 2,345 mm (92.3 in.) |
| Width | 975 mm (38.4 in.) |
| Height | 1310 mm (51.6 in.) |
| Wheelbase | 1570 mm (61.8 in.) |
| Seat Height | 855 mm (33.7 in.) |
| Curb Mass | 230 kg (507 lbs.) |
| Suspension Front | Inverted telescopic, coil spring, oil damped |
| Suspension Rear | Link type, coil spring, oil damped |
| Brakes Front | Disc, twin |
| Brakes Rear | Disc |
| Tires Front | 90/90-21M/C 54H tube type |
| Tires Rear | 150/70R17M/C 69H tube type |
| Fuel Tank | 20 L (5.3 /4.4 US/lmp gal) |
12-month unlimited mileage limited warranty
2024 Suzuki V-Strom 800DE – Totalmotorcycle.com European Specifications/Technical Details
DIMENSIONS AND WEIGHTS
| | | | |
| --- | --- | --- | --- |
| Overall length | 2345 mm (92.3 in) | Overall width | 975 mm (38.4 in) |
| Overall height | 1310 mm (51.6 in) | Wheelbase | 1570 mm (61.8 in) |
| Ground clearance | 220 mm (8.7 in) | Seat height | 855 mm (33.7 in) |
| Kerb mass | 230 kg (507 lbs) | Fuel capacity | 20.0 L (4.4 UK gallons) |
ENGINE SPECIFICATIONS
| | | | |
| --- | --- | --- | --- |
| Engine capacity | 776 cc | Engine | 4-stroke, 2-cylinder, liquid cooled, DOHC |
| Bore | 84.0 mm x 70.0 mm (3.3 in x 2.5 in) | Compression ratio | 12.8 : 1 |
| Lubrication | Wet sump | Ignition | Electronic ignition |
| Fuel system | Fuel injection | Transmission | 6-speed constant mesh |
| Drive | Chain | Starter | Electric |
| MPG* | 64.12* | CO2 | 104 g/km |
| Power | 62.0 kW @ 8,500rpm (84.3 PS) | Torque | 78.0 Nm @ 6,800rpm (57.52 lb. ft) |
CHASSIS SPECIFICATION
| | | | |
| --- | --- | --- | --- |
| Front suspension | Inverted telescopic, coil spring, oil damped | Rear suspension | Link type, coil spring, oil damped |
| Front brakes | Disc, twin | Rear brakes | Disc |
| Front tyres | 90/90-21M/C 54H (tube type) | Rear tyres | 150/70R17M/C 69H (tube type) |
Manufacturer Specifications and appearance are subject to change without prior notice on Total Motorcycle (TMW).