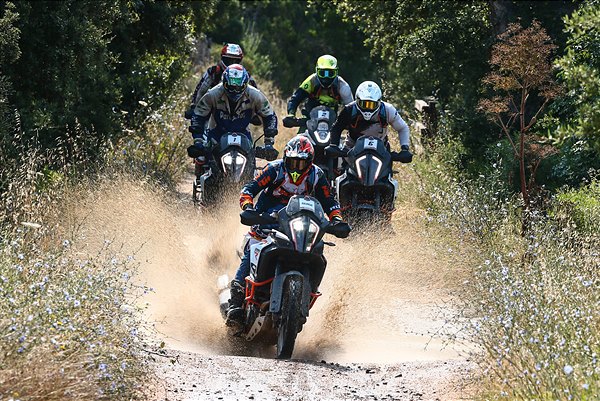 KTM is excited to announce the third instalment of the European KTM ADVENTURE RALLY will be held in Bosnia during June 2019.
A KTM ADVENTURE RALLY is for those who want to fully embrace the KTM READY TO RACE spirit, sharing tarmac and dirt passes in incredible surroundings to form lasting friendships and unforgettable memories with likeminded riders – including KTM ambassadors and employees – and will be exclusive to the first 150 KTM ADVENTURE-owning riders who sign up.
Complementing existing established KTM ADVENTURE events that have taken place annually in Australia, New Zealand, USA, Canada and South Africa, 2017 saw the first European staging in Bardonecchia, followed by Sardinia earlier this year. After two years on Italian territory – one in the mountains, the other one at the beach – KTM decided to change location in 2019 to Bosnia. The small but breathtaking mountainous country in the middle of the Balkans will be the place to be next year for adventure seekers who are looking for winding roads, endless dirt tracks and challenging trail riding opportunities.
The area is popular for its beautiful mountains, deep canyons, high plains, ice cold mountain lakes and crystal-clear rivers. The carefully chosen routes will lead KTM ADVENTURE-riding participants from the Sutjeska National Park – referred to as the European Yellowstone – through wild nature, up to the mountains that featured in the 1984 Winter Olympic games. Rounding out the event with great food, fantastic bikes and cool people whose hearts are beating for the same thing. Making unforgettable experiences together with the Orange family.
Fully organized by KTM, the three-day guided rally is tailored to suit all rider abilities – from first year ADVENTURE riders up to seasoned ADVENTURE professionals – and is open to just 150 places for owners of the following KTM bikes: 640, 690, 790, 950, 990, 1050, 1090, 1190 & 1290 ADVENTURE models.
Hubert Trunkenpolz (CMO KTM AG): "With continued growth in sales globally thanks to a solid range of products that are really meeting our customer needs, this performance has also had a significant impact on our customer related events. The KTM ADVENTURE RALLIES have grown incredibly over the last years and for us, engaging with these customers at ground level has been a rewarding experience that has literally influenced the future of the KTM Adventure range. It has also led to the creation of the Ultimate Race which takes place in 2019 for the very first time. The top two qualifiers from each KTM ADVENTURE RALLY are competing on a KTM 790 ADVENTURE R in an exclusive class at the Merzouga Rally. I'm excited for our true adventure-spirited customers who will be fortunate to experience their KTM in incredible surroundings to make amazing memories in the READY TO RACE way."