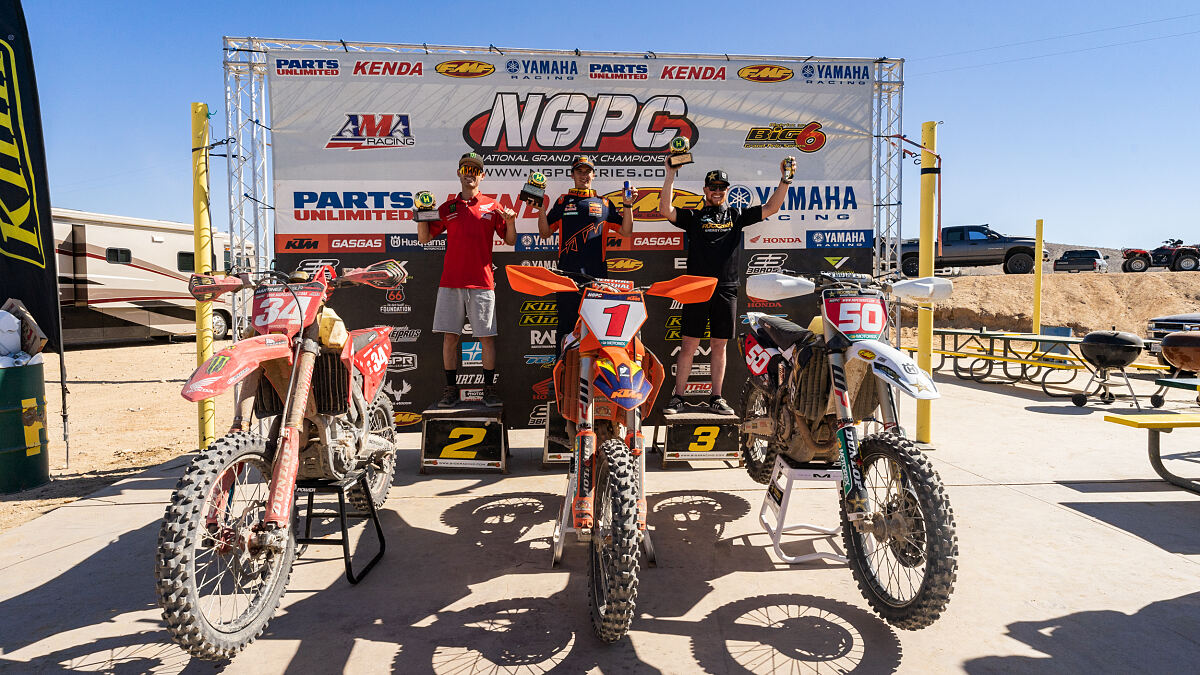 Rockstar Energy Husqvarna Factory Racing's Austin Walton has secured a well-earned Pro Class podium in the 2023 AMA National Grand Prix Championship (NGPC) round at 29 Palms, finishing a solid third place and directly followed by teammate Dalton Shirey in P4.
Walton completed the opening lap of the race in fourth position onboard his FX 450, before elevating into second on lap two. He maintained that position until two laps to go when he was relegated to third, holding a place inside the top three until race-end. That has him P4 in the current point standings.
"All done for 29 Palms, where we ended up with a third place, and we can't be mad at that one," Walton recalled. "Super happy with the finish today, we worked hard for it. Everything came together and we had some opportunities out there, which we capitalized on. All really positive, I can't thank the whole Rockstar Energy Husqvarna team enough, and now we're excited about moving on to Primm."
Meanwhile, a spirited charge from Rockstar Energy Husqvarna teammate Shirey saw him recover from a fall and being outside of the top six to have a podium finish within sight during the closing stages. He displayed exceptional race pace to claw his way through the field and achieve a season-best result of fourth in the Pro Class.
"The end result was a good one, even though it was a rough day and not the greatest start for me," said Shirey. "I don't know what lap it was, but I fell early on and it bent my bars a little bit. I was able to recover from there and put on a good charge to catch Austin, but ran out of time. We were almost on the podium and look forward to the next one now."
Next Round (6): Primm, Nevada – April 30, 2023
Pro Results
1. Dante Oliveira, KTM
2. Cole Martinez, HON
3. Austin Walton – Rockstar Energy Husqvarna Factory Racing
4. Dalton Shirey – Rockstar Energy Husqvarna Factory Racing

Pro Championship Standings
1. Dante Oliveira, 136 points
2. Ryan Surratt, 115 points
3. Cole Martinez, 95 points
4. Austin Walton – Rockstar Energy Husqvarna Factory Racing – 86 points
…
10. Dalton Shirey – Rockstar Energy Husqvarna Factory Racing – 60 points