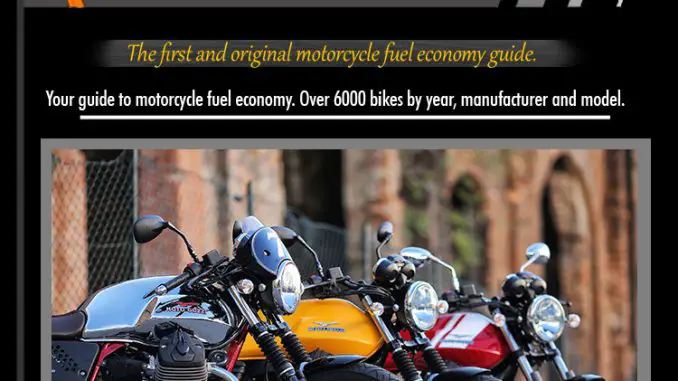 A guide to motorcycle gas mileage (MPG and L/100km) and efficiency
The first and original motorcycle fuel economy guide (est. 2005). Your guide to motorcycle fuel economy in MPG and L/100km.
Over 6000 bikes by year, manufacturer and model from 1934 to today.

Click here to Enter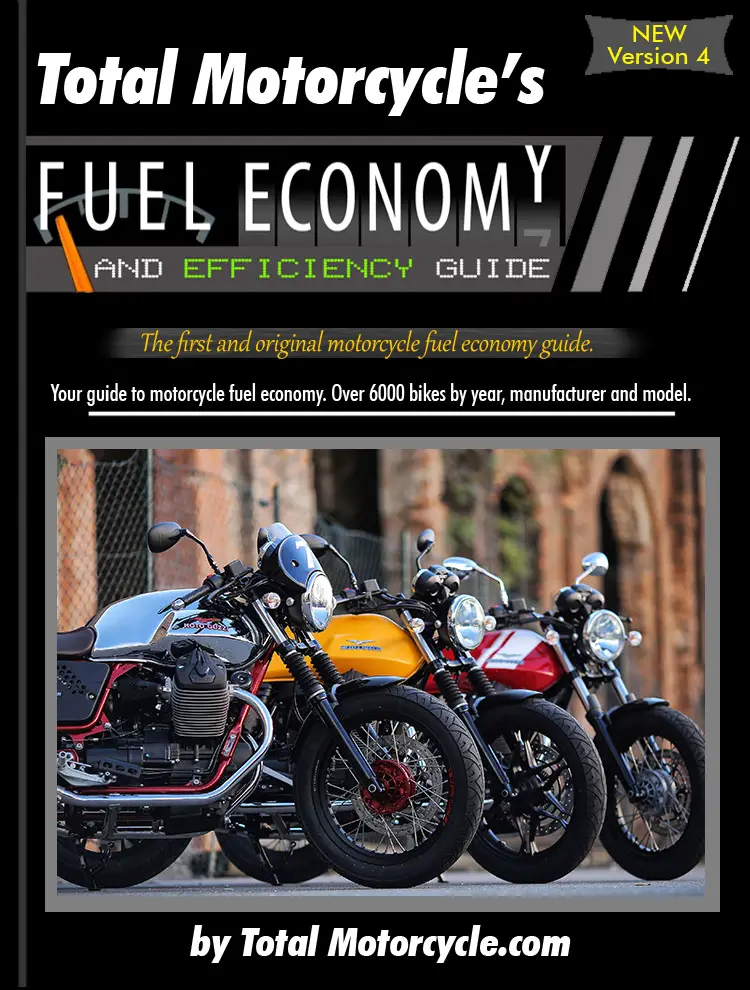 Click here to Enter

As oil prices rise across the world gas prices just keep rocketing up too. Cheap gas seems to be a memory of the past as we all look to save money on fuel and saving is never all that fun. Why not do both? Save your money and have fun at the same time, on a motorcycle! No matter what you call it, Petrol, Gas or just plain old fuel, motorcycles are some of the best vehicles to give you the best economy, efficiency and gas milage.
See and compare all different models from the major manufacturers all in one spot, right here on Total Motorcycle.
Feel free to add your motorcycle data to help our guide grow.
---

COPYRIGHT:
BY USING THIS GUIDE YOU ARGREE NOT TO COPY OR REDISTRIBUTE THE INFORMATION IN THIS GUIDE WITHOUT OUR CONSENT. We have worked 10 years to research and gather this information together for you, please respect our time and efforts. You can link directly to any page in Total Motorcycle Fuel Economy Guide from your website. Please give credit to: Source – Total Motorcycle @ https://www.totalmotorcycle.com
DISCLAIMER:
US MPG and L/100km based on data from riders, manufacturers, publications and official resources. Total Motorcycle does not guarantee the accuracy of this data.
GENERAL:
Unlike automobiles, motorcycle Fuel Efficiency can be difficult to calculate and it is important to remember these numbers are general guidelines as what to expect under the exact same conditions. Each rider will get different numbers for their own motorcycle due to accessories, riding style, type and formulation of gas which varies from each city and country. Motorcycle MPG / L/100km EPA/Fuel ratings are not official or my not be indicitive of every model for that year. As these figures are NOT required by law in North America to display we wish to thank the many motorcycle manufacturers for sharing these numbers with us and with you.
Special thanks to: Aprilia, Benelli, Beta, Bimota, BMW, Buell, Can-Am, Ducati, Harley-Davidson, Honda, Husqvarna, Husaberg, Hyosung, Indian, Kawasaki, KTM, KYMCO, Moto Guzzi, Moto Morini, MV Agusta, Norton, Phantom, Piaggio, Polaris, Ridley, Roehr, Royal Enfield, Suzuki, Triumph, Ural, Vespa, Victory, Yamaha, Zero, many great motorcycle publications and hundreds of contributing motorcyclists. Without this support the Total Motorcycle Fuel Economy Guide in MPG and L/100km would not exist today.