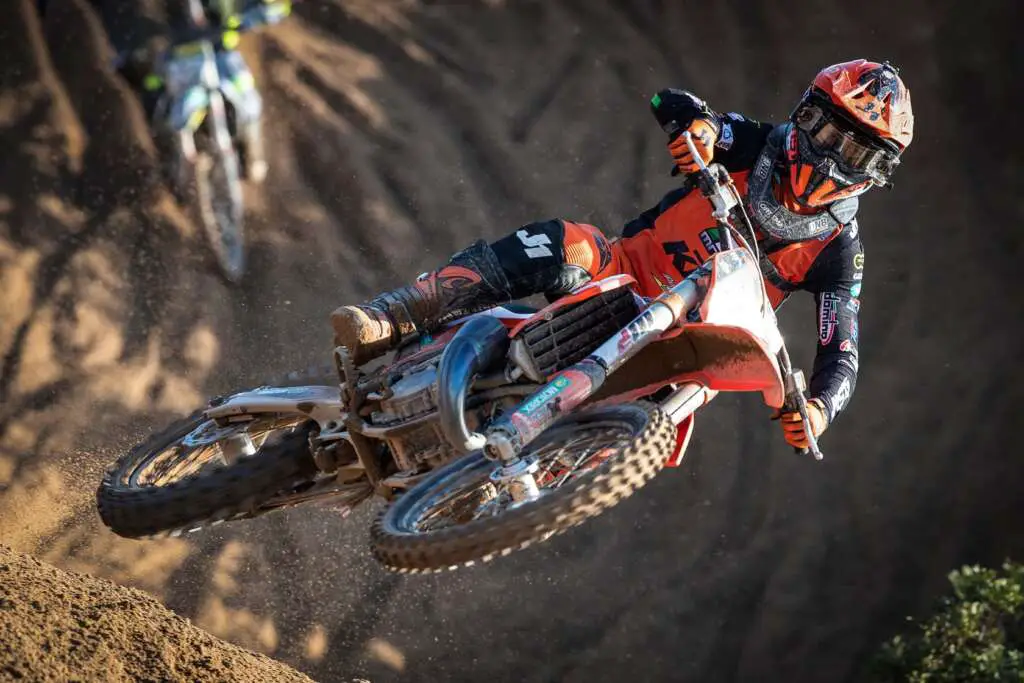 MORGANTOWN, 
W.Va. (May 21, 2021) – Following the newly announced lift in various restrictions in the Commonwealth of Massachusetts, MX Sports Pro Racing has announced an updated event date for the Southwick National. The annual visit to New England was originally scheduled for June 26, but will now commence on July 10 as the fifth round of the 2021 Lucas Oil Pro Motocross Championship, sanctioned by AMA Pro Racing.
The decision to move Southwick to a later date is in an effort to better accommodate event organizers at The Wick 338. Due to previous concerns in the ongoing communication with state and local health officials in Hampden County to host large public gatherings, preparations for this year's event were briefly halted. However, following the latest announcement from Massachusetts Governor Charlie Baker to lift the state's remaining restrictions, the staff at The Wick 338 has resumed its efforts to welcome the anticipated return of American motocross, following the event's cancellation last season.
"We want to commend Rick Johnson, Keith Johnson, and the team at The Wick 338 for their resiliency over the past year," said Roy Janson, Managing Director at MX Sports Pro Racing. "They have faced quite a difficult task navigating the state's mitigation strategies, but have remained steadfast in doing everything possible to successfully host the Southwick National for the 2021 season. Fortunately, their patience has allowed them to reach this celebratory juncture in which fans will be openly welcomed to watch the world's fastest racers tackle the hallowed sands of Southwick, albeit at a slightly later date than originally planned."
The 2021 Lucas Oil Pro Motocross Championship will begin on Saturday, May 29, with the Fox Raceway I National in Southern California. With its new date on the calendar, the Southwick National will move from Round 4 of the season to Round 5, following the RedBud National over the Independence Day holiday.
Ticket availability for the Southwick National will be announced in the near future.
Lucas Oil Pro Motocross Championship
The Lucas Oil Pro Motocross Championship, sanctioned by AMA Pro Racing, features the world's fastest outdoor motocross racers, competing aboard homologated bikes from one of seven competing manufacturers on a collection of the roughest, toughest tracks on the planet. Racing takes place each Saturday afternoon, with competition divided into two classes: one for 250cc machines, and one for 450cc machines. MX Sports Pro Racing, the industry leader in off-road powersports event production, manages the Lucas Oil Pro Motocross Championship. The title sponsor is Lucas Oil, a leading producer of premium oils, greases, and problem solving additives, all made in America. More information can be found at www.ProMotocross.com.
NBC Sports & Peacock
NBC Sports and Peacock will provide coverage of the 2021 Lucas Oil Pro Motocross Championship season across all 12 rounds, including every practice session, qualifier, Moto 1 race and Moto 2 race.  The Lucas Oil Pro Motocross Championship is part of NBC Sports' "Home of Motorsports" programming throughout 2021, spanning NASCAR, INDYCAR, IMSA, Mecum Auctions, Monster Energy Supercross, MotoGP, Progressive American Flat Track, Monster Jam, Dakar Rally, and more.
Lucas Oil Products, Inc.
Lucas Oil Products was founded by Forrest and Charlotte Lucas with the simple philosophy of producing only the best line of lubricants and additives available anywhere. Since its inception, Lucas has steadfastly adhered to this corporate objective. Through innovative product research and development, along with aggressive marketing programs, Lucas has established itself as the top selling additive line in the United States. Additionally, Lucas Oil offers a premium line of motor oils, greases, fuel treatments, industrial lubricants, and problem-solving additives to help firmly establish Lucas Oil as a prominent figure in the marketplace.
MAVTV Motorsports Network
MAVTV Motorsports Network is the only television network in the U.S. dedicated exclusively to motorsports. MAVTV offers an unparalleled line-up of exclusive and unique events. MAVTV goes beyond the national mainstream motorsports events to include grassroots racing from across the globe: drag racing, pro motocross, sprint boats, rally cars, short course off-road truck racing, sprint cars, pro pulling, drifting, ice racing, and everything in between. MAVTV knows you don't have to be a race fan to be an automotive enthusiast, which is why we have developed a package of automotive reality and custom build shows that are truly second-to-none. From 24/7 automotive and motorsports content on MAVTV Motorsports Network to the free and exclusive content available on MAVTV Select and the on-demand streaming service of MAVTV Plus, if it has a motor, it's probably on MAVTV – The Motorsports Network!