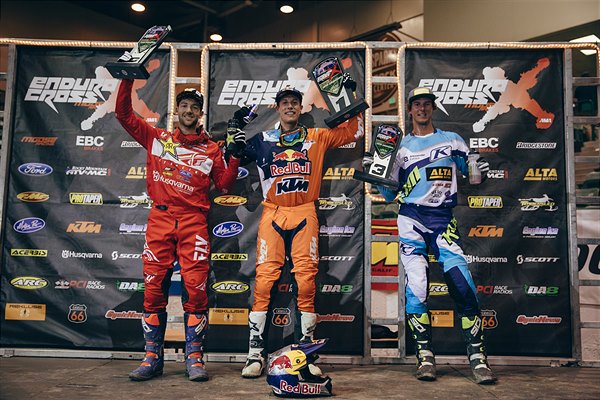 HAAKER FIGHTS BACK TO A PODUM FINISH
Rockstar Energy Husqvarna Factory Racing Off Road's Colton Haaker fought his way to a podium finish at the Reno EnduroCross, the third round of the EnduroCross Series, held at the Reno-Sparks Livestock Events Center in Reno, Nev. on Saturday.
Haaker was on the move in his heat race and hoped to take the win, but he unfortunately forgot to take the dreaded No Joke Lane and, as a result, did not receive a direct transfer to the Main. He was forced to line up for the LCQ, where he put on a charge and earned his spot in the Super EnduroCross Main Event. He had a second-row start in the Main, but worked as hard as he could to navigate through the pack and earn a second-place finish. He is now tied for the lead in Super EnduroCross rider point standings.
"The weekend went well, and the Reno fans were awesome," said Haaker. "Finishing second was not the plan for the weekend, but after forgetting the No Joke Lane in the heat race I dug myself a hole by having to go to the LCQ. This forced me to have a second row start in the Main. I charged hard but I came up a bit short on the win. That move in the heat cost me a lot tonight, and now we are tied on the overall points. With three rounds left, the team and I will regroup and give it our all for this Championship!"
Next Event: October 20 – Round 4 – Denver EnduroCross – Denver, CO
Reno EnduroCross Results
Super EnduroCross Main Event
1. Cody Webb
2. Colton Haaker – Rockstar Energy Husqvarna Factory Racing Off Road
3. Ty Tremaine
4. Geoff Aaron
5. Kyle Redmond
6. Noah Kepple
7. Cristobal Guerrero
8. Ty Cullins
9. Benjamin Herrera
10. Cooper Abbott
Super EnduroCross Rider Point Standings
1. Cody Webb – 73 points
1. Colton Haaker – Rockstar Energy Husqvarna Factory Racing – 73 points
3. Ty Tremaine – 53 points
4. Kyle Redmond – 47 points
4. Geoff Aaron – 47 points
6. Trystan Hart – 42 points
7. Ty Cullins – 40 points
8. Noah Kepple – 37 points
8. Benjamin Herrera – 37 points
10. Cooper Abbott – 35 points