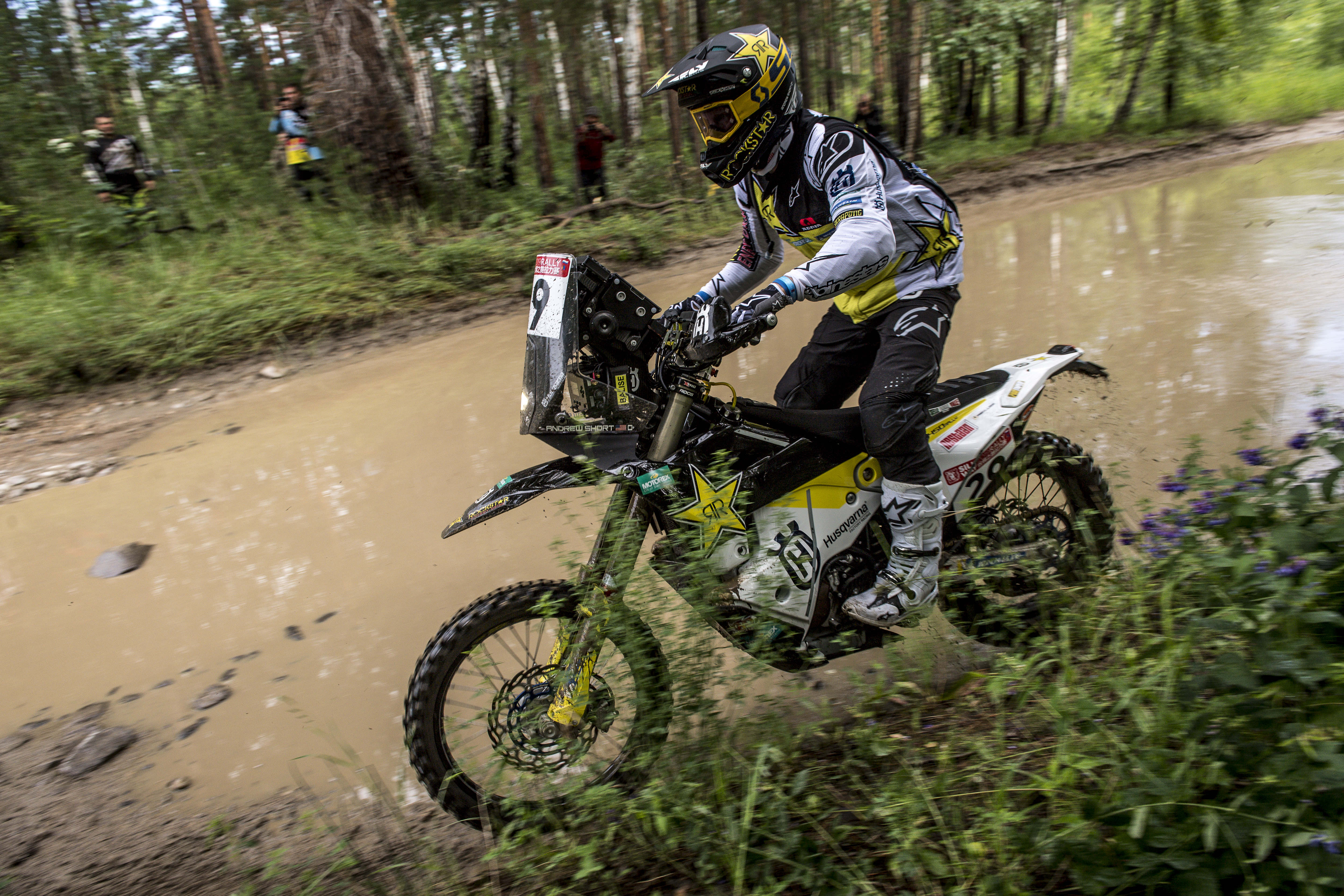 Rockstar Energy Husqvarna Factory Racing's Andrew Short has made a solid start to his 2019 Silk Way Rally finishing inside the top-10 on the day's opening stage. The event, welcoming motorcycles for the first time this year, marks round two of the FIM Cross-Country Rallies World Championship.
The usual hard-packed stony tracks of the Siberian forest became extremely wet due to heavy rain overnight, with large amounts of standing water only adding to the demanding conditions faced by the riders. Maintaining a good pace on the muddy route, former motocross star Short carefully navigated his Husqvarna FR 450 Rally superbly through the timed special in order to minimise any mistakes and time lost to his rivals.
Successfully completing the 50.87-kilometre special in a time of 33 minutes and 52 seconds, the American rider placed ninth, a mere three minutes down on the fastest rider. The result puts Andrew into a good position for Monday's stage two where he will have a number of riders ahead to chase down through the slippery forest tracks.
Totalling 413.63 kilometres, stage two of the Silk Way Rally includes a 212.02-kilometre timed special with the terrain again being made up of a mixture of stony tracks and gravel.
Andrew Short: "It's good to get the event started now. Today's stage was different to any other rally I've done – we were racing through trees in the forest and over rolling hills. It was a little bit muddy but nice to have a change of scenery. The tracks were slippery, but I just kept to a good pace and enjoyed it. There's a long way to go, so it's all about looking forward to what tomorrow brings."
2019 Silk Way Rally – Stage 1 Provisional Classification
1. Kevin Benavides (Honda) 30:51
2. Luciano Benavides (KTM) 31:27
3. Xavier de Soultrait (Yamaha) 31:42
4. Joan Barreda (Honda) 31:57
5. Sam Sunderland (KTM) 32:06
6. Paulo Goncalves (Hero) 32:27
…
9. Andrew Short (Husqvarna) 33:52