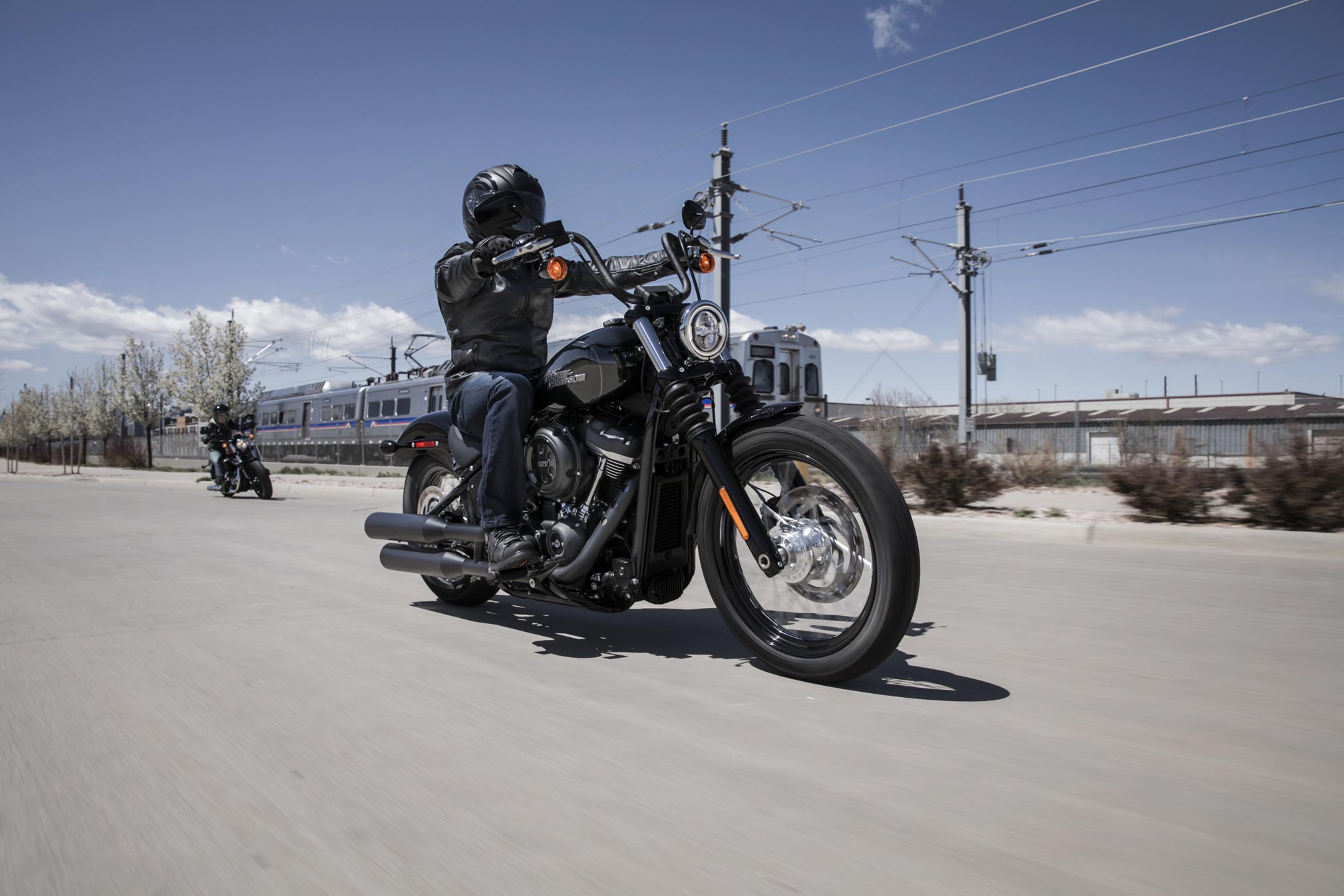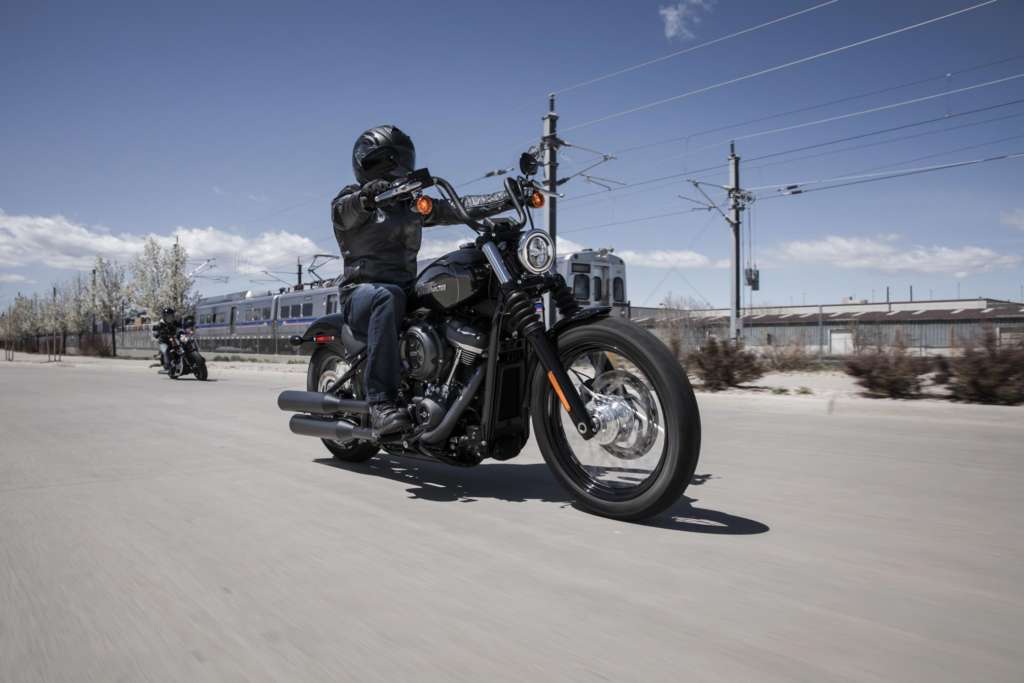 Take a test you won't want to finish.
Not all good things have to come to an end. Test ride any 2020 Harley-Davidson® motorcycle and you automatically enter a draw to extend your test ride for 4 weeks. Plus we'll throw in a selection of exclusive merchandise*. So, which one will you try?
The Low Rider® S returns with aggressive power and throwback styling that'll give you a ride like no other.
The new Road Glide® Limited combines a host of new technologies to deliver peace of mind like never before, including our new Reflex™ Defensive Rider Systems** that provides improved handling performance and H-D Connect™ that tracks your bike's stats on your smart phone.
With rich racing heritage, the Harley-Davidson® Street® and Sportster® models are as nimble as ever. Powered by a roaring Milwaukee V-Twin powertrain engine, they were made to tear up the road.
Which ever you choose to ride, getting off won't be easy. Take a test ride to win.
BOOK YOUR TEST RIDE TODAY
Test ride a Harley-Davidson® motorcycle and get the chance to win an extended 4 week ride and a £500 Harley-Davidson® merchandise voucher to get you road ready.
TAKE A TEST RIDE AND WIN
Win the 4-week ride of your life
Test ride a Harley-Davidson® motorcycle and automatically enter a draw to extend your test ride by 4 weeks and become more connected with the road than ever before. Full terms and conditions
4 WEEK RIDE
The hardest part of any Harley-Davidson® test ride is the end. Delay it, with the use of a Harley-Davidson® motorcycle for 4 weeks!
£500 VOUCHER
Look as good as you feel on your ride with £500 of Harley-Davidson® authorised merchandise vouchers.
There are 24 hours in a day. One of them should be thrilling.
Escape with a twist of the throttle
A BIKE FOR EVERY RIDER
Cruise on a Harvey-Davidson Softail® motorcycle, devour the road on a Sportster®, go urban on H-D Street® or enjoy the luxury of a Touring model. There's no wrong choice.
Stop scrolling and start riding
DON'T JUST READ ABOUT IT, RIDE IT.
Some things can't be put into words. You have to go out there and experience them. Feel them. Are you ready to test ride the feeling?
SPORTSTER®
The motorcycle that's done it all, now does it all better.
IRON 883™
An original icon of the Harley-Davidson® Dark Custom style. It sets the standard for the raw, stripped-down, blacked-out look.
SELECT
SOFTAIL®
Authentic heritage and custom soul meet modern edge and technology.
HERITAGE CLASSIC 114
The refined gloss-black finishes, modern edge and reinvigorated ride of the Heritage model take nostalgia ripping into the here and now
TOURING
Go the distance and discover the wide-open world in the most epic way possible.
ULTRA LIMITED
It's loaded. From the Milwaukee-Eight® 114 engine to the heated hand grips. Classic Batwing fairing, all new BOOM!™ GTS infotainment system, and plenty more. Yes, you can have it all.
RULES
SWE Demo Ride Campaign Prize Draw (the "Prize Draw")
Terms & Conditions
No purchase necessary to enter the Prize Draw.
Promoter: Harley-Davidson Europe Limited, Oxford Business Park, 6000 Garsington Road,
Oxford OX4 2DQ ("Promoter").
1) ELIGIBILITY
To enter the Prize Draw participants must: i) be 18 years of age or older at time of submitting
information and entering the Prize Draw; ii) hold a valid motorcycle license; (iii) be a
resident of the Participating Territories1
; and (iv) take their test ride in one of the
participating territories ("Participant"). The Prize Draw is not open to directors, members,
partners, employees, agents or consultants of the Promoter or any person who directly or
indirectly controls or is controlled by the Promoter, or any supplier of goods or services in
connection with the Prize Draw, or the spouses, life partners, business partners or immediate
family members of any individual employed by the Promoter.
The Prize Draw is subject to all local laws and regulations where offered. The Prize Draw is
void where prohibited or restricted by law.
2) HOW TO ENTER
Participants may enter the Prize Draw in three ways:
1 "Participating Territories" are France, Ireland, Spain, United Kingdom.
a) Participants may book a free test ride on any Harley-Davidson motorcycle online at the
following urls:
United Kingdom: https://ridefree.harley-davidson.com/en_GB/home
Republic of Ireland: https://ridefree.harley-davidson.com/en_IE/home
France: https://ridefree.harley-davidson.com/fr_FR/home
Spain: https://ridefree.harley-davidson.com/es_ES/home
Participants must complete and submit the online entry form found there along with their
details to book the free test ride. Harley-Davidson motorcycles that may be used in this
Prize Draw for a test ride include any new MY20 Harley-Davidson model. Once the test
ride is completed the Participant is entered into the Prize Draw.
b) Participants who are Facebook users and who see an advertisement for the Prize Draw on
their Facebook page may enter the Prize Draw by submitting their details through the
Facebook advertisement and requesting a test ride booking. Once the test ride is
completed, the Participant shall be entered into the Prize Draw.
c) Alternatively, Participants may visit their local authorized Harley-Davidson dealership
and book a free test ride on a motorcycle at the dealership and enter the Prize Draw.
Participants will be entered into the Prize Draw after submitting their details and
completing their free test ride on a motorcycle at the authorized dealership.
This promotion shall run from 16th September 2019 until 10th November 2019. All test ride
requests must be booked by midnight on 10th November 2019. Participants who book online
shall have until 17 November 2019 to take their test ride. Participants may take as many test
rides during the promotion as they would like but will only be entered into the Prize Draw
once.
The Promoter cannot guarantee the availability of a test ride for the purpose of entering the
Prize Draw. The Promoter cannot guarantee that a Participant's preferred dealership will
have bikes available for the purpose of a test ride.
3) PRIZE
The winner of the Prize Draw shall win the use of an MY20 bike for a period of four
consecutive weeks to be supplied by an authorized Harley-Davidson Dealership of the
Promoters choice; and one (1) GM Riding Pack which is comprised of EUR 500 or local
currency equivalent in vouchers which may be used only at an authorized Harley-Davidson
dealer (together the "Prize"). The Prize must be used by the winner by no later than 31
October 2020. No cash substitution of the Prize shall be permitted. The winner of the Prize
shall collect their Prize at an authorized Harley-Davidson Dealership in their country of
residence, the precise dealership to be agreed between the Promoter and winner. Only Model
Year 2020 Motorcycles are eligible. Color of the bike is subject to availability.
4) SELECTION OF THE WINNER
One winner will be selected at random by an automated Prize Draw by no later than 24
November 2019. The winner shall be contacted by no later than 26 November 2019 using the
contact details they submitted for their test ride to inform them of their prize and seek their
permission to announce their surname and location. The Prize must be claimed by the winner
within 48 hours of being contacted by confirming acceptance of the Prize. Failure to do so
will result in the forfeit of the Prize and an alternative winner will be chosen. The winner's
surname and location will be announced after they have been contacted unless the winner's
objects to this information being published or requests a reduction in the amount of
information being published. The awarding of the Prize is subject to verification of winner's
eligibility and identity to Promoter's reasonable satisfaction. Promoter reserves the right to
disqualify individual Participants from the Prize Draw if there are justifiable grounds, e.g.
infringement of the rules of participation or influencing the Prize Draw, such as manipulation
of entry forms. Should a winner be picked through the random Prize Draw that does not meet
the eligibility criteria or is disqualified through Promoter's sole discretion, the Promoter shall
have pick a new winner and this process shall be repeated until a winner is picked who meets
all of the eligibility criteria.
5) PUBLICITY RELEASE
Except where prohibited, winners may be requested to take part in publicity resulting from
this Prize Draw. However, such publicity participation shall be subject to each winner's
separate consent from these Terms and Conditions. The awarding of the Prize is not subject
to the consent or participation in any publicity actions.
6) DISPUTES/CHOICE OF LAW:
By entering the Prize Draw, Participants agree to accept and abide by these Terms &
Conditions and agree that any dispute with regard to the conduct of this promotion, rule
interpretation or award of prize shall be submitted to Promoter, whose decision shall be
binding and final. Promoter reserves the right to amend these terms and conditions at any
time.
Except where prohibited, each Participant agrees that: (1) any and all disputes, claims and
causes of action arising out of or connected with this promotion or any prize awarded shall
be resolved individually, without resort to any form of class action, and exclusively by the
courts of England and Wales, (2) any and all claims, judgments and awards shall be limited
to actual out-of-pocket costs incurred, but in no event attorneys' fees; (3) no punitive,
incidental, special, consequential or other damages, including without limitation, lost profits,
may be awarded (collectively, "Special Damages"), and (4) Participant hereby waives all
rights to claim Special Damages and all rights to have such damages multiplied or increased.
English law governs the promotion and all aspects related thereto.
7) DATA PROTECTION AND PRIVACY
Personally identifiable information (including e-mail addresses, names, addresses, etc.) that
is submitted by Participants as part of this promotion will be used only to administer the
promotion, select the Prize winner and fulfill the Prize, and will be treated in accordance with
all applicable data protection laws and Promoter's privacy policy accessible at www.harleydavidson.com. In particular, the Promoter points out, that without explicit consent of the
Participant, such personally identifiable information of the Participant will not be passed on
to or left for use by third parties save for the use of such information for the purposes
described in this clause.