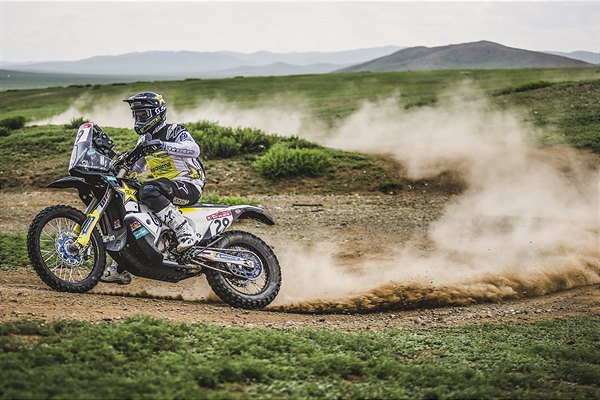 ROCKSTAR ENERGY HUSQVARNA FACTORY RACING RIDER CONTROLS SIXTH OVERALL WITH CONFIDENT RIDE ON STAGE FIVE
Putting in a strong performance on stage five of the 2019 Silk Way Rally, Andrew Short has completed the second half of the two-day marathon stage in seventh place and now looks forward to the remaining five stages of the event.
With the combined distance of the two timed specials that made up the gruelling marathon stage totalling over 800 kilometres, both machine and tyre preservation proved extremely important in securing a good and safe result.
Delivering a confident and consistent pace during both stages, Short was able to arrive at the finish of each day with himself and his Husqvarna FR 450 Rally in good condition. With high average speeds achieved over the tracks and plains of Mongolia, accurate navigation was also required to minimise any mistakes and time lost.
By completing stage five in seventh place, Andrew has successfully maintained sixth place in the event's provisional overall standings. With the rally now at its halfway stage, the American rider is looking forward to the next five stages as the rally leaves Mongolia and heads for the sand dunes of the Gobi Desert in China.
Friday's stage six of the Silk Way Rally, will see riders leave Mandalgovi and head for the southern Mongolian city of Dalanzadgad. The route covers a total distance of 411.75 kilometres including a 408.17-kilometre timed special.
Andrew Short: "It's always nice to make it safely to the end of a marathon stage. I tried my best to preserve my bike and tyres today, so I was a little more conservative than usual but the tracks were really fast again. There was nothing too crazy out there and it was all enjoyable nonetheless. The route was nice and flowing and very similar to the last couple of days. Overall I'm happy to make it to the end of the marathon stages and I'm now looking forward to the rest of the rally to come."
2019 Silk Way Rally – Stage Five Provisional Classification
1. Sam Sunderland (KTM) 3:05:31
2. Kevin Benavides (Honda) 3:07:04
3. Paulo Goncalves (Hero) 3:08:18
4. Xavier de Soultrait (Yamaha) 3:12:30
5. Adrien Van Beveren (Yamaha) 3:13:08
…
7. Andrew Short (Husqvarna) 3:14:22 
2019 Silk Way Rally – Provisional Standings After Stage Five
1. Sam Sunderland (KTM) 12:44:26
2. Luciano Benavides (KTM) 12:58:10
3. Kevin Benavides (Honda) 13:01:44
4. Paulo Goncalves (Hero) 13:05:36
5. Oriol Mena (Hero) 13:10:28
6. Andrew Short (Husqvarna) 13:10:46