You are here: Index — Complete Motorcycle Compendium
The Complete* Motorcycle Compendium
– C –

Manufacturers Name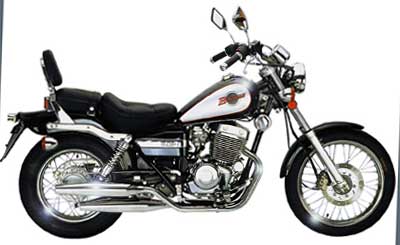 2004 Chinese Made Baotian BT-250
Cabri France, 1950's, Made by Bernadet, Scooters
Cabton Japan, 1954 – 1960
Cagiva Italy, Started in 1950 as a small machine shop. They entered the motorcycle business in 1978 when they bought the Aermacchi factory from AMF-Harley-Davidson, Italy. They now own Ducati, Moto Morini, Husqvarna, MV Agusta and others
Califfo Italy
California USA, California Motor Company of San Francisco started in 1901, in 1903 the Consolidated Manufacturing Company in Toledo, Ohio, bought the rights to the California motorcycle and made the Yale California
Capriolo Italy
Calthorpe England, 1909 – 1938, Calthorpe was owned by George Hands in Birmingham. Early models, used a 3.5hp White & Poppe engine. After WW 1 he used engines made by Villiers, JAP, Peco, Blackburne and Precision. Around 1925 they started making their own 348 overhead valve and 500 overhead cam engines. The Ivory model was introduced in 1928 and was built until 1935. They also made a "Speedway Special" racer
CanAm In 1974 the factory team won National motocross plates #1, 2, 3. and set a speed record at Bonneville of 136.5 MPH with a 125cc bike.
Canda USA 1901
Cannondale Connecticut, USA, Started making bicycles in 1983. Made their first motoXer in 1999
Caproni Italy, Gianni Caproni started producing airplanes around 1908. Started making motorcycles in Arco after WWII until 1962. NSU engines?
Carabella Mexico, They used Jawa and Minarilli engines and also made their own two strokes. I think they are still made. They made a lot of mopeds and scooters as well as dirt  and small road bikes. I think the small scooters used Suzuki engines. I don't know if they built the other engines under license or if they imported them. They exported to the US for a while around the 70's
Casal Portugal, Started using Zundapp engines in the 1960's but now make their own
CCM Canada, 1908 – 1912, The Canadian Cycle and Motor Company modified their bicycle frames and inserted a 230cc Swiss Motosacoche engine 
CCM UK, Started in 1971 by Alan Clews, they make competition motocross, trail and supermoto bikes
Cemec France, produced bikes from 1951 – 1958
Centaur USA
Century England, 1899 – 1905? 1902 – 1905? 
CF Italy, 1928 – 1970
Champion USA, 1911 – 1917?, The Champion Motor Car Co. of St. Louis made a motorcycle much like the Militaire ( possibly under license from Militaire). It had a 1281cc inline four engine w/shaft drive
Champion USA, Builds racing frames for Flattrack, TT, Speedway
Chater Lea England, built motorcycles and many components used by other bicycle and motorcycle builders
Chell England, 1939, Chell Motor Company Ltd, Villiers 2 stroke engines
Chiorda Italy, made bicycles and mopeds. Taken over by Bianchi
Cimatti Italy, small cc motorcycles and mopeds
Clement France, early 1900's, Made a bicycle engine kit. There was a subsidiary in the USA that sold engine kits and complete bikes
Cleveland England, 1911 – 1914, Precision engines
Cleveland USA, 1915 – 1929, Bought Reading Standard in 1922. Had a 996cc inline four in 1928
Cleveland USA, Harley clones
Clyno England, The Clyno Engineering Co. made motorcycles from 1910 until 1916 – 17?. The first models used Chater Lea frames and engines bought from the Stevens Brothers (later of AJS).
Cnopm Russia
Cobra USA, North Lima, OH. Makes small motocross bikes for kids
Cockerell Germany, 1919-1924
Comet USA, Chicago, 1911, produced a board track racer
Comet Italy, 1950's
Commander England, Early 1950's, Autocycles with Villiers engines
Condor Swiss, 1901 – 1978, Built a Transverse flat twin, 680cc in the 1940's that was used by the Swiss Army
Confederate USA, Harley Clones 
Copeland Steam Motorcycle United States, 1885. Lucius Copeland put a steam engine on a Star (large wheel in front, small wheel in back) bicycle in 1885. Around 1888 he built a steam tricycle using the same type of engine. The engine and boiler of the Copeland steamer are in the Arizona Museum at Phoenix
Corgi UK, 1945, built by Brockhouse it was a civilian version of the Welbike
Coronet England, 1903. Coronet Motor Co.
Cossack Russian, It's actually a Dnepr that was imported to England by a company named Nevil and sold there, some were exported to the U.S.
Cotton 1920-1934 and again 1954-1964, Francis Cotton was an English racer who developed stronger frames than the usual bicycle frames of the time. He patented, and started building and selling his triangulated cross braced frames in 1914.
Coventry-Eagle Was a turn of the century (the twentieth, that is) English builder that used JAP engines and lasted into the late 1930's
Coventry-Victor England, 1918 – 1939, Built motorcycles and three wheelers but known mostly as an engine manufacturer 
CPI Taiwan, Scooters and motorcycles
CP-Roleo France
Crawford USA, 1912, Michigan
Crescent USA, Crescent Auto Manufacturing produced a motorcycle engine in 1902. Western Wheel Works made the Crescent motorcycle in 1905 – 1906, I'm not sure if there is a connection  
Crocker USA, 1936 – 1941, Al Crocker worked for both Thor and Indian, then bought an Indian Dealership in L.A. In 1933 he debuted his 30.5c.u. modified Indian Scout engines and put them in frames that he built. They were raced successfully on Speedway tracks until the end of the 1934 season when JAP engined bikes started to dominate. He then concentrated on building street machines and built, amongst others, an 80c.u. V-Twin cruiser
Crosley England, Long time car maker, they stopped production of autos during WWII to work on the war effort. Around 1939 they were contracted to build both 2 and 3 wheeled motorcycles that were powered by pre-war Crosley opposed two cylinder, air cooled engines and were shaft drive. They also built small tracked vehicles 
Crouch USA, 1905 – 1908, 32.5cu single, belt drive
Cesepel Hungary 1975
Cucciolo Italy, A bicycle engine kit made by Ducati
Curtiss USA, 1902 – 1911 or 1912, The G.H.  Curtiss Manufacturing Co was started by Glenn Curtiss later of the Curtiss airplane fame. For the first few years they were called Hercules, then the name was changed to Curtiss in 1905.
Cushman The Cushman Motor Works of Lincoln, Nebraska, started building engines around 1902 and built complete motorscooters between 1936-1966. Sears sold them as Allstate from 1951 – 1961 They also imported and sold Vespa. They still make golf carts and industrial vehicles 
CWS Poland, Started in 1932 building motorcycles, mostly for the army. They became Sokol in 1936. The factory was destroyed by the Nazis at the end of 1939 and production started again in 1947. Sokol was taken over by SLH in 1948 and stopped production in 1950 
Cyc-Auto England, 1934 – 1958, Cyc-Auto Limited built the first British autocycle (A bicycle that was manufactured with an engine attached)
Cyclemaster England, 1950 – 1960 Built a complete powered wheel that was substituted for a bicycle's normal rear wheel.
Cyclemoto Peugeot
Cyclemotor Canada – USA, 1914 – 1925? Sold as Evans Powercycle in the later years. Cyclemotor is also a generic term for any add on engine for a bicycle
Cycles Delight USA, Harley clones
Cyclone Sweden 1910
Cyclone USA, The first Cyclone was introduced in 1912 or 1913 by the Joerns Motor Manufacturing Co. It had a 996cc V-twin designed by Andrew Strand that did very well in racing competition, but the company was only in business from 1912 to 1917
Cyclone USA, Harley Clones
Cyril Huze USA, Harley Clones
CZ (Jawa) Frantisek Janecek started making motorcycles in 1929 in Czechoslovakia.
---