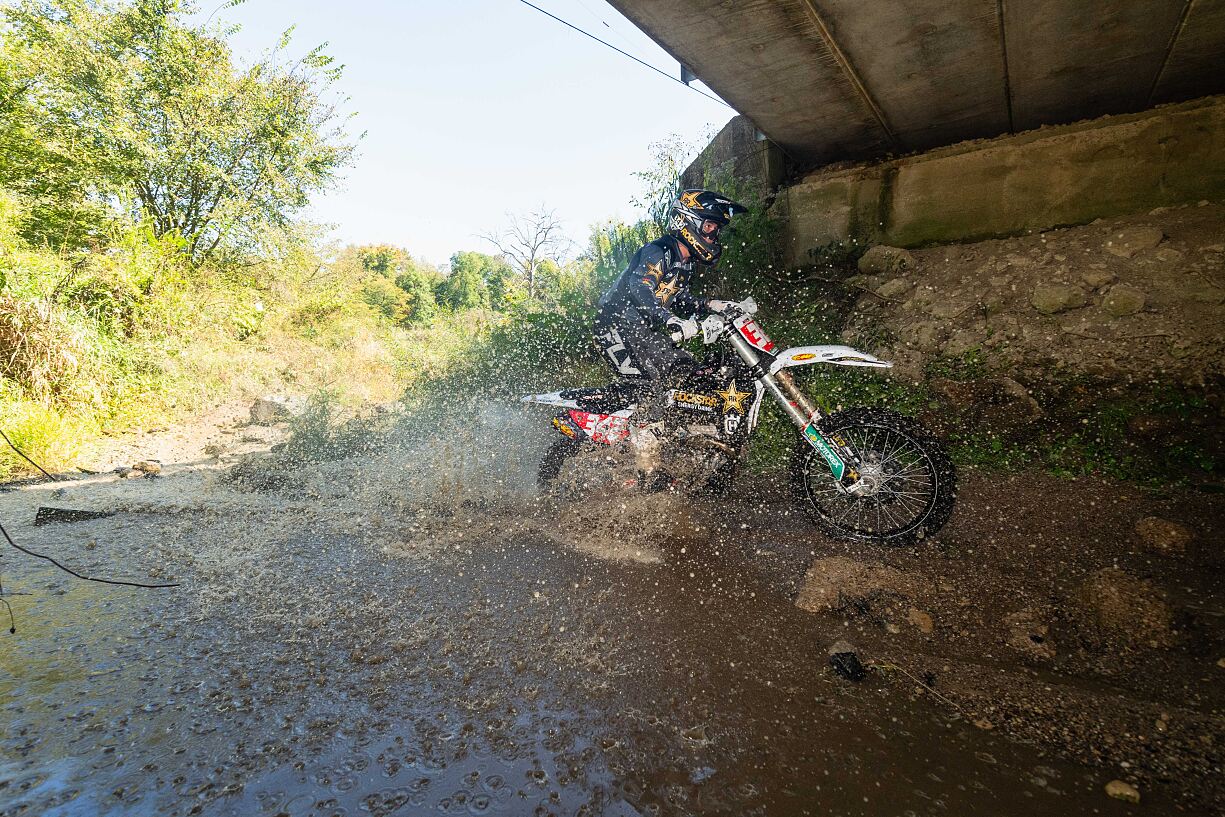 The Rockstar Energy Husqvarna Factory Racing Team of Trevor Bollinger and Craig DeLong delivered a consistent day of racing at Round 8 of the 2023 AMA National Enduro Series, with the duo securing fifth and sixth places, respectivley, in the NE Pro1 Class at the Muddobbers National Enduro in Matthews, Indiana.
Following a tough start to his 2023 season after sustaining injury earlier in the year, Bollinger continues to surge back into form with each race completed. A strong day at the technical Muddobbers event saw the Rockstar Energy Husqvarna rider conclude the opening test in P5, which is the position he would hold until race's end.
"The Muddobbers National Enduro went well for us!" said Bollinger. "I took a little while to get firing, but together with the team we made some suspension changes to get comfortable, which increased my comfort throughout the day. We ended up in fifth overall, so we'll continue to build from here and push hard to keep the improvement coming throughout these final couple rounds of the season."
Teammate DeLong started off the race with an unfortunate problem that sent him down the order, making for a difficult day at the office as he then worked to claw his way through the field as the tests wore on. A race-long charge resulted in DeLong powering his FX 350 into a hard-fought P6, after registering top-three times throughout multiple stages of the race, despite encountering his share of traffic.
"Today was decent, we started the day with an unfortunate little issue that we managed to fix, although I was back a ways after that," commented DeLong. "Clawed my way through the field all race long and finished in sixth place, which was challenging to do through the traffic, although I felt good on the bike today. We'll hold our heads high and now set our sights on next weekend, as these next couple races are going to be really important."
Next Round (9): Stanton, AL – October 29, 2023
NE Pro1 Class – Muddobbers National results
1. Steward Baylor (KTM), 124:39.077
2. Josh Toth (GASGAS) +53.798
3. Grant Baylor (Kawasaki) +1:47:914
…
5. Trevor Bollinger – Rockstar Energy Husqvarna Factory Racing
6. Craig DeLong – Rockstar Energy Husqvarna Factory Racing