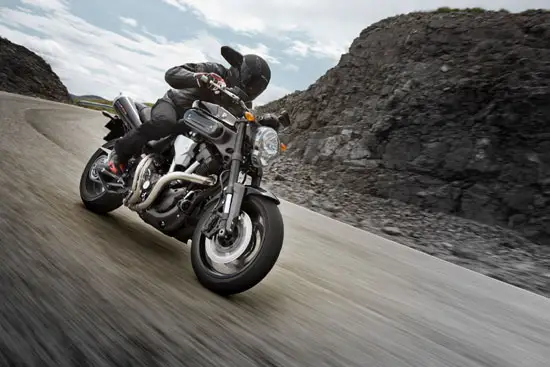 Back to 2009 Yamaha Motorcycle Index Page
Click photos to enlarge.
They make great desktop images.

 
– 2009 Yamaha MT-01

2009 Yamaha MT-01
The MT-01 is the bike that started the "Torque Sports" revolution.
Sports Torque is a unique kind of motorcycling experience, and the MT-01 is one of the finest examples of this breed. Torque Sports performance opens up a new world of sports riding because it offers an alternative to high RPM rush to today's in-line four cylinder supersport bikes. Grab a handful of throttle and discover the arm stretching torque that flows from the MT-01's massive V-Twin powerplant.
Maximum torque is unleashed at a mere 3,750 rpms. The MT-01's soul stirring torque is guaranteed to put a smile on your face while the agile sports chassis offers its rider all the exhilaration of a supersport machine. At Yamaha we recognize that as many sport riders mature, they often seek a slightly less extreme alternative. If you are ready to take the next step in sports riding, you owe it to yourself to check out the revolutionary 2009 MT-01.
The MT series is here to shake up the streets with a whole new style of sports riding. We call it Torque Sports and it's all about uniting big-piston engines with sports chassis for a dramatic new riding experience. Our Torque Sport roadsters perform to a different kind of beat, like Japan's legendary Kodo drumbeat, an earth-trembling expression of awesome latent power produced by massive bass drums.
Minimal… maximal… the MT-01 seems like a mass of contradictions, like nothing you've ever known before, an air-cooled 1,670 cc V-twin that rocks like a sports bike. The MT-01 is a revolutionary motorcycle, with a soulbeat character that unleashes maximum torque at 3,750 rpm, when most engines are still half asleep. That's the whole idea of Torque Sports – mega-thrust is right there, the instant you grab the throttle. And this mega-capacity, long-stroke engine is bolted into an aluminium supersport-derived frame with R1-style truss swingarm, 43 mm upside-down forks, low-slung rear shock, radial-mounted calipers and a uniquely chiselled, radical design. MT-01 – performs like nothing else on this earth.
EVERY BEAT OF THIS ENGINE IS AN EVENT
The heart of the MT-01 is its engine – a massive, air-cooled, 1,670cc V-twin drumming out its own kind of heartbeat that will reverberate through motorcycling history. This is iconic sports performance like nothing else on the street, unleashing mega torque and a throbbing exhaust note from its long-stroke crankshaft, forged pistons, ultra-efficient pent roof combustion chambers and ceramic composite-plated cylinders.
TORQUE SPORTS FROM TICK-OVER TO REDLINE
This monumental V-twin has been tuned for Torque sports.
At low rpm the massive pulsing torque output delivers an instant rush of thrust. And at increased revs – peak torque arrives at 3,750 rpm – that thrust growls and swells to produce astonishing sports performance. The low-mass crankshaft encourages easy-revving performance, while the tall-ratio gearbox allows you to use the incomparable torque output to maximum effect. In other words, no matter what the revs are, the enjoyment is all yours with MT-01.
MINIMUM CHASSIS, MAXIMUM ENGINE
With a bike like the MT-01 the engine has got to be the centre of attention, so when we came to designing the frame we wanted it to be minimal, to allow the engine to rule, and yet great to look at.
Which is why we used our exclusive CF die-cast technology. This hi-tech process – developed by Yamaha – allows lighter, more intricate castings, giving us the freedom to create a weldless frame that is stiff, light, compact and stunning to look at. The upside-down truss-style swingarm – similar to the arm used on our YZF-R1 supersport weapon – is also cast aluminium for an optimum stiffness/flex ratio, contributing to the bike's confidence-inspiring handling.
INHALE
The MT-01 breathes in and lives. Yamaha engineers focused special attention on the bike's intake system, working to cram the delivery of fresh, dense air into those massive cylinders for a lusty, big-torque feeling. Air enters the large-capacity, variable intake downdraft airbox – neatly housed within the frame – to feed the digital fuel injection system, featuring twin-bore downdraft injectors for astonishing low-rpm performance and transient power characteristics.
EXHALE
The MT-01 lives and breathes out. It feeds on gasoline and air, the burned mix exhaling through a titanium exhaust system that maximises the MT-01's pounding heartbeat. Superbly sculpted from large-radius curves for reduced exhaust-flow resistance, the exhaust system – featuring a muffler cover cooling system – uses Yamaha's renowned Supersport-bred EXUP device, for enhanced low-rpm torque, and culminates in magnificent twin mufflers that emit a rhythmic, throbbing beat you can both feel and hear.
SENSORY OVERLOAD
Just in front of you, the MT-01's dash panel tells the story of every mile travelled, its 3D-effect analogue tacho marking every heartbeat, its digital speedo so easy to read. Even the instrument illumination contributes to the MT-01 riding experience, with individually adjustable backlighting for each device. DimensionsOverall length 2,185 mm
Overall width 800 mm
Overall height 1,105 mm
Seat height 825 mm
Wheelbase 1,525 mm
Min. ground clearance 145 mm
Dry weight 243 kg
Fuel tank capacity 15 litres)
Oil capacity 5.0 litres
.
2009 Yamaha MT-01 Highlights:
– 1670cc V-twin produces massive torque
– Sportbike spec chassis with fully adjustable suspension

2009 Yamaha MT-01 Features:
Engine:
High-performance, 1670cc air-cooled, long-stroke, OHV, 4 valves per cylinder, 48°, V-twin powerplant produces massive torque and strong acceleration for an emotionally charged ride.
Traditional pushrod valve actuation keeps engine height down for a lower centre of gravity for great handling and ensures more uniform heat dissipation due to absence of a cam chain case.
One-piece head cover adds rigidity around the rocker arms to provide great high rpm performance and efficient heat dissipation.
Four-valve, pent roof cylinder head design uses two spark plugs per cylinder for efficient combustion and great power delivery at all rpms.
Valve train includes short design intake and exhaust rocker arms that reduce inertia during high-rpm performance.
Twin, crankcase-mounted, high-lift cams ensure strong acceleration and horsepower. The cam profiles and timing are specially designed for the MT-01
Hydraulic valve lifters driven by twin camshafts deliver exceptional performance and lower maintenance requirements.
Crankshaft and connecting rod design is unique to the MT-01. Inertia mass is reduced 18% and weight is reduced by 10% compared to the Warrior crank. The crank flywheel shapes are also different.
Large-diameter pistons feature durable and lightweight forged construction to accommodate higher-rpm performance with reduced vibration and less reciprocating mass.
Larger-bore ceramic composite-plated cylinders provide uniform heat dissipation, reduce weight, reduce friction and increase cylinder service life.
Cooling fin thickness is optimized for maximum heat dissipation, thereby eliminating the need for liquid cooling, maintaining that traditional clean, air-cooled engine appearance. Special lower mounted aluminum air duct directs air toward the cylinders for additional cooling
40mm, twin-bore, downdraft Mikuni AC40 throttle body fuel injection (FI) with throttle position sensor (TPS) ensures optimal fuel delivery, great throttle response, reduced emissions and maximum power. Choke less design means no fuss, sure starts.
12 hole Mikuni injectors provide great fuel / air atomization for maximum power output.
Specially designed air box features a solenoid controlled variable intake to provide excellent throttle response. The inlet duct is forward facing.
State-of-the-art 32 bit Electronic Control Unit (ECU) ensures precisely metered fuel delivery and optimal ignition spark control using 3D mapping for each cylinder to provide maximum performance and response at all rpms.
Dry sump lubrication system means a more compact engine design. The die cast aluminum oil reservoir is mounted low and in front/beside the engine which lowers the centre of gravity for great handling. A handy, spin-on oil filter means fast, easy oil changes.
Smooth-shifting, 5-speed transmission features optimized primary, secondary and gear ratios for excellent power and torque feeling. Ratios are maximized to provide great "real world" spine-tingling roll-on performance at all rpms.
Multi 10-plate wet clutch uses a new Nissin hydraulic master cylinder for easy, consistent lever pull and automatic adjustment of the free play. The fluid reservoir is integrated with the master cylinder for improved appearance. Its compact design makes it less "obtrusive" than the 2006 version. The lever has 4 positions of adjustment to suit various hand sizes.
Under seat high-performance, 2-into-1-into 2 exhaust system features a mix of stainless steel and titanium components. The dual large diameter mufflers boost torque and horsepower while producing a throaty, V-twin growl. The system also utilizes an under seat cooling fan and special heat shields to eliminate any passenger discomfort from hot exhaust components.
Three 3-way catalyizers are integrated into the exhaust system to reduce harmful emissions.
The exhaust system also utilizes a lightweight titanium EXUP exhaust power valve which improves torque character, eliminates "flat spots" and improves overall power output.
Electric starting system features solenoid-activated auto-decompressor for fast, easy starting.

Chassis/Suspension:
Lightweight aluminum C.F. die cast downtube-type frame offers excellent handling and a clean image due to the lack of visible welds. Frame features a mix of die cast and forged tubes for strength and durability.
The engine is a fully stressed member. Solid-mounted engine centralizes rider/machine mass for quick cornering transitions.
Fully detachable C.F. die cast aluminum subframe means easier rear shock access and reduced costs in the event of a "loop-out".
R1 inspired lightweight under truss-type, aluminum swingarm offers superb rigidity. The swingarm length is optimized to provide excellent stability, traction and handling. The pivot point of the swingarm bolts to the outside of the frame, allowing a narrower frame. The benefit is a slimmer frame, and slimmer seat which reduces overall seat height.
Fully adjustable 43mm inverted fork offers 120mm (4.7″) of wheel travel for exceptional sports handling. The adjustable design allows the rider to tailor suspension settings to match weight and road conditions to maximize handling and suspension performance. Adjustments include 5-way spring preload, 20-way compression damping and 25-way rebound damping adjustability.
Beefy, cast aluminum, top and bottom triple clamps help increase fork rigidity and reduce weight.
Link rear suspension utilizes a fully adjustable "piggyback-type" single rear shock. Adjustments include; spring preload, 12-way compression damping and 20-way rebound damping adjustability. The shock is mounted low and behind the engine to centralize mass and keep a low center of gravity for excellent handling wheel travel is 117mm (4.6″).
Dual 310mm floating front rotors are squeezed by radial mount, ultra rigid, 6-piston, monoblock calipers, similar to those used on the R1. The brake caliper pistons are aluminum for reduced weight. These brakes provide exceptional stopping power with great lever feel and feedback.
Brembo radial design front master cylinder utilizes a 16mm piston. The lever can be adjusted to suit various hand sizes.
267mm floating rear disc is squeezed by a dual-piston caliper Nissin caliper.
Unique 4-spoke lightweight mag wheels reduce weight and enhance handling qualities. Front rim size is MT 3.50×17 while the rear rim is a wide MT 6.00×17 fitted with tubeless radial tires for awesome handling.
Compact 15 liter steel fuel tank allows the use of tank bags. Low fuel light activates with 3 liters of fuel remaining.
One piece "Buckskin-type" leather seat features a flat profile for excellent rider and passenger comfort. The MT symbol is embossed in the rear of the seat.
Conventional handlebar is used. The conventional design means a comfortable riding position and allows easy, fast handlebar replacement.
Compact, multi-functional centrally mounted instrument features an analogue tach, digital speedometer, dual tripmeters, a fuel reserves tripmeter, low fuel light and clock. The brightness of the background illumination and LCDs can be adjusted to suit personal preferences.
Eye catching multi reflector 55/51-watt halogen headlight provides a powerful beam of light.
LED rear tail light with stylish clear lens.

Details:
Immobilizer ignition system is designed to reduce the possibility of theft. This system must recognize the "coded ignition key" in order for the unit to start. If the immobilizer ignition does not recognize the key (or a theft's screwdriver or other type of "jimmy tool" the bike will not start even if the ignition is turned or forced into the on position.
Lower fork leg protectors prevent dirt and stone chips from damaging sliders and seals
"O" ring chain
Low-fuel warning light
Fork lock integrated into main ignition switch for extra convenience
4-way adjustable clutch lever and adjustable front brake lever
Low maintenance sealed battery.
The MT-01 offers a significant level of power and performance. It is not intended for novice or inexperienced riders.
DISCOVER KODO ON THE MT-01
Kodo

Kodo is the Japanese word for pulse or soulbeat. But its true essence is best felt by Japan's legendary Kodo drum music – an earth-trembling expression of awesome latent power produced by a bass drum so massive that its intense beat resonates in your heart and in your soul.
The Kodo beat gets inside you, takes you over, makes you feel sensations you've never felt before. The MT-01 is the same – a vital, pure, primal power, like a heartbeat. It's the Torque Sports Roadster, a new kind of sports motorcycle that delivers massive low-rpm engine performance united with a sports chassis for a whole new style of sports riding.
[kodo] Japanese noun
1. Heartbeat, pulse.
2. An external expression of latent power.
In primitive times, the basic motif of musical expression; the pulsating rhythm and beat appeal directly to human sensuality.
To really appreciate what Yamaha has created in the MT-01 it is important to understand the meaning of the central concept that guided its development project. In a word, that concept is a Soul Beat V-twin Sports. But what does this soul beat mean? This beat in Japanese is KODO, a word that is used both for the beat of the human heart and the beat of drums. As everyone knows, the heartbeat is not just a concept, it is the vital beat of life itself. It races faster when we exert ourselves and when we are excited.
Unlike the heartbeat, which we usually feel subconsciously, the beat of drums or music is one of the most exciting and inspiring things human beings create. It touches our very souls and moves us. That is the kind of soul beat that Yamaha has built into the MT-01.
Unlike the R1, where you feel the engine's power as speed, the MT-01 engine has been designed to let you truly enjoy the beat of a huge-displacement V-twin's torque, as if it is the engine itself you are riding. You feel the beat like a heartbeat, rising and subsiding, and touching the soul.
Every product that Yamaha builds is an embodiment of our corporate mission. We create KODO – Touching Your Heart and perhaps no motorcycle Yamaha has ever built has been shaped more directly by this aim of touching the rider's heart as the new MT-01. It has been built to let you feel the beat of the engine in a way that really moves you.
How was KODO Created?
It started with an engine.
In high-performance supersport bikes like the R1, the machine is defined by the degree to which it can accelerate, turn and stop. This makes supersport bikes rather easy to quantify and define.
For large-displacement cruiser engines, the defining criteria or values are almost diametrically opposed to those of the supersport bike. Here, presence and power are the adjectives of choice. The "sports" image, with its associated nimbleness and quick response, is neither desired nor valued. A large-displacement V-Twin engine has a certain something which, while almost impossible to describe, is impossible to ignore. And it was this indefinable something which became the starting point of the MT-01 project.
A Machine Where The Fun Is In The Challenge
The MT-01 project is one of those rare instances when designers were able to interpret their own dreams and the customers' desires with uncanny accuracy. What made this possible was the lack of any preconceived notions of what the machine should be. The MT-01 is one of those very special machines developed not from market surveys or focus groups, but from the simple concept of, "this is what a motorcycle should be."
And what this motorcycle should be is something very different from the V-Max, the original power cruiser. There is something almost primitive, even primal, about the way the MT-01's engine expresses its power.

The engine size is fixed. The human scale is also fixed. Thus are the proportions of the machine itself determined. The MT-01 uses no gimmicks, no extraneous parts and no fakery to achieve its imposing effect. The result is a mechanical beauty accentuated by the huge engine in a minimalist chassis, around which the rider must wrap himself. Unlike the R1, which expresses its performance in its man-machine relationship, the MT-01 offers the rider a challenge. Transforming Carbon Into Diamond
In the final analysis, it was the engine which determined the machine's final design. In order to show the engine to best effect, all other parts were reduced to a minimum. The MT-01's form expresses the flow of intake and exhaust into and out of the engine. Air enters the engine from the air intake in the frame and the expended gases exit via dual mufflers symbolizing the seat rails. Truly, the massive engine is the visual centrepiece around which this motorcycle was sculpted.
Sensually, too, the unique performance characteristics of this engine are what make the MT-01 riding experience so special.
This is the essence of KODO.
At first, the designers had two guiding ideas. The first was how to visually express in simple terms the material characteristics of the engine's structure and displacement, and how to express the engine's gutsy, pulsing power characteristics. As mentioned above, this was achieved by minimizing the chassis and body elements in order to maximize the engine's visual impact.
The designers also had to express the visceral way in which a large-displacement internal combustion engine produces its motivating power pulses and how the exhaust note is perceived. The result is that when a rider mounts the bike, he sees the hungry air intake and can feel the mufflers that support the seat he sits on. Thus, whether viewing the machine or sitting astride it, the engine has an inescapable presence.
The other idea was that in order for the rider to be excited by the machine, the above-mentioned material conditions must somehow stimulate the rider's emotions. That is, the rider must feel challenged by the essential "mechanicalness" of the motorcycle. In other words, there must be a relationship between the rider and the motorcycle that is akin to the relationship to two equally strong personalities.
The designers had to find a way to make the dynamism of the MT-01 readily apparent even when the machine was standing still. The energy of the machine, its KODO, must be felt even after the ignition has been turned OFF.
And that is what KODO is all about.
It feeds on gasoline and air. Oil flows in its veins.
It shakes the human soul with its soulbeat.
A beat which is ever changing, in response to human sensuality.
It is not an engine but a vital organ.
2009 Yamaha MT-01 – Yamaha Sound Files
2009 Yamaha MT-01 – USA Specifications
MSRP* $00,000
Not available in the USA
2009 Yamaha MT-01 – Candian Specifications
MSRP: C$16,099
Engine Air-cooled, OHV, 8-valve, 48 degree, V-twin
Displacement 1670 cc
Bore and Stroke 97 x 113 mm
Compression Ratio 8.4:1
Maximum Torque 15.3 kg-m (110.7 ft-lb) @ 3,750 rpm
Fuel Delivery 40 mm Mikuni throttle body F.I.
Lubrication Dry sump
Ignition Digital TCI
Transmission 5-speed
Final Drive O-ring chain

Suspension (Front) Fully adjustable 43 mm inverted fork
Suspension (Rear) Fully adjustable link Monocross
Brakes (Front) Dual 320 mm discs
Brakes (Rear) 267 mm disc
Tires (Front) 120/70ZR17
Tires (Rear) 190/50ZR17

Length 2,185 mm (86″)
Width 800 mm (31.5″)
Height 1,105 mm (43.5″)
Wheelbase 1,525 mm (60″)
Rake / Trail 25° / 103 mm (4.1″)
Ground Clearance 145 mm (5.7″)
Seat Height 825 mm (32.5″)
Fuel Capacity 15 litres (3.3 imp. gallons)
Wet Weight 260 kg (572 lb.)
Colour(s) Metallic Black
GLOBAL SPECIFICATIONS:
EngineType Air-cooled, 4-stroke, V-twin, OHV, 4-valves per cylinder
Displacement 1,670 cc
Bore and Stroke 97.0 x 113.0 mm
Compression Ratio 8.4:1
Max.Power 66.3 kW (90HP) @ 4,750 rpm
Max.Torque 150.3 Nm (15,3 kq-m) @ 3,750
Lubrication Dry Sump
Fuel Supply Fuel injection
Clutch Type Wet multiple-disc
Ignition TCI
Starter System Electric
Transmission Constant mesh, 5-speed
Final transmission Chain
Primary reduction ratio 71/48 1.479
Secondary reduction ratio 39/17 2.294
Gear ratio: 1st, 2nd, 3rd, 4th, 5th 38/16 2.375, 30/19 1.579, 29/25 1.160, 24/25 0.960, 24/30 0.800
ChassisFrame Alu CF die-cast, double cradle
Front suspension Telescopic forks
Front wheel travel 120 mm
Rear suspension Swinging arm (Link suspension)
Rear wheel travel 117 mm
Front brake Dual discs, 310 mm
Rear brake Single disc, 267 mm
Front tyre 120/70 ZR17M/C (58W)
Rear tyre 190/50 ZR17M/C (73W)

* Fuel economy estimates are based on US EPA exhaust emission certification data obtained by Yamaha and converted into Canadian measurements. Your actual mileage will vary depending on road condition, how you ride, maintain your vehicle, accessories, cargo and operator/passenger weight.
MT-01 Development Story
MT-01 – Development background: Maximum taste instead of maximum horsepower
"I came to work for Yamaha because they always do things differently" tells our product planning manager for the European market. "In today's hectic world, for many people it is more and more difficult to find the time to ride their motorcycle."
"My dream was to create a sportsbike for a kind of full time enjoyment, right out of your garage." he continues, "the development of higher power and less weight on the latest supersport machines is fine, however more people find it increasingly difficult to find suitable traffic conditions for these bikes.
As an alternative, we wanted to create a kind of 'maximum-taste' sportsbike.
We headed off with creating and testing a riding proto type to check all the functional options of our idea. With the task team being quite positive the second step was to test the market response to our new concept: the Tokyo Show model amazed and we got very inspiring feedback from all sides. This marked the start of the production model development."

Best engine for this type of bike: big, long-stroke V-twin Full time enjoyment
"A long-stroke engine is best for such a concept because it offers a lot of torque at very low rpm, a pulsating engine feeling and a very strong, instant throttle response in all riding conditions. That is something you can enjoy both for relaxed and for aggressive riding, and in this way your whole ride will be full time enjoyment, from the moment you leave your garage to the moment maybe 3 hours later when you put it back inside: you will have had 3 hours of full time enjoyment."
"Only, the difficulty with a long-stroke engine design is the engine height. But by utilising a pushrod valve operation system we could solve this problem."
Indeed, the cylinder heads are very low and compact: there are no overhead camshafts to take space above the cylinders. In this way it is possible to fit the engine into the aluminium frame.

Purpose-built new engine: Yamaha spares no effort Third generation big twin
This basic engine design made its debut in the Wild Star and was modified for Yamaha's flagship power cruiser, the Warrior 1700, where it got rave reviews for its performance and character.
But to function in MT-01's sportier concept, Yamaha overhauled it completely with 3 main goals:
1. Performance increase
2. Significantly lighter weight
3. Increased rigidity for sports riding
Our engineers made such a thorough job of this, that 90% of the major components of the MT-01 engine are new as compared to Warrior! "We can say that it's a new engine almost."
PERFORMANCE UP
To create this new 'high output' engine, the engineers made the following essential developments:
Cam profile
The camshaft profile has been redesigned for strong torque and a very wide powerband.
Fuel injection system with special injectors
The fuel injectors are equipped with a 12-hole system (instead of the common 4 holes) for a very fine fuel spray and optimised combustion.
EXUP system
The engine is equipped with Yamaha's patented EXUP system to further increase the torque. EXUP is a system that operates a valve in the exhaust collector in relation to the engine rpm-range. For optimal exhaust efficiency you need a wider exhaust diameter at higher rpm as compared to lower rpm and that is exactly what the EXUP system does: it reduces the diameter at lower rpm.
The whole system is made out of titanium to keep the weight as low as possible.
Variable air intake system
A similar optimization as the EXUP is used on the intake side, where a valve system regulates the air intake diameter of the airbox just before the air filter. This keeps the airflow and air intake speed always at an optimum level, for the best throttle response.
Lighter Crank weight
The crank weight is reduced by 2 kilograms to create an instant engine response and a very direct feeling.
Increased conrod bearing size
To withstand the engine's higher performance level, the big-end bearing size was increased from 53 to 57 mm diameter.
Oil tank
The oil tank is styled as a part of the engine and to keep oil temperatures lower it is mounted at the front side, where it is exposed to the cool airstream when riding.

Low gravity and optimized weight for great handling LIGHT WEIGHT
The incredible effort Yamaha's engineers made is shown by the fact that total engine weight was reduced by an amazing 20 kilograms!
All parts have been scrutinized for weight-optimization and the whole transmission system got a new layout with the drive axle moved to the other side of the engine.
Also items around the engine have a high tech lightweight construction: for example the EXUP system and the mufflers are made out of titanium.
Engine-Chassis mounting
It has been deeply analysed how to perfectly integrate the engine and the frame to achieve the best pulse feeling and the best chassis feedback. Yamaha testriders tried many different prototypes to find the optimum rigidity!
Their expertise showed in the comments from Yamaha own staff who rode the bike for the first time:
"The handling is amazing, you can change side exactly like you want, it's not too sharp, not too heavy, you don't feel like you need an effort. The brakes are amazing too. Without any effort the response is so quick that the bike feels like a light weight."
Additional mountings have been added at the cylinder heads, for a stronger connection to the frame. And a specially designed subframe reinforces the engine's structural rigidity for stronger feedback to the rider.

Top spec chassis

Compact, strong and tightly fitted frame due to Yamaha's CF technology

Latest R1-technology adjusted to fit to the specific structure of the MT-01 frame
Chassis
"The chassis of this machine had to perform like a top sport bike", states our product planning manager. "So all components are based on latest supersport technologies: upside-down front fork, fully adjustable suspensions, Brembo radial brake pump, radial brake calipers, R1-type swingarm, everything."
Especially the construction of the frame was a key issue.
"We had to create a very rigid and lightweight frame. However, from styling point of view we wanted to keep the engine as the dominant part, so the frame should not become too big. That's why we used Yamaha's latest 'Controlled-Filling die cast' technology of Yamaha, to be completely free to shape the frame in the way we wanted it."
Indeed, this technology does not need to use the big aluminium plates or beams that are common on traditional aluminium frames. Instead, it uses high vacuum levels to allow the casting of large, complex and lightweight structures with thin walls.
This will make the frame very compact besides being rigid.
"To achieve the design of the concept model, the chassis had to have a very 'tight fit' around the engine and without the CF technology, that could not have been achieved" Tsuyoshi is convinced.
The second advantage of this technology is: there is no welding on the frame, which makes the looks very clean. This top spec frame is complemented by the beautiful R1-style aluminium swing arm for top level road holding.
"For this feature we deliberately chose a different approach than for the Tokyo show model, which used a beautifully designed, but in function compromised swingarm. For MT-01 the target was uncompromised function. Thus, the whole swingarm and suspension combination is based on the latest supersports technology!"
Practicalities
Yamaha knows how attention to details can enhance your enjoyment.
1. The mufflers under the seat enhance the riding experience:
"I was surprised by the sound of this bike. It overpasses the current twins. Also when you are riding you can hear the sound made by the mufflers behind you."
2. Tapered handlebar:
Adjusted for a very active riding position, a tapered handlebar keeps you 'in control'. Of course it is rigid-mounted (no rubber mountings) to give you the most direct feedback.
3. Hydraulic clutch operation:
Always very smooth control of this torque monster…
4. Complete dashboard equipments:
Multi-functional dashboard with hazard lights and anti-theft immobilizer key…
The meter itself has beautiful backlight illumination.

Yamaha: always pushing innovative model ideas
With this unique combination of a strong, pulsating engine and a sports oriented chassis especially developed for the European market Yamaha confidently pursues the concept innovation approach.