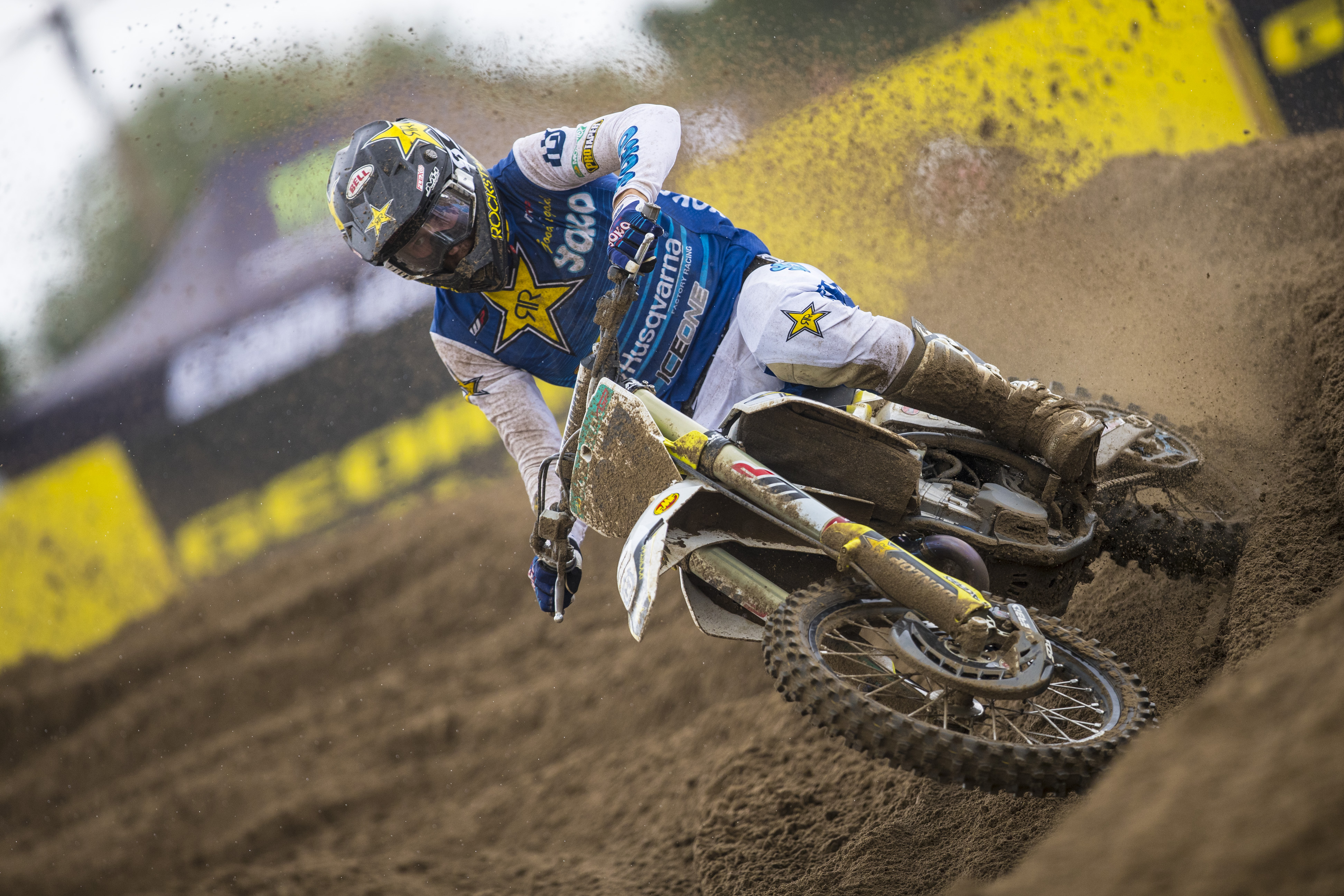 ROCKSTAR ENERGY HUSQVARNA FACTORY RACING RIDERS CLAIM SIXTH AND EIGHTH OVERALL AT ICONIC LOMMEL TRACK
Marking round 14 of the FIM Motocross World Championship, the MXGP of Belgium was held on the notoriously demanding Lommel track. Using his strength and skill on the deep, sandy circuit, Rockstar Energy Husqvarna Factory Racing's Arminas Jasikonis claimed sixth overall with MXGP-class teammate Pauls Jonass two places behind in eighth.
Race one didn't start well for Jasikonis – tangling with another rider off the start, the Lithuanian dropped down to 16th at the end of the opening lap. Showing great speed in the hot conditions, he had already fought his way up to 11th by the end of lap four. By maintaining consistent lap times, Arminas was able to continue moving through the pack to ultimately finish in eighth.
With a better start in moto two the 21-year-old battled his way from 10th to eighth by the end of lap one. With other riders seemingly suffering more from fatigue on the heavily-rutted and challenging track, Jasikonis was able to move up to fifth. A small mistake while attempting to lap a slower rider caused him to drop his bike on the penultimate lap, but recovering quickly AJ was able to cross the line in sixth.
Pauls Jonass endured a frustrating round 14, despite showing good pace on the Belgian sand. Following a tough qualification race on Saturday, the Latvian got off to a great start in Sunday's moto one, completing the first lap in sixth place. Moving up to fifth, a great battle with Jeremy Seewer saw the two swapping positions for a number of laps. A couple of small mistakes put Jonass out of his rhythm in the closing stages of the race, but the former MX2 World Champion was able to regroup to take seventh at the chequered flag.
Race two also started well for Jonass – seventh off the start, he quickly moved up to fifth and, riding well, looked like he had the pace to challenge for a podium position. Unfortunately, a mistake on lap two caused him to stall his Husqvarna FC 450 and drop down to 14th. Taking time to find his rhythm, a couple of further mistakes dropped the #41 down to 19th. However, despite the set-back, Jonass was able to maintain his composure and fight his way back through the pack to ultimately finish 11th and claim eighth overall for the Grand Prix.
With four rounds left to race, Arminas Jasikonis lies sixth in the MXGP World Championship classification, just three points shy of fifth. Pauls Jonass currently holds 10th.
The MXGP of Belgium was a tough one for Rockstar Energy Husqvarna's MX2 rider Thomas Kjer Olsen. A crash in Saturday's qualifying race cost the Danish rider several positions with him ultimately securing a creditable eighth place. However, a good start in Sunday's first moto saw Kjer Olsen secure fifth place on lap one. Circulating at a comfortable pace, TKO moved into fourth while reeling in the third and second-placed riders ahead. Unfortunately, a mistake over a jump on lap seven caused Kjer Olsen to go down hard. Thankfully he was only heavily winded, and able to make his own way back to the pits, but he played no further part in the race.
MX2 race two went better for Thomas, despite being a little bruised and battered from his earlier crash, he got a great start and moved into sixth on lap one. Passing Jacobi for fifth, TKO maintained a solid pace on the increasingly rough Lommel track. Dropping down to sixth after being passed by local rider Jago Geerts, the 22-year old lapped consistently making the minimum of mistakes. Geerts would eventually retire enabling Kjer Olsen to move up to fifth place, which he held until the chequered flag – an impressive achievement considering his physical condition. Salvaging 22 important championship points, TKO successfully defended his runner-up position in the MX2 standings with just four GPs left to race.
The Rockstar Energy Husqvarna Factory Racing team will next be in action at round 15 of the FIM Motocross World Championship, the MXGP of Italy, on August 18.
Arminas Jasikonis: "Overall, it's been a pretty good Grand Prix for me. Qualifying was tough, I had a good one-lap pace but struggled to find my rhythm. I knew going into the races today it would be tough as the weather was a lot hotter than Saturday and the track was becoming quite rough. My pace was good in both motos but I struggled to maintain my speed on the bike a little and ended up making a couple of mistakes. I feel I could have challenged for the podium in both motos but unfortunately didn't quite manage it. From here we have some things we can work on before the next round, but I'm really excited to get to Imola in Italy. I've never been there before so I'm really looking forward to racing there."
Pauls Jonass: "It was tough today – conditions were a lot warmer than yesterday and the track got a lot bumpier. The first race went ok, I made a few mistakes, which dropped me down to seventh from fifth, which was frustrating but overall things went well. In the second race I got a good start again but then managed to stall the bike in one of the corners and it took a while to get going again. It's a shame because this is definitely one of my favourite GPs and I know I have the pace to do well here. Looking at the positives, my lap times were good, and stayed fast right up to the end. I need to work a little on my strength as the weight of the 450 and the added speed around here takes it out of you a lot more than the MX2 bike. Overall, I am happy with how I rode and now looking forward to Italy."
Thomas Kjer Olsen: "I got a decent start in the first moto and moved my way up to fourth and sat there for a while. I was struggling a little bit and made a few mistakes but thought I could push for second or third. I ended up making a huge mistake over one of the tabletops and landed in the fence. It knocked all the air out of me and took a while to get back on the bike – by that time the race was over for me. I was super disappointed and really banged up from that crash but I knew I had to stay positive for the second moto. In the second race I got up to fifth and was there for most of the race. Thankfully, I've got a bit of time to recover from the crash now before the next round, but I'm really looking forward to Imola."
Results – 2019 FIM Motocross World Championship, Round 14
MXGP – Overall
1. Tim Gajser (Honda) 44 points; 2. Romain Febvre (Yamaha) 43 pts; 3. Glenn Coldenhoff (KTM) 40 pts… 6. Arminas Jasikonis (Husqvarna) 28 pts; 8. Pauls Jonass (Husqvarna) 24 pts; 15. Tanel Leok (Husqvarna) 13 pts; 20. Lars van Berkel (Husqvarna) 6 pts…
MXGP – Race 1
1. Romain Febvre (Yamaha) 34:40.884; 2. Tim Gajser (Honda) 34:47.498; 3. Glenn Coldenhoff (KTM) 34:49.879… 7. Pauls Jonass (Husqvarna) 35:09.651; 8. Arminas Jasikonis (Husqvarna) 35:19.535; 14. Tanel Leok (Husqvarna) 36:13.251; 18. Lars van Berkel (Husqvarna) 36:49.227…
MXGP – Race 2
1. Max Anstie (KTM) 34:30.638 16 laps; 2. Tim Gajser (Honda) 34:35.759; 3. Glenn Coldenhoff (KTM) 34:42.110… 6. Arminas Jasikonis (Husqvarna) 35:09.151; 11. Pauls Jonass (Husqvarna) 35:56.147; 15. Tanel Leok (Husqvarna) 36:32.482; 18. Lars van Berkel (Husqvarna) 36:52.374…
MX2 – Overall
1. Jorge Prado (KTM) 50 points; 2. Calvin Vlaanderen (Honda) 36 pts; 3. Ben Watson (Yamaha) 36 pts… 8. Alvin Ostlund (Husqvarna) 22 pts; 13. Thomas Kjer Olsen (Husqvarna) 16 pts; 24. James Carpenter (Husqvarna) 1 pt…
MX2 – Race 1
1. Jorge Prado (KTM) 34:54.715 16 laps; 2. Jago Geerts (Yamaha) 35:14.770; Adan Sterry (Kawasaki) 35:22.522… 9. Alvin Ostlund (Husqvarna) 36:35.834; 21. Joakin Furbetta (Husqvarna) 36:44.263; 24. Joel Van Mechelen (Husqvarna) 36:59.346…
MX2 – Race 2
1. Jorge Prado (KTM) 34:57.670 16 laps; 2. Calvin Vlaanderen (Honda) 35:15.221; 3. Ben Watson (Yamaha) 35:32.928… 5. Thomas Kjer Olsen (Husqvarna) 35:55.756; 11. Alvin Ostlund (Husqvarna) 36:04.106; 20. James Carpenter (Husqvarna) 36:08.587 +1 lap; 27. Joel Van Mechelen (Husqvarna) 34:58.602 +2 laps; 28. Kade Tinkler-Walker (Husqvarna) 35:08.715…
Championship Standings – After Round 14
MXGP
1. Tim Gajser (Honda) 626; 2. Jeremy Seewer (Yamaha) 439; 3. Gauthier Paulin (Yamaha) 402… 6. Arminas Jasikonis (Husqvarna) 355; 10. Pauls Jonass (Husqvarna) 321; 17. Tanel Leok (Husqvarna) 155; 27. Andero Lusbo (Husqvarna) 29…
MX2
1. Jorge Prado (KTM) 644 points; 2. Thomas Kjer Olsen (Husqvarna) 520; 3. Tom Vialle (KTM) 416… 9. Jed Beaton (Husqvarna) 250; 16. Davey Pootjes (Husqvarna) 157; 19. Alvin Ostlund (Husqvarna) 131; 20. Dylan Walsh (Husqvarna) 101…