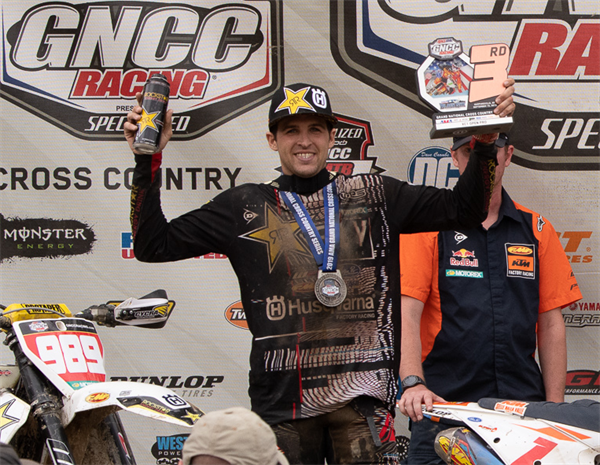 Rockstar Energy Factory Racing Team's Thad DuVall put forth an impressive come-from-behind performance on Sunday to earn a podium finish in the XC1 Open Pro class at Round 10 of the Grand National Cross Country (GNCC) Series in Harpursville, New York.
In the series' first race back from a two-month summer break, DuVall was eager to repeat his Round 9 victory as he continues to battle for the XC1 title. Off the start, he jumped into the sixth-place position where he engaged in a multi-rider battle through the opening lap. He went down hard in the endurocross section and lost his momentum early on but he worked hard to regain his focus and push his way back up throughout the three-hour race. With three laps to go, DuVall had worked his way into fourth where he set his sights on a podium position and he was able to finally make his move as the white flag came out. With an impressive lap time on the final bout, DuVall was able to make up substantial time to ultimately finish only four seconds behind the leaders for a hard-fought third overall.

Thad DuVall: "It was a frustrating day for sure, I felt like I left a lot on the track and couldn't ride the way I wanted to after that huge crash in the endurocross section. Stu [Baylor] and I got together and pushed each other a lot. I felt like I could outlast him and I ended up being able to get away from him and running those guys down at the end."
After missing the last two rounds due to an unforeseen illness, team rider Trevor Bollinger returned to racing on Sunday, where he finished sixth in the XC1 Open Pro class.

Black Sky GNCC Results
XC1 Open Pro Class
1. Kailub Russell (KTM)
2. Ricky Russell (YAM)
3. Thad DuVall (HQV)
…
6. Trevor Bollinger (HQV)

Overall Championship Standings
1. Kailub Russell, 280 points
2. Thad DuVall, 228 points (3 wins)
3. Steward Baylor Jr., 198 points
4. Ben Kelley, 166 points
5. Trevor Bollinger, 141 points